A new era begins in the Observer!  TWO COLUMNS PER PAGE!
Also a couple of title changes, but TWO COLUMNS!
– Kicking off the news is the WWF tag titles changing hands, as the Attack Squad won the belts from the Hart Foundation at the Superstars taping in Syracuse.  Dave is amazed that Martel actually used a Boston crab for the win, however the finish was messed up because Joey Marella called for the bell too soon and it made Neidhart look like kind of a punk.  (Man, if BRET had been the one to submit to that move and the ref called for the bell too soon…)
– The AWA tag title situation should hopefully calm the hell down now that the Midnight Express has won the belts from Lawler & Dundee.  The situation was getting confusing because Hector Guerrero & Dr. D "won" the titles in Memphis in a title change that no one told the AWA about, but it was only recognized in Memphis as a way to build up the rematch the next week.  Lawler & Dundee then won the belts back on 10/26, before dropping them to Rose & Condrey on 10/30.  Dave goes over the recent cursed history of the titles, as the Rockers gave one day's notice when jumping to the WWF and lost the belts to the Russians, who were a complete embarrassment as champions.  And then Zhukov also jumped without giving notice, leaving Ustinov and Doug Somers as makeshift champs who quickly lost them to Lawler & Dundee in Memphis.
– To the Survivor Series, where Don Muraco replaces Superstar Billy Grampa in the main event, and then Jake Roberts takes Muraco's place in the "everyone screwed over by Honky Tonk Man gets revenge" match.  Also, Ricky Steamboat replaces Junkyard Dog in that same match, with no reason given.  Graham did an angle where he was injured by One Man Gang and he's done with wrestling from now on.
– Ted Dibiase blew out his knee, but he should only be out a few weeks and will probably continue to wrestle anyway.
– Dave informs us that the print for this issue only has been reduced in order to fit in more letters, because he was getting behind.  (He should check out MY inbox sometime.  Anyway, BOO, I like the double column look.) 
– Oddly, a bunch of people quit Memphis last week and then returned this week in new roles (like the Nasty Boys repackaged into Demolition ripoffs and Badd Company as babyfaces) and Dave has no idea what's going on.
– WWE has a really fascinating show scheduled for 11/25 to oppose the Crockett debut at the Nassau Coliseum, as they run the Meadowlands with an Old Timer's Battle Royal on 11/16.  They'll have Lou Thesz, Pat O'Connor, Killer Kowalski, Nick Bockwinkel and a bunch of others.  Plus Ted Dibiase v Ricky Steamboat and the Strike Force v. Islanders match that's been burning up the house show circuit.  (We'll get to this one in a couple of issues, but it flopped and actually caused some significant heat between Savage and Vince because Randy was begging for Angelo Poffo to get used in the match and Vince refused for whatever bizarre reason, and Randy never forgave him.) 
– The softening of the business for the WWF was actually a point of concern for Vince at the last TV tapings, so he addressed everyone and basically wants better workrate at the house shows and more old-style promotion, where they do angles and promos to build up the next show.  (I'm assuming this was quickly forgotten, like it always is.) 
– On the Rochester TV tapings, the British Bulldogs did an angle where they destroyed Johnny V and put him out on a stretcher, which appears to be writing him off TV for good.  The Dream Team is done, as Bravo was working squashes with new manager Frenchy Martin and Valentine has Jimmy Hart.
– Also during the Rochester tapings, some idiot fan ran into the ring and attacked One Man Gang during a squash and tried to double-leg him, before security dragged him off.  He held on pretty good, as Slick was really wailing on him with the cane to get him off. HIs name was Joe D'Aquisto and he was trying to become a pro wrestler but kept getting turned down by Titan.  (The punchline?  That idiot fan eventually did get trained and became better known as Roadblock.) 
– For those who were up nights worried about it, Ken Patera worked a house show in Winnipeg, so he's obviously now allowed into Canada again.
– Dave thinks that Valentine is playing Crockett and Vince against each other, although Crockett is saying that Valentine starts there 12/1 and Vince is confident that he'll sign a new contract and stay in the WWF.
– Apparently the WWF is negotiating with NBC for some sort of prime time special based off their super-hot ratings for Saturday Night's Main Event.
– Hogan v. Andre is "almost certainly" the main event of Wrestlemania, and talks of Bigelow getting the spot are down the tubes because he's been kind of a flop so far.
– Sheik Adnan worked out whatever problems he had with the AWA and returned for the 11/1 show in St. Paul.  He had previously been fired by booker Wahoo McDaniel for unknown reasons.
– Still nothing to report on the AWA/Memphis sale rumors.
– Dave still doesn't know who Dr. D is, although he's reportedly not a rookie or anything.
– In Stampede, Cpl. Kirschner has been pushed all the way to the main event against Makhan Singh, claiming that Singh moved to Canada to "dodge the draft" and Dave's like "Doesn't that idiot know that there's no draft in the US either?"
– Sheik and Bob Backlund were doing an interview segment for ICW in the Northeast, and Sheik decided to throw out a claim that he paid off Arnold Skaaland to throw in the towel during their famous WWF title match in 83, at which point Backlund freaked out and stormed off the set.
– Dave throws out a plug in the letters section for a brand new newsletter called "Pro Wrestling Torch", which is produced by W.D. Keller.
– And finally, the WWF returned to the Silverdome on 10/23 and only drew 6000 people with Hogan v. Killer Khan on top.
See you next…HOLD IT!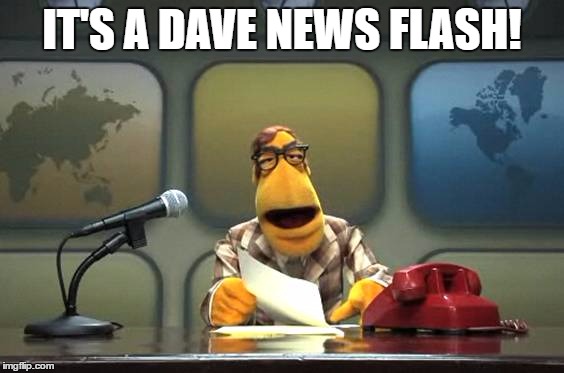 – Eddie Gilbert married Missy Hyatt in a surprise ceremony during a Halloween party at their house.  (I believe Dave has since said he was there for that party.) 
– Greg Valentine is definitely staying with the WWF now.
OK, now we're done.