And it's ANOTHER sad note to open an Observer this week.  87 was kind of a harsh year.
– Mad Dog Vachon was hiking in Iowa this past week and got run over by a hit-and-run driver, who actually ran over both his legs and sent him flying into a ditch for 8 hours.  His right leg had to be amputated and his left leg was mangled and broken in several places.  He had actually just retired the previous year and was living in Omaha.  (Maurice would of course feature in the Shawn v. Diesel match, poking fun at his own artificial leg.  And hey, he lived until he was 90 years old, so there you go.) 
– Do you get the feeling that Vince is just f------ with Jim Crockett now for fun?  So Crockett moved Starrcade back to an afternoon show to avoid Survivor Series, and Vince has a deal with the cable providers where the show can't conflict with each other.  So just to be a tremendous dick, he moves Survivor Series 30 minutes EARLIER, which means that Crockett is now only allowed 2.5 hours of PPV time instead of 3!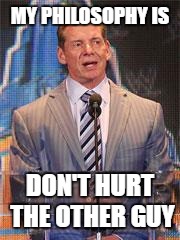 – Sure, whatever you say, Vince.
– Dave runs down the Survivor Series card again, and notes that the tag team match is supposed to some kind of wacky concept where every team is for themselves and anyone can tag any other team in, kind of like four corners rules but with 20 teams.  Dave thinks it sounds ridiculously convoluted.
– Dave does note that the show sounds like an interesting concept, and it 100% doesn't matter what the buyrate is, because they're already destroyed Starrcade, so mission accomplished.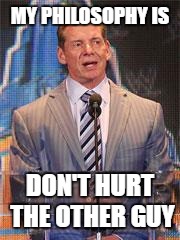 – On the bright side, Starrcade is looking like an instant sellout based on first day ticket sales.  However, the card is a disaster (the UWF "World" champion wrestles in the second match on the show?) and it's likely that the only places that will do closed circuit business are their typical strongholds like Baltimore and Greensboro. 
– The Sheepherders, by the way, won the UWF tag titles from the Lightning Express on 10/16.  (They were the last UWF tag champions.)
– Dave does a review of the year for Crockett, and let this sink in:  Since January of this year, they've added Lex Luger, Barry Windham, Steve Williams, The Freebirds, Terry Taylor, Sting and Rick Steiner to their roster, lost no one of consequence, and took over all the UWF TV and arena business.  And now they're in a far worse position than they were at the same time last year!  Dave doesn't want to go off on Dusty Rhodes and his booking yet again, but if it walks and talks like a duck, it's a duck.  Basically the booking has become a weird ego-trip for Dusty alone, as only his friends get pushed and really if he was actually over to the level where he pushes himself, his reactions would be Hulk Hogan-like.  But they're not.  Another important point is that when Crockett bought the UWF, he was buying it strictly for the TV network and syndication deals, and any talent that he had to take in the deal was incidental.  So there was never any intention of pushing Steve Williams or anyone else as being on the same level as Dusty and his clique.  (Good thing everyone learned their lesson about cliques running the business into the ground.) And now Crockett has begun burying the UWF on TV, getting ready to wash his hands of the promotion while he treats the very people who he employs as "the B-team". (Good thing everyone learned their lesson about invasion angles.)  The UWF will likely meet its demise by the end of the year, if not sooner.
– Eddie Gilbert is going to be meeting with Vince this week, selling a package deal of himself, Missy, Terry Taylor and Sting.  (And we all know which one ended up eventually getting hired and how THAT turned out for him.)  It's no secret that the WWF REALLY wants Sting.
– The WWF is running Europe for the first time ever, headlined by Jim Duggan v. Iron Sheik?  Yeah, apparently the TV there is so far behind that Duggan and Sheik are still feuding, so they're flying Sheiky Baby in for the dates and then dropping him like a hot potato again.
– Inoki's back on the firing line again after the Island Death Match debacle only drew an 11.0 rating, which was double their usual number but nowhere near the 20.0 rating that Inoki was promising.  (Who is he, Vince McMahon?) 
– We're only two weeks into the glorious title reign of Ron Garvin, and business is DYING.  Attendance is plummeting already with him on top, and it's absolutely clear that not only was Garvin the worst possible choice as champion, he might be the worst NWA World champion in HISTORY.  At least, Dave notes, Kerry Von Erich and Tommy Rich were both over.  Garvin is just perceived as a midcarder who is nowhere near Flair's level. 
– New Japan did a fan vote between Akira Maeda and Tatsumi Fujinami to determine the first opponent for Riki Choshu on TV, and Maeda won, so they just announced a coin toss and used a double-headed coin to make Fujinami the "winner".  The theory is that they don't 100% trust Maeda not to do something ill-advised.  (HOO BOY!  There's some foreshadowing, baby!) 
– Inoki apparently suffered a legit broken shoulder during the fake Island Death Match. 
– In news that would actually have pretty huge long-term impact on the sport, Ric Flair being pulled from the All Japan bookings this month has led to Baba having a split with Crockett, and word is that they're not going to work together ever again.  (Which was sort of true.  It actually led to the future WCW forging a relationship with New Japan instead, although it took one more major screwup in 1990 to cut off Baba completely) 
– As mentioned last week, Lawler & Dundee won the AWA tag titles from the makeshift team of Soldat Ustinov & Doug Somers on 10/11, and will defend against the equally makeshift team of Dr. D (not the famous one, Dave notes) and Hector Guerrero on 10/19. 
– The AWA held their annual battle royale show in Denver on 10/16, and fell from an average attendance of 10,000 to just 400 on the night.
– Dave reports that Kevin Von Erich regained the Worth-Las title from Al Perez at the Cotton Bowl show, but that's not correct. 
– Kerry Von Erich also returned on the show, and apparently he was moving around OK on the way to the ring, but was limping BADLY even in the super-short matches he was booked for.  Dave thinks trying to return on the bad ankle is "insanity". 
– To Crockett again, where Big Bubba is being moved back to Jim Cornette's bodyguard full time, which saddens Dave.  He's improving rapidly and should probably go somewhere where he can work a full schedule.
– The first casualty of cutbacks:  Lazertron, who abandoned the NWA Junior heavyweight title and will be showing up in Memphis, as noted earlier, to challenge Lawler & Dundee for the tag titles.  (Dave notes that the Junior title might possibly be the most useless belt in wrestling.  Hard to argue.  Hector dumping it pretty much but a bullet in it anyway.) 
– Headlining the 10/25 show in Greensboro:  Dusty Rhodes v. Hiro Matsuda.  No, really.
– Greg Valentine apparently starts on 12/1 in the NWA, because the Bravo team was going nowhere.  (Guess that explains Valentine's sudden singles push in the WWF.) 
– To the WWF, where Jake Roberts is returning ahead of schedule for doing everything requested of him while on suspension.  (That's Jake, model drug user!) 
– Vince continues to take shots at Crockett, and has now renamed Dingo Warrior into The Ultimate Warrior as a "slap in the face" to the Road Warriors.
– MSG managed to sell out with 20,000 people for Superstar v. Reed in a cage match, which boggles Dave's mind because there was absolutely nothing on the show that would sell tickets like that. 
– In the same area, David McLane managed to draw 1,800 to the Felt Forum with Wendi Richter headlining a POWW show.  McLane then immediately cancelled the followup show at the Nassau Coliseum, so he's apparently not a betting man. 
– Trainer Eddie Sharkey got six months in prison for extortion and assault, but used his political connections to have the sentence transferred to Minnesota and will be serving nights at a cush jail while working days.
– Dave corrects the earlier report of the WCCW title changing, as it has been returned to Al Perez due to shenanigans.
– Nick Bockwinkel did color commentary on the MSG show on 10/16, and he was excellent at the job and perfect for the role.  (So of course he was never used again.) 
– And finally, Chris Adams was supposed to start with World Class this week, but suffered some minor injuries from an auto accident while leaving the Sportatorium after his initial meeting with Gary Hart.  So apparently even coming to the BUILDING is a jinx now! 
Peace out, homeslices.