Bye bye, slow news cycle.  It's time for the Megapowers and the start of one of the biggest fights in the history of North American wrestling.  The tricks were dirtier, and the memes were danker!  Of course you know, this means war…
– Although the Megapowers is the current biggest angle in the wrestling world, the real talk of the wrestling world is the ugly fight between Jim Crockett and Vince McMahon over Thanksgiving.  The verbal jabs have already begun, as the Megapowers is intended as a one-up on the "Superpowers", and then Dusty went on TBS and took shots at the Survivor Series. 
– Next up, Crockett's attorneys have sent letters to Titan Sports demanding that they drop the contractual clause with cable operators that prevents those cable companies from promoting another PPV event within 60 days of a WWF one.  The WWF's legal team is claiming that it's necessary to prevent "confusion in the marketplace" and basically told Crockett to f--- off.
– So at last count, the WWF has deals with 280 cable companies for Survivor Series, while Crockett has 10.  Or less.  The idea when Crockett moved the show back to the afternoon was to allow cable companies to offer both as a double-header, but that doesn't seem to be happening.  In fact, Titan is specifically offering their own package deal, where those companies get a reduced rate on Wrestlemania IV if they back Vince in the war.  Dave thinks that Crockett is pretty much on the ropes now.  If nothing else, Starrcade will be an effective dry run to test the PPV market, but with the new clause they'll have to run their next show before January 27, and Dave is pretty sure Titan is going to try something to screw with THAT one, too.
– Dave runs down the Survivor Series as it stands, including an all-time great line with "Superstar Billy Graham-pa".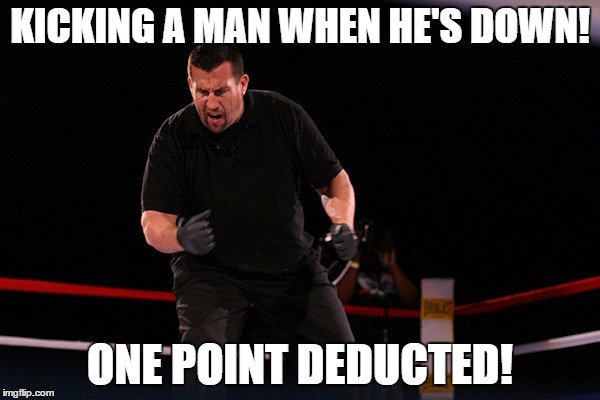 – I'm gonna overrule you on that one, Big John. 
– Crockett's guys are seemingly sworn to secrecy on the Starrcade card thus far, but either way Dave is pretty sure they're not selling out 10,000 tickets at 4pm on a Thursday afternoon.  (They drew 8000, so it did OK.) 
– So with all that out of the way, Dave finally can talk about the Garvin title win.  He doesn't think it's such a big deal, because the belt doesn't really draw anymore.  Dave does think that a babyface champion in the spirit of Hulk Hogan is what they need, but that's not Ron Garvin.  In fact, he's pretty sure that if Ron holds the belt for any long of time, Dusty should be committed.  Also, there's too many belts around JCP anyway and when everyone is a champion, no one is a champion.  Basically, outside of the Carolinas it's the Road Warriors who are the only real draw for Crockett anyway.
– To Japan, where hell has frozen over and Bruiser Brody is back working for Baba again in All Japan.  Inoki didn't block the deal, which was apparently part of the agreement to get Choshu back on TV again.  Also, Ric Flair was supposed to be touring Japan, but then went and dropped the title and suddenly wasn't available to work for Baba, so suddenly it was Advantage: Brody. 
– Just to show how shitty things are getting for Crockett, they ran Greensboro this past week and drew 5000 people with Four Horsemen v. Superpowers/Roadies on top. 
– The SNME season premiere aired this week, and Dave thought it was excellent.  He thought the Randy Savage angle was the best thing they've done all year, and everyone was working hard on the show.  Alas, Hogan totally overshadowed Savage, beating up six people on his own during the course of the show.  (Yeah, get used to THAT.)  Dave still isn't sold on Savage becoming a bigger draw off that. 
– Dave attended a WWF house show in Oakland that sucked, with bad action up and down the card.  They were pushing the Young Stallions hard leading up to the show (or "Barbie and Ken" as Dave dubs them) and basically all but promising a title change, but the crowd had no idea who they were and barely reacted.  (Eh, sometimes you've gotta try.) 
– The WWF's last MSG show, which we mentioned last time as selling out at the last minute, actually featured Randy Savage pinning Honky Tonk Man clean with the flying elbow in a non-title match, and a Rick Martel v. Haku match that was the highlight of the show (and which has attained somewhat legendary status today.) 
– Dave got a chance to listen to an advance copy of Piledriver.  As they say, it wasn't released, it escaped.
– As we all knew was coming, Tully & Arn won the NWA tag titles from the Rock N Roll Express on 9/29 at a TV taping, with the Midnights attacking Morton's arm and the Horsemen working it over forever until he was forced to quit.  (I loved that match.  LOVED it.) 
– Kerry Von Erich will return to the ring on the 10/17 Cotton Bowl show, with three short exhibition matches, leading up to a later big match with Brian Adias for his "official" comeback.
– There's mysterious stuff going on in Memphis that Dave is unsure about, as they're taping shows for ESPN and Jerry Lawler suddenly showed up in the AWA top 10 rankings on the TV show this week. 
– Boris Zhukov left the AWA and took his half of the tag team titles with him, and Verne is FREAKING OUT.  Larry Z is of course moving to the NWA as well, and Buddy Landel did one TV taping and then flaked out, which is a record turnover time even for him. 
– Nick Bockwinkel is also leaving after many decades working for Verne, in order to become a road agent with the WWF.  So that's it for his in-ring career.
– In Stampede, rookie Gilles Des Fosses introduced his brother, Jacques, another recent Hart graduate.  (Wait, Jacques and Gilles?  That's awful, even by Bruce Hart's standards.)   
– Tom Zenk might surface in Oregon, but not until 88 because of his contract situation.
– That Savage-Hogan edition of SNME drew a 9.9 rating, which is another strong number.  (If Vince could draw a 9.9 rating today, USA would probably tear up the contract and pay him another $300 million on the spot.) 
– Apparently the Royal Rumble in St. Louis was a royal MESS.  There were never more than 3 people in the ring at a time, and the 2:00 intervals were closer to 1:00 by the time the match ended.  The finish was One Man Gang and JYD going out at the same time, with Gang getting the win via referee decision.  The match was supposed to be for a title shot at Hogan at the next show, but they actually announced the Gang-Hogan match during the intermission before the main event.  Clearly, the Rumble was a failure as a gimmick match and as a drawing card. 
– I know, hindsight is 20/20 and all, but MAN.
– Lex Luger actually did his first job of the year in a non-title cage match.  Just try to guess who beat him first.  You'll never guess.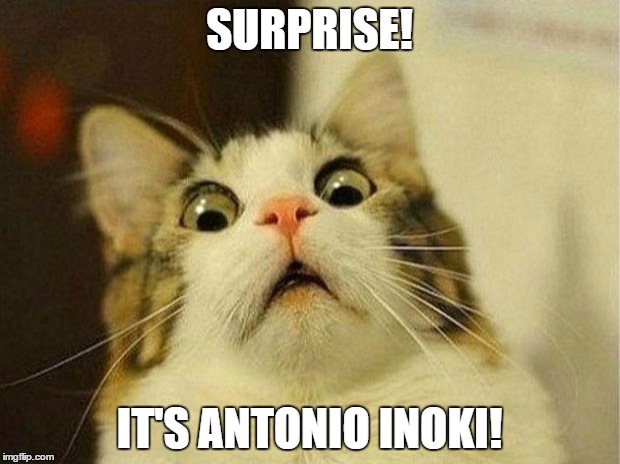 – Wait, no sorry, I did that one wrong.  It's actually Dusty Rhodes.  It's like muscle memory when I'm typing these, you know?
– And finally, Dave watched a bunch of Owen Hart matches from Japan, and his hot take is that Owen is really goddamn great in the ring.  Duly noted. 
S--- continues to get real next week!