And here we had gone for almost two months without a death. 
– Unfortunately, we start with the inevitable death of Scott "Hog" Irwin, who succumbed to cancer after a year long battle at the age of 37.  He was the person credited with popularizing the superplex, although he didn't invent it.  He was diagnosed with a brain tumor in 86 after complaining of numbness in his head, and actually tried to mount a comeback here and there before finally succumbing to the disease. 
– So as promised, Vince is gonna twist the knife on Crockett by presenting "The Survivors' Series" on nationally broadcast PPV at the same time as Starrcade '87.  It's a very real possibility that the WWF is going to run a Hogan-Andre rematch to really make sure they win the war in one shot.  Especially when they're coming off the biggest PPV in the history of PPV.  Also, they're offering this "Survivors' Series" as a package deal for cable companies with Wrestlemania IV. 
– Next up, Crockett is apparently pulling the plug on Florida at the end of the month, and will just run his own shows in the state instead of booking through the Florida office.  Basically Crockett kept sending the big stars to shore up the numbers for the Florida crew, but it backfired and soon people stopped going to shows UNLESS the Crockett stars were there.  Dave is hopeful that the same thing won't happen to the UWF. 
– The WWF held the 3rd annual "King of the Ring" tournament on 9/4 in Providence with a sellout of 12,000.  Dave didn't see it but heard it was a good show.  First round saw Rick Martel pin Dan Spivey, Haku pinned Brutus Beefcake in a terrible match, King Kong Bundy squash One Man Gang, SD Jones pin Sika, Danny Davis beat Tito Santana by countout, JYD pinned Tama in a "miscarriage of justice", Jim Brunzell pinned Ron Bass and Randy Savage pinned Volkoff.  Second round was Martel going to a draw with Haku, Bundy squashing SD Jones, Danny Davis beating JYD by countout, and Savage beat Brunzell.  Semi final was Savage pinning Davis, and the finals saw Savage beating Bundy to win the tournament. 
– GLOW (minus David McLane) is casting for a third season of the show because McLane took all the talent with him to POWW.  Dave is pretty sure that GLOW is going to die off as a fad before they ever get through the second season (which was taped months ago with all the girls who defected), especially once POWW starts airing.  (Yeah, the third season of the show was a really bizarre dumpster dive of nonsense and had almost to nothing to do with the way the show was before.) 
– Pete Doherty has been added to the WWF broadcast team as "Duke Doherty", and he's being groomed to replace Jesse Ventura, just in case.  (BWAHAHAHAHAHAHAHA!) 
– The official Randy Savage turn will take place on the 9/23 SNME taping, although he's not exactly lighting on the world on fire with Honky at the house shows, so Dave is skeptical of this working.
– So on 10/4 they're headlining in St. Louis with a new concept, something called a "Royal Rumble".  Kind of a combination between War Games and a battle royale.  There's 12 guys who each pick a number, and two guys start for 5:00 and then every 2:00 another guy comes out based on the number drawn.  (Sounds interesting.)
– DID YOU KNOW?  Hulk Hogan was only paid $11,000 for the role of Thunderlips.
– They did a house show in Nashville that only drew 800 people, so they didn't even bother sending managers and just had Slick manage all the heels on the night. 
– Gary Hart is trying to bring in Dick Slater and the Iron Sheik for World Class.  Why?
– Terry Taylor won the UWF TV title from Shane Douglas, who suffered a really bad hand injury and was going to be out for a while.
– The UWF TV show is going to change formats, as they're going to drop the UWF TV tapings and start featuring the Crockett guys in a "best of" format based on stuff shot for other Crockett shows. 
– Missy Hyatt was fired as color commentator on Power Pro Wrestling because there was some really bad blood developing between her and the Freebirds and she made some fairly inside and controversial comments about them (Wonder what that was about?  Dave doesn't specify the dirt) and the Birds retaliated with some off-color remarks of their own during promos and they had to be edited off the TV shows.  (I can only imagine what drunk Michael Hayes would be saying about Missy.) 
– Buddy Roberts has gone AWOL and no one really knows where he is.
– Dave finally outs the MASKED ZODIAC as Barry Orton here. 
– Ed Whalen did not appreciate the violence of a recent Bruce Hart v. "Jason the Moffat" match and edited it off the show.  (Ugh, Ed Whalen and his censorship.)  
– The Harts are trying to bring in Ric Flair for a match against Owen Hart, but Dave is like, COME ON.
– Shawn Michaels & Marty Jannetty are not apparently not allowed to be called the Midnight Rockers in Continental because Verne Gagne is claiming to have trademarked it, so instead they're The Midnight Rock N Rollers.  (Without even knowing the real answer I'm gonna call giant heaping gobs on bullshit on Verne Gagne having the foresight or financial motivation to file a trademark, especially since they were already in the WWF under that name and Vince would guaranteed have his lawyers make sure that wasn't the case before using them.) 
– There's two different Jay Strongbow Jrs running around the indy scene, one in California who is no relation and the other who is Mark Scarpa, aka Mark Young.  Dave is getting confused by the situation.
– The former Central States territory is trying to book a Curt Hennig v. Bruiser Brody match in the fall.  (Holy shit that would be awesome.) 
– For those who were wondering about David McLane's plan to run Veteran's Stadium on 9/1, he sold 500 out of 70,000 tickets and had to cancel the show.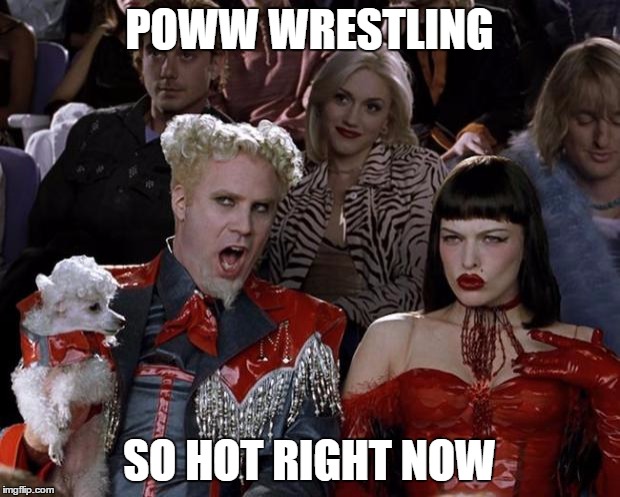 – In the NWA, Paul Jones' big surprise never materialized on the any of the shows promised.
– Jim Barnett is definitely working for Crockett out of the Dallas office.
– The plan for Starrcade appears to be Flair defending against Ron Garvin, with Garvin having to retire if he loses.  This was actually the plan for '86 before Magnum's accident caused them to rebook the show.
– Crockett did another wacky double-shot in Philly and Baltimore on the same night, with Philly ending early so that they could play "stall until the Horsemen arrive" in Baltimore.  This included Lex Luger and Nikita Koloff doing a 45:00 double countout finish in a 2/3 falls match in order to buy time. 
– Eddie Sharkey ran a 24 hour wrestling show as a part of the Jerry Lewis telethon on 9/6 and 9/7, which featured one of his wrestlers actually falling asleep in the ring in a historic first.  (So Roman Reigns must have learned it from there.)  On the bright side, they managed to tape 60 matches for the promotion's future TV show.
– Bruiser Brody's negotiations with Baba have fallen through, sadly.  He was being offered the same as the Road Warriors and Stan Hansen ($10K per week) but he wanted to be even higher paid, so that was that.
– Hogan v. Bigelow is the rumored main event of WM4.  Dave thinks that might be rushing it.
– Everyone passed the AIDS tests, by the way. 
– In the letters section, someone writes to Dave wondering about Lex Luger eventually replacing Hogan as the top draw in the WWF.  Dave replies that if trying to replace Hogan with Luger would be stupid, because you don't replace a stale act with a carbon copy that same stale act.  (Unless you're Vince McMahon in 1993.  Or 2016.) 
– The AWA has been held up yet again, this time following a match between Hennig and Greg Gagne.  Apparently Hennig was signed away from the WWF based on Verne making grandiose promises of money that would come once that mega-promotion deal in California happened, and it didn't happen, and now Hennig is all…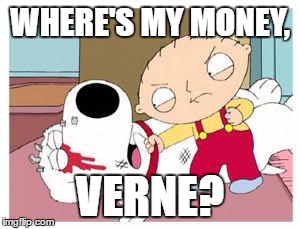 – So the possibility now exists that Hennig will leave and we'll be stuck with GREG GAGNE as World champion.
– New announcers in the WWF include Mike McGuirk and Bruce Pritchard.
– Dave runs down the Star Wars card for World Class on 9/7 and debuts the "Simpson Sisters" nickname that he would beat into the ground for the next year.
– And finally, Rip Oliver looks like a dumbass this week, as he basically burned Don Owen in Portland because he thought he had a job with the WWF, but then did a tryout match in San Fran at the TV tapings and got pinned when he was supposed to win the match due to miscommunication.  The head office guys were unimpressed by THAT and he ended up crawling back to Portland again.  Apparently he would have had a job, too, if not for screwing up. 
SEE YOU NEXT WEEK.