Thanks to everyone for all the great feedback on the debut episode of Scott's Podcast of Doom over on the PTBN Network.  I really enjoyed doing the show with Brian, and our goal is to pump them out bi-weekly, assuming Brian's dryer and my cat are able to handle the workload.  I was actually debating just letting my daughter jump in like she was threatening to do, since she wants to be a YouTube star anyway
http://placetobenation.com/scott-keiths-podcast-of-doom-1/
And we already kick things off with everyone's favorite feature: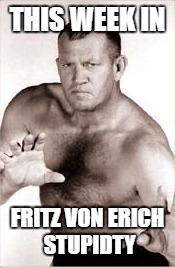 – Dave declares the Von Erichs the "last family of professional wrestling", who have dug another nail in their coffin this past week.  (Man, that's an unfortunate choice of words.)  So Kevin Von Erich was supposed to be defending the "World title of two cities" against Al Perez on 8/21 (which they had been building up by having Kevin beat him up all over the place), but when Kevin was informed that it was a title change, he didn't take it well.  He refused to do the job and no-showed the card, and they just announced that Perez was the new champion.  The best part is that the reason given by Fritz was that Kevin was taken out yet again by Brian Adias and his dreaded ORIENTAL TOOL PUNCH and the doctors refused to let him work.  Dave just doesn't even know what's going through their heads on this one, especially since Kevin could have dropped the title by DQ and crowds generally go up with a Von Erich challenging for a World title.  Not to mention that it's KEVIN'S DAD who owns the promotion in the first place!
– So the Road Warriors took their million dollar contract offer to Vince and that went about as well for them as you'd imagine, because even in the face of the ROAD WARRIORS coming to him and looking to jump ship, Vince still won't offer any kind of guaranteed contract.  He's all about opportunity, you see.  However, while the Warriors know that they could make more money under the WWF banner, they worry that Vince will turn the team into something that they don't want to be, and phase out Paul Ellering as manager because he doesn't really add anything to the act.  (Or, you know, they could add a ventriloquist's dummy.)  In the end, it was probably just negotiating leverage with Crockett, and they've agreed to stay through October at least while they hammer out a new deal.  I'm sure Vince was all…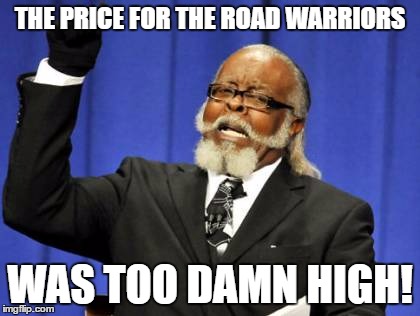 – Really though, with Starrcade likely to be announced for Chicago, Crockett couldn't afford to lose them, and the Warriors wouldn't want to give up all that sweet sweet Japan money.
– Dave goes into an interesting analysis of the situation, pointing out that the NWA could easily survive the departure of the Road Warriors despite what fans think, because they draw fine on shows where they're not working anyway.  The other complaint from fans is that the Warriors really need to be heels anyway, and here Dave argues that if they DID turn them heel (which won't happen, obviously) and they were to feud with Dusty (which also won't happen), then logically the fans would all cheer the Road Warriors and turn on Dusty anyway.  (But how likely is, you know, literally everything he just predicted there?) 
– To Japan for a note I forgot last time, as the Choshu v. Inoki feud was going to be the "new leaders" v. "old leaders", but Inoki freaked out at being called old, so the feud is "New Leaders" v. "Now Leaders".
– Giant Baba is likely going to be banned from running Sumo Hall because he signed Wajima and John Tenta away from the sumo organization, and then stole ANOTHER top talent this week named Tamakirin.  Apparently bad blood is very real here.
– For those keeping track, Riki Choshu is still banned from appearing on Inoki's TV show because he's under contract to All Japan technically.  His face was accidentally shown while the rest of his team was leaving the ring after a six-man and people got heat over it.  His name is not allowed to be spoken, either.  (If it wasn't so ridiculously real, it would make for a FANTASTIC angle!) 
– Dave describes the finish of a Flair-Dusty match in Denver as "the typical finish of a debut-in-the-city match", where a ref gets knocked out and apparently counts a pin on Flair, but in actuality disqualifies Dusty instead.  (Come on, Dave, you can put it together and find a better description, I bet!  What kind of finish would you call it…?) 
– Dave appears to be unimpressed with the Masked Zodiac in Stampede, noting that he "claims to be a witch."  (Pretty sure he never claimed to be a witch.  He claimed to be a LOT of things, but never a witch.)  Also, Jason the Terrible and Brian Pillman are just ripping it up in their feud, doing wild brawls where Jason beats on him with axe handles and chairs like a crazy man and Pillman bleeds like a pig.  (Jason was the scariest heel I had ever seen when I was 13.  I was so used to wacky bumping clowns like the Four Horsemen or slow fat goofs like the Hogan challengers and Jason was this terrifying monster who never sold anything and no one could get an advantage on him.  I was legit concerned for Owen's well –being when they had their inevitable title match, which speaks for the effectiveness of the Jason character and Owen's babyface act as well.  Basically, Jason broke the "rules" of wrestling and never really "wrestled", he just ignored the niceties of the format and beat the shit out of people, and I didn't know how someone was supposed to counter that. Mind blowing stuff at the time, to be sure.) 
– Keichi Yamada and Hiro Hase have been having a series of clear **** matches in Stampede, and Yamada is amazing.  (Hold on, let me grab my notebook and record this HOT TAKE for posterity, that Jushin Liger is a hell of a worker and has great matches with Hase.) 
– Down in Memphis, Pat Tanaka and Paul Diamond are now calling themselves "Bad Company", which Dave points out is actually ripping off the team of Bruce Hart and Brian Pillman, who had it first.
– The little-known War Games III in Chicago (featuring Ron Garvin instead of Paul Ellering) was about 2000 shy of a sellout, which is pretty disappointing for a market that's supposed to be getting Starrcade.
– Crockett heads to the Joe Louis Arena in Detroit on 9/25 with a loaded show featuring seven title matches, headlined by Flair defending against Ron Garvin in a cage match.  (No indication from Dave at this point.) 
– Crockett also had a falling out with Pro Wrestling This Week and pulled all the Wrestling Network footage, so no more NWA, UWF or Florida on that show.
– Bad Company update:  ANOTHER team is now using the name, down in Georgia.  Dave wonders if all these teams are asking the same person for name ideas.
– Sherri Martell has been renamed Sensational Sherri, just in case people confuse her with Rick Martel.
– Dave doesn't think it'll happen, but people in the music business are telling him that Koko B. Ware's "Piledriver" song is going to be a big hit, and so Vince is pushing him now.  (Who was the mysterious source in the music business?  Vince McMahon?) 
– Dave on demographics:  The cities with the highest proportion of black people were the lowest drawing for Mr. T's recent run.  (In that case, he must have been a huge draw in Canada!) 
– Tom Zenk is now claiming that he was fired because he asked for the same money that Martel was getting (Rick, not Sherri, wouldn't want to confuse anyone!) and Vince wouldn't give it to him.  (To be fair here, Martel was a former World champion, and Zenk is friggin' Tom Zenk.) 
– The annual "Star Wars" show on Labor Day for World Class has been downsized yet again, running a small arena in Fort Worth with cheap tickets for kids AND free sno-cones!  They still haven't announced any MATCHES yet, but that seems to be a minor consideration.
– Future internet denizen Mark Nulty filled in as TV announcer on the Fort Worth show and did a spectacular job.
– Nikita Koloff won the TV title from Tully Blanchard on 8/19 in Fayatteville, which means that Tully & Arn can now win the tag titles.
– Oh, the irony:  At a recent video convention in Las Vegas, Hulk Hogan was appearing on behalf of Coliseum Video along with Bobby and Gorilla, and there were porn stars EVERYWHERE.  However, Hogan wouldn't take any pictures with them because he didn't want his reputation to be tarnished.
– In the letters section, Bruce Mitchell lobbies hard for Ric Flair to turn babyface.
– Masa Saito was briefly prevented from working in Japan because his Green Card expired.  You might wonder why Saito would need a work permit in Japan, but he's actually a US citizen despite being a Japanese native. (Was dual citizenship not a thing back then?) 
– Owen Hart is coming to Japan for his first ever tour, and guess who he has to do a job for in his first match on his first tour?  Go on, take a guess.  You'll never guess.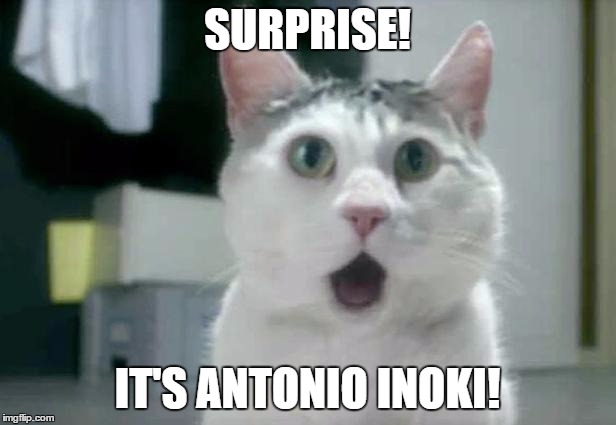 – Jim Barnett will be joining Jim Crockett's offices shortly.
– And finally, in Britain, wrestler King Kong Kirk took a big splash from Big Daddy and never woke up, as he was taken to hospital and pronounced dead from undetermined causes.  (I'm pretty sure it wasn't steroids, at least.)