The talk of the wrestling world continues to be the Great American Bash!  I bet if Donald Trump was running for President in 1987, he would have picked Dusty Rhodes as his running mate. That's how American and successful the tour has been so far. 
– The Great American Bash continues to sell out the arenas it runs through July, as the more modest tour is proving to be a big success.  The Greensboro show sold out with 21,000 people, and the Norfolk Scope also sold out, with Chicago coming up and expected to sell out as well.  Dave still thinks jumping to any conclusions about the future success of the promotion is premature. 
– For those wondering, Dusty Rhodes indeed did win the $100,000 ladder match over Tully Blanchard in Charlotte, because Dusty.
– Tommy Rich has jumped to the AWA from Memphis and will be working as a babyface on the TV tapings.  (Don't remember that in the least.  Must not have lasted long.) 
– Mr. T is going to be getting a big push and the WWF is counting on him to carry them through the summer doldrums while they prep the big Hogan-Andre rematch. (Man did THAT plan go south in a hurry.) 
– Doug Furnas lifted really heavy shit and Dave apparently thinks this is something that people will care about.  (By Dave's own admission this is a pretty slow month for news.) 
– Dave's report on the Puerto Rican territory comes from newspaper clippings, but he does work in a funny story about Japanese worker Samson Fuyuki, who has been growing out his hair like Riki Choshu and now is calling every promoter he works for to beg them to change his ring name to "Riki Fuyuki" in their programs because he wants to be Riki Choshu.  Hopefully Choshu doesn't wake up one morning to see Fuyuki outside his window or something.
– Hey, it's a SASKATOON SHOUT-OUT in the Stampede section, sort of, as a new promotion is running out of Edmonton and RIGHT HERE, in Saskatoon Saskatchewan and doing pretty well in competition with Stampede.  It's the North American Wrestling Association, using Bruiser Brody and ex-Stampede castoffs like Ben Bassarab (who married into the Hart family and then had a falling out with them).  Apparently they drew 2500 to Saskatoon with Bruiser Brody v. Dr. D (that's quite a main event!) but I don't recall ever hearing anything about them again so they probably self-destructed pretty quickly.  I was in Vancouver at that point so I wouldn't have any knowledge or access to them without TV.  And in fact a quick check reveals that their last show was about a week after this issue came out.  On the bright side, they ran a few shows in Wetaskawin, Alberta, so they probably got a good deal on a car if nothing else. 
– That was a little shout-out to my Alberta readers there.
– OK, back to real promotions again, as Crockett jobber Bill Tabb has been working in Florida as the Black Assassin.  This is fine, but his costume is basically a KKK hood and robe, and Dave has been like "Maybe someone should suggest a more appropriate set of gear for him".  And apparently Kevin Sullivan listened, and now the Assassin has gone unmasked and is ripping off Road Warrior Hawk's look instead, with a mohawk and facepaint. 
– Dave's review of a Ricky Morton concert at the Orlando show on 7/12:  "I'm told Morton was about as bad as you'd figure, but the crowd liked him anyway.  No word on what the cats in the neighborhood said."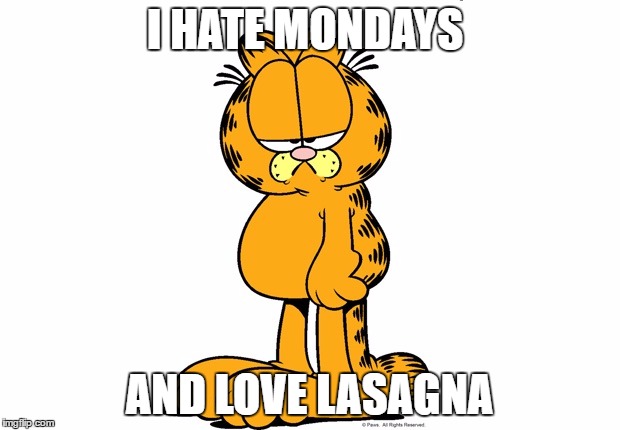 – Wait, really?  That's all you've got, Garfield meme?  No wonder everyone thinks you're lame.
– Word is that Crockett will be phasing out the Florida territory soon if things don't pick up.  (What, you mean Dusty Rhodes v. Ric Flair for the millionth time isn't popping the territory?) 
– Dave makes sure to encourage everyone to seek out the Giant Baba v. Raja Lion (a supposed karate champion) match from 6/9 in Tokyo, because that way everyone can vote properly for the Worst Match of the Year.  (Sorry, Dave, Hogan v. Andre would go on to win that year.  Apparently the 88 winner was Wajima v. Tom Magee?!  What human being would book THAT?!  Anyway, you KNOW I couldn't let this one go without checking the YouTubes, so THANK ME LATER.) 
Yes, this a match that really happened.
– In Memphis, Scott Hall and Steve Keirn are both in for a week and they wanted to make them sound important, so a "US tag team title" was created for them, which was promptly forgotten after they left. 
– Jerry Blackwell appears to have split from the AWA, and will be running his Georgia AWA-satellite promotion as an independent.  The original main event of an upcoming show was supposed to be Stan Hansen & Abby v. Bruiser Brody & Blackwell, and Japanese magazines were losing their MINDS because they had never seen Hansen v. Brody at that point (Really?  That's a weird thought.  They must have wrestled a bunch in Japan before Brody's murder, then, because I know they were at least on opposite sides in tag matches in Japan.)  And now it looks like Brody is double-booked so it won't happen anyway.
– To clarify Tommy Rich's AWA role, he'll replacing Jimmy Snuka as the guy to give incomprehensible and embarrassing promos on TV. 
– Nick Bockwinkel beat Larry Zbyszko in a match taped for ESPN by hitting him with a roll of dimes (as a receipt for the famous Hennig-Bockwinkel title change)  in an excellent 13:00 match, which was great because Bockwinkel attacked him at the bell and thus saved us from the "8:00 stall".  (Some journalism.  Everyone knows Larry uses a SEVEN minute stall! ) 
– Finally to the WWF, where they did a Hogan-Savage dark match as per usual in Glens Falls for a TV taping, but SAVAGE was the one cheered.  So obviously the crowd was hip to Savage's impending babyface turn.  (Boy, I bet THAT was a fun conversation with Hogan afterwards.) 
– Don Kroffat (the former Phil LaFleur from Stampede and future Phil LaFon, not the more famous Canadian wrestler named Dan Kroffat who was retired by that point) had a tryout match had a tryout and looked good.  (Obviously that never went anywhere.) 
– And then, in the middle of the issue, DAVE'S NEW TYPEWRITER BREAKS AGAIN and he has to switch to the one with the goddamn broken "O" key in mid-report.  FUCK!  He even admits that we're all going to start cursing him.  No shit.  JUST BUY A DAMN COMPUTER, 1987 DAVE!
– Rick Martel has been bashing Tom Zenk in interviews already, calling him a quitter.  For the moment Martel will be teaming with "Junkfood Dog" as the "Can-Food Connection". 
– OK, I'll give him that one. 
– Superstar Graham was over big in his squash matches, but he's limping noticeably and probably won't be able to wrestle full-time for long.
– The proposed Hogan-Andre stadium show in Toronto has been canned due to health concerns with Andre's back.
– Allegedly, word about the locker room is that Zenk quit because Haku was beating the shit out of him night after night.  (Haku tore out a man's EYE!  I'd quit too if he was pissed at me!)
– With the Can-Ams dead, there's an opening for a pretty boy team, so don't be shocked to see the Midnight Rockers given another chance or the Rock N Roll Express stolen from Crockett.  (Or Option C:  Create your own!)
– Sherri Martell was offered a contract and she should be starting shortly, although she hasn't officially accepted yet.
– The reason behind the sudden drug testing and moral fiber from Vince is that they had signed a deal with Mars candy for a series of WWF-related tie-ins, which then fell apart when Duggan and Sheik got busted.  (Aren't stoned thirtysomethings like, at least 40% of the chocolate bar market?  Also, Dave calls them "candy bars" here, which must be one of those weird regional dialect things, like "soda pop" or voting for Trump.) 
– Dave thinks that Savage can get over as a babyface, but much like Roddy Piper he'll probably fail due to lack of heel opponents to draw with.
– Dave's already got the Garvin/Precious punchline figured out, as Jimmy Garvin is promising that Flair has a date with "a member of the Garvin family" and Dave is like "Aha!"
– Dave is also bothered by Lex Luger's heavy breathing in the ring.  (Better get used to THAT.) 
– Speaking of Garvins, Ron Garvin has been doing matches as Miss Atlanta Lively against Bobby Eaton around the towns, I guess to get in character? 
– The main event of a show in Baltimore saw a six-man elimination match with Flair/Anderson/Luger v. Road Warriors & Nikita Koloff, but everyone refused to do the job.  Dave asks "How can you have an elimination match when no one will lose?" and the answer is a shitload of DQ finishes.  Hawk beat Flair by DQ in the finale of the match, in case you're wondering.  Dave thinks maybe there's some ego issues at work here.
– Dusty Rhodes took his first shot at the WWF in response to the Virgil thing on the weekend show, saying that Ron Simmons is a real athlete who "didn't have to bleach his hair blond to get a job". 
– Thank god, Dave gets a new typewriter just before the letters section.
– And finally, there's BAD BLOOD brewing between the Hart Brothers Training Camp and the rival Les Thornton training school.  Like, really serious.  I'm envisioning a giant street fight where no one knows quite how to run the ropes properly yet and keeps tripping over themselves.