It's time for the Great American Bash!  Hopefully all the talk about freedom and MURICA will give me more opportunity to bait Libertarians with my "logic" and "reason".  Warning:  There's a bit near the end about government regulation of wrestling, in case anyone needs to get their tinfoil hats ready.
– Top story is of course the Great American Bash tour, which is already looking to be wildly successful compared to last year's shows.  In particular, the WarGames show at the Omni drew 13,500 people for a massive gate of $250,000.  Since it's the one that everyone cares about, he runs down the Omni show first, via his correspondents.
1.  Kendall Windham pinned Gladiator #1 in 4:59.
2.  Sting pinned Thunderfoot #1 in 5:40 with a fistdrop.
3.  Lazortron pinned Spike of the Mod Squad in 7:00.
4.  Jimmy Valiant pinned Basher of the Mod Squad with a rollup in 5:10 (a total DUD)
5.  Barry Windham cradled Rick Steiner to retain the Western States title in 5:00 (so-so)
6.  The Garvins beat Konga the Barbarian & Vladimir Petrov (Petrov never really tagged in, and so the match was OK)
7.  The Lightning Express retained the UWF tag titles over Angel of Death & Big Bubba in 6:00
8.  Chris Adams beat Black Bart by DQ in 4:35
9.  The Freebirds beat Paul Jones & Manny Fernandez & Ivan Koloff when Gordy pinned Jones in 3:58
10.  The Rock N Roll Express beat the Midnight Express by DQ in 4:00 when Big Bubba attacked Morton (This was on the Bash 87 tape, along with most of the big matches on this show, and it was GREAT for a short match!) 
11.  Steve Williams beat Dick Murdoch in a Texas Death match in 8:00 when Doc knocked him out with his cast.
12.  The Road Warriors & Superpowers beat The Four Horsemen in the "much hyped Match Beyond tornado cage match", which had lots of blood, but "wasn't a match of the year candidate or anything."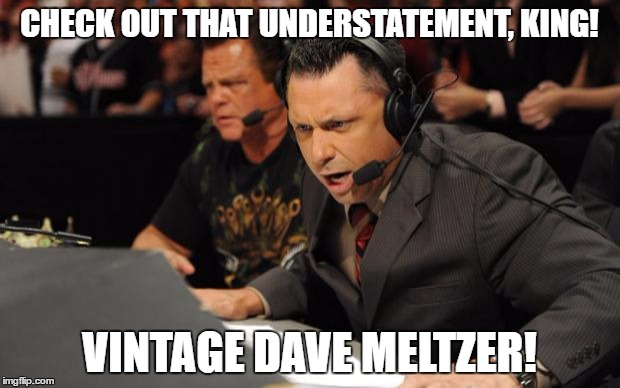 – In other big news, Titan Sports settled with John Stossell from 20/20 for $425,000, because they had enough s--- going down with the Sheik/Duggan cases and wanted to avoid any more legal entanglements.  Plus had the case gone to trial, a jury would have thrown the book at Shultz and then the WWF would have been Gawker-ed.  (See how I made that a verb?) 
– And another territory bites the dust, as the long-expected end of the Montreal promotion has come.  They've been struggling since the departure of Dino Bravo (now there's a sentence I've never had to type before) and the end was inevitable after guys like Martel and the Rougeaus left.  At this point, the WWF will take over the arena rights and TV slots.  And Steve DiSalvo will probably end up there, as well.
– Jim Cornette is out again after injuring his OTHER knee, and he'll need major surgery on both of them sooner rather than later.  He probably won't get it though.  (This explains why he was absent from the Bash tour on the video tape.) 
– Chris Champion is healing very well (the breaks in his arm were clean) and he'll be back sooner than expected, but now Royal will be out longer due to third degree burns on his neck.
– In a bizarre story, former NWA announcer Richard Landrum (who preceded Tony Schiavone) was convicted of wire-tapping his ex-wife's phone calls and putting a bomb in the car of her boyfriend, and was sentenced to 90 years in prison.  (That seems a tad excessive.) 
– In Stampede, Bad News Allen faced Owen Hart for the North American title and tripled attendance over shows of late, as they had a wild brawl that ended with Allen destroying multiple referees.
– Butch Moffat is headed to Calgary as Jason the Terrible.
– The WWF is running the Calgary Stampede instead of Stampede Wrestling this year, and with any kind of a decent show they could have drawn 18,000 at the Saddledome due to all the traffic there.  So of course the main event is George Steele v. Kamala and a bunch of scrubs underneath.
– To World Class, where the promotion still insists on pushing the Kerry Von Erich comeback as a real thing that's going to happen.  Dave just thinks it's sad, but he does give them credit for greatly improving the TV show with the new syndication deal.  He does understand the reasoning for the Kerry thing, though, as World Class makes more from Von Erich merchandise than they do from live gates, so it's actually important to keep Kerry in people's minds so the t-shirts will keep moving.  (Vince learned the same lesson with Steve Austin in 1997.) 
– Ted Dibiase is getting over BIG with the Million Dollar gimmick, and Virgil could even be the WWF's answer to Big Bubba and do a big babyface turn eventually.  This notion sickens Dave because Mike Jones is so bad that "words haven't been invented yet to describe him."
– Dingo Warrior skipped the Japan tour to do opening match squashes of Steve Lombardi for the WWF.  Dave scores that as a point in Inoki's favor.
– Here's Dave's note on the Haku-JJ Funk incident, reprinted in full:  "Haku the Islander pulled out Jimmy Jack Funk's eye in an out-of-the-ring brawl"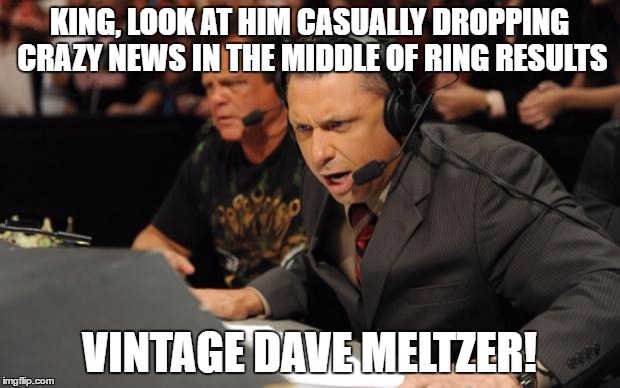 – And that's all he says about it!
– Rick Steiner's younger brother Scott will start with the UWF starting in August, working as Scott Sanders.
– Ron Simmons will also be coming in, which is good because then he can work with top-tier guys and learn to work.
– Sir Oliver Humperdink suddenly gave notice in Florida, which leaves him a pretty big hole to fill given all his roles.  (Dave doesn't make the connection here, yet, but then adds a note at the end of the section and figures out where the Dink is headed.) 
– Wahoo McDaniel is the new booker of the AWA, which means that main events will likely be closer to the 10 minute range instead of the 20 that Verne liked to book, plus LOTS of blood.
– Someone from Coliseum Video actually wrote to Dave to inform him that there will be no heel Andre tape released in 1988.  Once the slow summer months are over, however, they will definitely be restarting the Hogan-Andre feud.
– The Midnight Rockers are trying to get into Memphis now.
– Adrian Adonis is negotiating with Crockett, but apparently both sides have vastly different thoughts on his financial value to them.
– Linda McMahon and Gorilla Monsoon testified before the state legislature in Pennsylvania, trying to get wrestling de-regulated, while the commission is fighting to make it MORE regulated because they're about to die off without a cash influx from the government.  Linda openly testified that wrestling is more like the Harlem Globetrotters or Ice Capades than a real sport, and also testified that blading is not permitted or condoned in the WWF.
– And finally, a correction from earlier in the issue:  John Tenta will actually be coming into Al Tomko's promotion in Vancouver to learn to work, not Stampede.  (That's like going to Denny's to learn proper nutritional skills.)