I feel like Jim Crockett should have held a draft to mix up the UWF and Florida talent instead of just putting all of Dusty's crew over as champions.  Might have made things a bit more interesting.
To the news!
– We're a month away from the Great American Bash, and once again it's all about Dusty after the $100,000 match with Tully Blanchard in Greensboro.  They're gonna be doing first blood matches and cage matches and barbed wire matches and Dusty is booking himself to be all over TV as the main star.  And everyone on every show has to stop during their promos, heel or babyface, and put over Dusty.  Even in the UWF show is gonna become the Universal Dusty Federation pretty soon, Dave is betting. 
– Dave notes that again this year, they're doing the crazy travel schedule for the Bash where they do an afternoon show in Virginia and then an evening show in Chicago, which is going to continue to burn out the main eventers. 
– Last year's Bash was a disappointment for a few reasons.  The stadiums were WAY too big for the setup, no one outside of Charlotte wants to see a country music concert with their wrestling, and something about the ticket prices.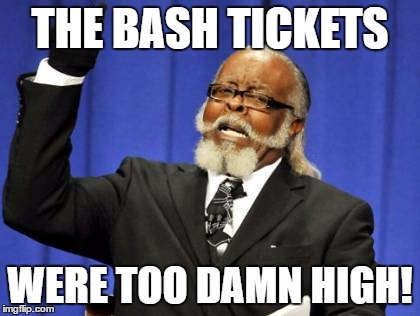 – Right, that was it.  Prices were out of control, up to $50 in markets that were used to paying $10 – $15.  All three mistakes seem to have been fixed this year.
– They were also trying to get back into California for some shows, but at this point most of the arenas have no interest in booking anyone but Titan.
– The "new" World Class TV program debuted on 6/7, and the production look was better with the money from Bum Bright's syndication group pumped into it, but the show was still shit.  Dave feels like WCCW hasn't yet learned the most important lesson in wrestling promotion:  When you're hot, you're hot, and when you're not, you're not. 
– Basically, Fritz's idea for drawing money in 1987 seems to be trying to relate to the younger fans by showing the same clip of himself beating King Kong Bundy in 1982 that he's been showing since the day it happened.  Also, putting Kerry Von Erich into an interview segment, because apparently Fritz feels like PROMOS were Kerry's strong suit all this time.  Basically, Dave says, the promotion was big from 82-84 and once they burned out the appeal of the Von Erich kids and the teenyboppers moved onto something else, the promotion was a walking corpse.  Dave just goes off on Fritz, who portrayed himself as Father of the Year on this show, noting that not only could a blind man see what was going to happen to Mike Von Erich, but Kerry just had his ankle and foot nearly DESTROYED in a motorcycle accident, and Fritz is STILL pushing him to get back into wrestling again?  Dave is still haunted by Kerry working that match against Brian Adias, where he had pretty much had 90 seconds on painkillers and then suddenly was left helpless and trying to work an actual match on a mangled foot and you could see the terrified look on his face.  It's bad enough if Fritz didn't try to talk him out of doing it, but by actually encouraging it to pop a house, he's a monster.
– Just as Dave was typing up his rant against Fritz, Terry Taylor was involved in a serious car accident with Eddie Gilbert & Missy Hyatt.  Basically they were side-swiped by another car, and Taylor is in bad shape and had chunks of his intestines removed as well as torn abdominal muscles.  He'll be out for 2-4 months.  (And then he was never the same worker again, sadly.) 
– The WWF has a big angle planned for early fall, but Dave doesn't know what it is.  (I know what it is!)  Dave speculates that it's related to either Mr. T or an Andre rematch, but all he knows is that there's an Exhibition Stadium show planned for August and they don't have any matches that could fill it right now. 
– Ricky Steamboat's sabbatical has gone from six weeks to six months all of a sudden, so he won't be back until 1988.
– Harley Race has torn ligaments in his knee, but he's gutting it out against Hulk Hogan. 
– Don Muraco and Bob Orton have split up their team and Muraco is turning babyface.
– Still more rumors of Randy Savage turning babyface.  (I feel like yelling COME ON DAVE, PUT THE PIECES TOGETHER!)
– For the lucky people in New Jersey, the 7/6 show at the Meadowlands is headlined by Danny Davis v. George Steele in a cage match.  (The History of WWE site doesn't list a show on 7/6 so maybe it was canned?) 
– Ken Patera wasn't allowed into Canada for a Toronto show, because of obvious reasons, so Bruno took his place against Butch Reed.  (Probably a better match, too.) 
– Jim Barnett is out of hospital after his suicide attempt, but Dave is uncertain what his status within the WWF is.  (Fired, I believe).
– As a result of the Lawler lawsuit, Harley Race's official trademarked gimmick will now be "King Harley Race" instead of Harley "The King" Race.  Dave notes this means nothing and no one will care.
– In Portland, rookie wrestler Art Barr continues to look good, or so Dave is told.
– On the flip side (for those who ask for predictions that don't pan out), Dave thought that Warlord's partner in Central States, a rookie named Krusher Karl Kovac, had a good look and potential in the future.  He was fired a week later and was never heard from again in wrestling as far as I can find.  There's some possibility that he was the guy later known as Carl Styles in the Northwest, but I can't find any official confirmation on that.
– Dave explains the deal with "The Match Beyond' upcoming on the Bash tours.  He runs down the rules and then notes that fans are kind of disappointed because it sounds predictable and they were hoping for a new match-up, not a new gimmick match.  (Yes, Dave Meltzer buries WAR GAMES a month before it even happens!) 
– Dingo Warrior returned to World Class, still billed as Texas champion despite originally getting fired in April. 
– And finally, Dave runs down some syndicated ratings info, and GLOW continues to be something of a juggernaut, scoring ratings about on par with Wrestling Challenge overall.