The era of the new typewriter continues, with easy to read typeface!
Also, a pair of title changes this week, one real and one very fake.
– The big title change is of course a rather stunning upset, with Honky Tonk Man winning the Intercontinental title from Ricky Steamboat at the TV tapings on 6/2 in Buffalo.  Dave doesn't have details yet, other than it was the deal where Honky lifted his shoulder at the last moment to win, and Steamboat is taking a long sabbatical with a baby on the way.
– With Steamboat leaving, the babyface side is really weak right now.  The only possible new top guy is Ken Patera, and…hold on a second, this needs a dank meme: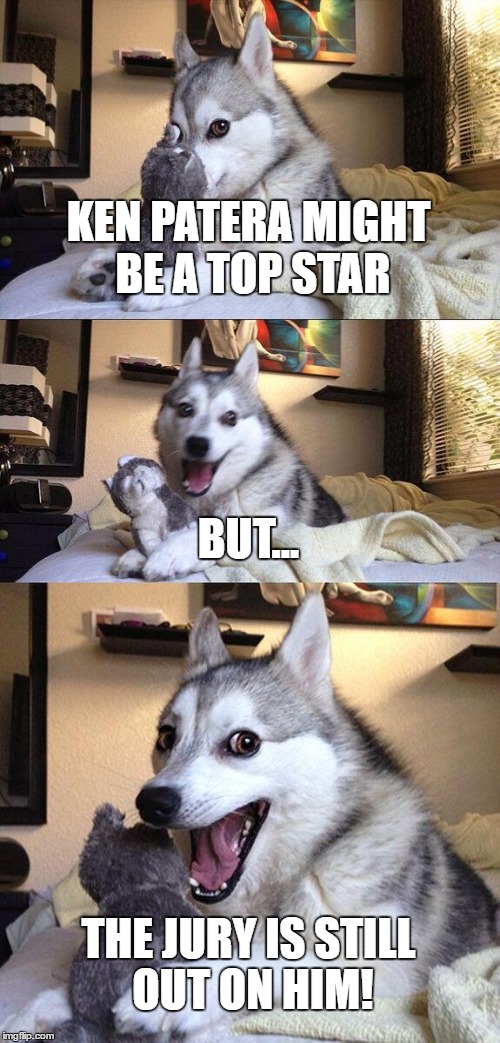 – If it helps, Dave did apologize for the pun in advance.  Anyway, with the weakness on the babyface side, the time is right for the long-awaiting Randy Savage turn.
– As an update on the Duggan situation, both guys have been fired and will never work for the WWF again.  Ever.  And wrestlers have been told that neither name should be mentioned in interviews.
– The second major title change of the week was the Rock N Roll Express "winning" their fourth tag team titles, sort of.  So Rude had left without notice for the WWF and Ivan Koloff took his place as the champions at which point they were supposed to drop the titles on 5/30 in Florence SC.  BUT, Manny Fernandez then disappeared as well, so at the TV tapings a few days later they just announced that the Express had won the belts and showed a non-title match from last winter that had already aired in Japan in February, which then retroactively became a title match through the magic of bullshit.
– In the title change that was supposed to be, but then wasn't, Tully Blanchard actually retained the TV title over Dusty Rhodes in the $100,000 challenge, as Dusty was counted out while defending Magnum TA from JJ Dillon.  Dave noted previously that Dusty was making sure to align himself on TV with Magnum as much as possible because no human being could possibly boo Magnum TA.  This should mean Dusty will be occupied with Tully all summer instead of Flair, much to Dave's relief.
– This year's Bash tour will retreat to the indoors, and feature 100% less country music concerts, although Michael Hayes will be doing concerts instead.  Apparently the main events will be something announced on TV as "The Match Beyond", a gimmick match never seen before.
– TSN debuts Pro Wrestling Plus this week, as well as the 90 minute Stampede show.  Sadly, TSN was a premium channel in Canada until the early 90s, so I was still stuck with the normal TV show produced in Calgary.  I used to listen to Pro Wrestling Plus via scramble-vision, however, because that was life as a wrestling fan.
– Jerry Lawler won a temporary victory over Titan Sports, as a judge ruled that Harley Race cannot be promoted as "The King of Wrestling" in Tennessee nor wear a cape and crown there.
– The rumor mill continues to churn about the potential merger between the AWA and the CWA in Memphis, as they're supposed to working together along with Continental and Central States.  It's supposed to produce a more "entertainment oriented" version of a wrestling show, with Curt Hennig and Jimmy Snuka as top stars doing scripted TV.  Dave's mind boggles at Jimmy Snuka reading lines.  (And yet here we are today.)  They're making big money offers to Ric Flair and the Road Warriors, but Dave doesn't think this trainwreck is going anywhere.
– Hulk Hogan v. Killer Khan is the new program coming out of the TV tapings.
– The Rockers and Bam Bam debuted on the tapings and both stole the show, although Bigelow doesn't have a manager yet.
– JYD is back again, this time on a 90 day probation where he'll be kept on if he can survive the summer without any no-shows.
– Sam Houston is doing jobs already, as apparently he's being pressured to go on steroids.
– Kevin Sullivan has been working an angle in Florida where he's confused about what the date is and hasn't slept in weeks.  (Maybe he's just trying to be the newest Von Erich?) 
– New gimmick match in Memphis debuted as a part of the Lawler-Idol feud:  A Russian roulette coal miner's glove match.  There is a pole on each corner, with a box on top of each, but only one has a glove in it.
– Lawler, by the way, drew a disappointing gate of 5,800 people paying $20,000 for his big return.
– In Stampede, a 25 year old Hart Dungeon graduate named Brian Peters was set to debut, but was murdered on the streets of Calgary via shotgun blast.  Peters was considered a top prospect.  (Considering the level of guys coming out of the Dungeon at that point, that's really saying something!) 
– The UWF was supposed to run Albuquerque on 6/23, but someone forgot to grease the commission and Titan pushed them out at the last minute instead and ran a show on 6/16.  Because of the exclusivity deal that the WWF demands, this means that UWF can't come back until late July.
– How's this for a dream match main event of the Omni show on 6/7?  Ric Flair, Lex Luger & Tully Blanchard beat the Freebirds in one of the most heated matches in Atlanta in years. Flair pinned Roberts to win and then the arena emptied out because that was the match  everyone wanted to see.  Nikita Koloff & Dick Murdoch had to follow that, and failed miserably.
– Dave has discovered that Manny Fernandez is missing due to a family illness, and he'll be back shortly.
– Dave notes that although the Crockett product appears hotter now, it's just an illusion because all the new faces from the UWF and Florida are popping cities in the short term, and then the staleness will set in again.
– Dave is jealous of people who live in Atlanta, because they get the all-night wrestling block on WATL featuring Pro Wrestling This Week, UWF, AWA, World Class, Memphis, Continental, Wild West, Stampede and WWC.  Not to mention TBS.
– Jim Crockett has been pushing this rookie kid named Johnny Ace, and Dave suspects that there's some family ties to Johnny Weaver.  His detective work:
1.  Johnny Ace was an early wrestling name of Weaver.
2.  Ace uses the sleeper, which was one of Weaver's big moves.
3.  He actually gets to win matches as a rookie and the announcers are always putting over his charisma.
– Fine work, Dave.
– Scott Casey jumped to the WWF this week but he's already a jobber.
– Choshu finally did return to New Japan, on 6/1 in a tag match with Strong Machine.  They sold out, of course.
– And finally, Ted Dibiase is working prelims on house shows as a babyface, but will debut on TV as a heel shortly.
And we're out for another week!