So what the heck is going on with the AWA World title this week?  Let's find out!
– So last week when we left off, Curt Hennig had apparently won the AWA World title from Nick Bockwinkel at SUPERCLASH II, via heel turn and a roll of dimes from Larry Z.  However, the title was immediately held up by Stanley Blackburn because Verne didn't actually want to change the title.  This was followed up by Hennig signing with the WWF immediately after winning the title, and now there's news that Verne is outsourcing his champions to the remnants of the NWA for upcoming shows…and Nick Bockwinkel is the guy being advertised as the champion.  For what it's worth, Bockwinkel has been defending the title in the AWA's shows as though nothing happened.
– On the other hand, Hennig had apparently verbally agreed to a contract with the WWF (and Dave had confirmation from a high level WWF official when he reported it) but now Larry Hennig has pressured his son into cancelling the deal in exchange for getting the AWA title, supposedly.  Vince McMahon is, shall we say, not terribly thrilled with either Hennig at the moment.
– Fritz Von Erich continues making friends!  After months of crowds in the sub-thousand range, the Texas Stadium show drew 5900, the largest in quite a while.  So all the guys on the show figured this would mean Fritz would actually pay them this time.  And they were wrong, so a whole bunch of people quit the promotion.  Nord the Barbarian has returned to Norwegia, and Eli the Eliminator is back in Parts Unknown.  Black Bart has gone to the WWF, and even David Manning has given notice (albeit for different reasons).
– More headaches for Fritz as his new syndication deal with Bum Bright has managed to piss off his former syndication company, Continental Syndication.  In fact, the people from Continental actually read the issue of the Observer where Dave revealed the change two weeks ago, and went to Fritz to ask for clarification.  Fritz lied to their face and swore up and down that no change was forthcoming, and then a week later he dropped them and went with Bright instead.  So the result is that Fritz has suddenly lost a WHOLE bunch of TV stations.  Further, the Continental group is now allied with Ken Mantell (who was bounced unceremoniously from the UWF when Crockett bought it) and whatever trainwreck promotion he's trying to run in Texas to compete with Fritz.  (This became Wild West Wrestling, which made a go of it for a year or so.) 
– Up in Canada (Hey, that's us!)  TSN has added Stampede Wrestling and a show called Pro Wrestling Plus, which will be an edited version of Pro Wrestling This Week but with emphasis on Canadian indy promotions and Ed Whalen as host to fulfil Canadian content regulations for the station.  (Loved that show, you got all kinds of wacky footage on it.) 
– In the UWF, the Freebirds and Ted Dibiase have both agreed to stay.  For the moment, most of the contracted talent will be used on upcoming NWA shows in Florida and Chicago.  (So Crockett's plan to make money was to buy the UWF at an inflated price, then fly people from Tulsa to Florida to use as curtain jerkers?) 
– Dave finally Sting do a promo this week and wonders why it took them this long to let him talk.  He also heard Rick Steiner do a promo and didn't wonder why in his case.
– To the WWF, where Barry Orton (Barry O) was in a serious car accident this week, and is currently in critical condition in the hospital.  He was travelling with a woman, who died instantly in the crash.  Details are strangely sketchy, as the only thing Dave can find out is that is happened two or three weeks ago, somewhere in Arizona.  (Orton disappeared completely for MONTHS and then reappeared in Stampede Wrestling, playing the greatest role of his career!) 
– Sam Houston debuted on a house show, beating Sika the Samoan in a prelim match.  Sika apparently was GRUMPY about doing the job for Houston and made no secret about it.
– Jim Duggan has a been a disappointment to the front office so far with the poor quality of matches against Sheik & Volkoff.  Dave is like, gee, I wonder why THAT is?
– Dave updates the Orton accident, as apparently Barry was arrested in connection with the death of his companion, Sherri Jo Bennett.
– Dave hears rumors that Dick Slater has married Luna Vachon, but needs confirmation on it.  (Slater really got women that would normally be way above his level of ugliness.  Wrestling makes for weird relationships.)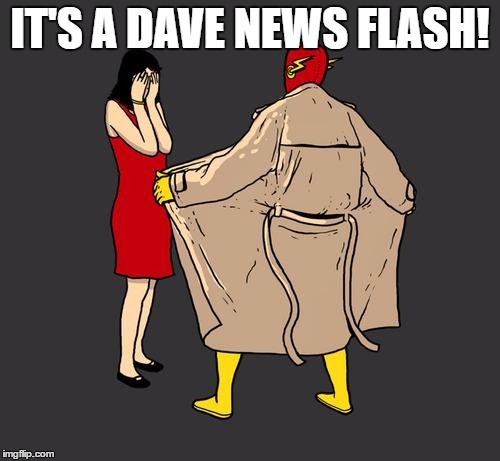 – Another verbal contract agreement gone by the wayside during the course of the issue, as Ted Dibiase has abandoned the UWF already and signed a "very lucrative" deal with Titan Sports.  (One might hazard a guess that it's for…ONE MILLION DOLLARS?)  Apparently we've come to the time when the word of a wrestler means NOTHING, here in 1987.
– In Japan, Maeda and the ex-UWF guys tried to book a show at Koraukan Hall on their own, with Karl Gotch as a referee and the Malenko brothers (Joe and Dean) being featured as shooters.  Inoki quickly managed to block them, however.
– With Jerry Lawler out to due to "injury" from the wild cage match last week, they returned with Idol & Rich v. Bill Dundee & Rocky Johnson on top and STILL drew 9000 people, which shows how much heat that Dangerously's team has right now.  The finish was Downtown Bruno and his team of Paul Diamond & Pat Tanaka running in to beat on Dundee for the DQ, and they tried to cut Dundee's hair during the melee and Bruno somehow got the scissors jammed into his HEAD.  And he bled.  A lot.
– The Midnight Express beat the Rock N Roll Express by DQ in the last first round match of the US tag title tournament on TBS this week in a good match, and then Barry Windham drew with Tully Blanchard in a shockingly boring TV title match.  Dave thinks either both guys had the flu or were jetlagged or something.
– Newest rumor is that Crockett has taken over the beleaguered Montreal promotion as well, but he can't get any confirmation on it.
– Scott Hall has left Florida on a disappointing note, as he was brought in to be Hulk Hogan and ended up stinking up prelims instead.  Dave doesn't think that Hall has much of an upper ceiling given his talent anyway.
– In World Class, the Fantastics indeed regained the tag team titles from the RPMs in a match the night after Texas Stadium, thus ending the controversy.  I know you were all losing sleep over it.
– Apparently Fritz burning his bridges with the syndication company is going worse than even Dave expected, as most of the stations are going with the new Wild West promotion and Fritz is going to have to start from scratch with the Bum Bright group.
– In the AWA, where Dave confirms that the guy who was The Mercenary in the main event of SuperClash II was in fact Jim "Soldat Ustinov" Lanning.  (However, both Wikipedia and Jason Campbell's site say it was Ron Fuller, so obviously Dave changes his mind again later on.  Seriously though, how do you confuse Soldat Ustinov with Ron Fuller?) 
– Both Leon White and Jerry Blackwell worked a show for an outlaw promotion in Denver at the same time as an AWA show in the area, so look for them to get fired soon if recent history holds true. (This Leon White guy is looking to have a pretty bleak future in the business at this rate!) 
– Sheik Adnan Al-Kaissey is telling everyone that he's signed with the WWF, which Dave thinks is hilarious. The only reason that Titan might want him is that he has connections in the Middle East which could be used for touring purposes, but other than that it's likely a complete b------- rumor.
– The joint AWA-Portland card actually did well, drawing 3000 for a Nick Bockwinkel v. Curt Hennig main event, with Hennig subbing for the advertised Col DeBeers (who was fired a month previous).
– And finally, the Fritz Von Erich syndication saga comes to a close within the same issue, as the Bum Bright deal has fallen apart already, so now Fritz has literally become George Costanza by just pretending that the contract with Continental Productions never actually ended.  Fritz is claiming that they needed to terminate the deal by registered mail, and since it happened via phone call, they're still partners.  For their part, Continental is playing along and will be keeping World Class on TV (likely at a reduced rate), but is also hedging its bets and continuing to bankroll Ken Mantell's Wild West in case Fritz tries something like that again.  I love wrestling sometimes.