After teasing us with a handwritten update at the end of the last issue, Dave finally gets a chance to see the Lawler-Idol cage match to lead off the news this week…
– So as noted, Jerry Lawler faced Austin Idol in front of a packed Mid-South Coliseum (9500 fans), hair v. hair with everyone's money being refunded if Idol lost.  Plus it was also stipulated that the haircutting would never air on local TV.  The finish saw Tommy Rich coming out from under the ring (where he had been hiding since 3PM that day!) to get into the cage and attack Lawler.  They posted him several times for the pin, and shaved his head while the Memphis rednecks literally rioted and the heels were trapped in the cage for another 30 minutes because fans wouldn't let them out.  (They don't have guns in Tennessee, do they?)  Bill Dundee will be returning as a babyface to be Lawler's tag team partner to seek revenge before what will surely be sold out shows.  This of course comes after Lawler went on his radio show and made fun of Dundee for being a grandfather when he was with Crockett.  So Dundee apparently forgave him pretty quickly.
– Bum Bright has apparently bought into the World Class promotion after all, although Bright is denying everything and says it's just a syndication and marketing deal.  The rumor is still that they're moving from the Sportatorium to a proper TV studio to tape as of May, and now they'll have money to spend.  (That would be "no" to both of those).  Even though Bright is a super-mega-millionaire, it's going to take more than money to fix Fritz's problems, notes Dave.
– And speaking of those problems, here's Dave's review of the Parade of Champions at Texas Stadium before 6000 people.  They were actually selling $100 tickets where fans could buy a seat in a luxury box and have a buffet lunch with Fritz and Doris to watch the show.  They sold 14 tickets and cancelled the promotion.  Kerry was supposed to be in the box, but with the cancelled promotion he ended up as a lumberjack in the Skip Young v. Brian Adias match instead.  Dave notes that he has blood flowing to his ankle for the first time since the accident, but still needs crutches.  (There ain't no blood flowing nowhere in that foot, Dave.)  Kevin Von Erich retained the World title by going to a double countout with Nord the Norwegian from Norwegia, although it sounded like the finish was messed up.  The Fantastics won back the held up World Class tag titles by beating the RPMs & Eric Embry in a six-man scaffold match, although Dave's not 100% sure if the titles were on the line in the match because even the promotion didn't appear sure of it.  Sounded like a TERRIBLE show.
– The WWF taped the next SNME show in South Bend, IN, and had a disaster of an advance with 2000 tickets sold the week before the show, but then did heavy local advertising and flew in Hulk Hogan for a dark match with Ken Patera against Andre and Hercules.  They then had a giant walk-up and sold out with 10,000 people.  Dave's review of the show:
1.  Kamala pinned Jake Roberts with the splash at 5:00 after Kim Chee wacked Jake with a stick, and then unmasked as Honky Tonk Man.  *1/2
2.  Randy Savage pinned George Steele in a lumberjack match that was advertised as their last match ever.  (I think it was, since Savage turned and Steele retired soon after that.)  Ended up a lot better than their usual garbage match due to all the shenanigans from the lumberjacks.  Finish saw Danny Davis hitting George with a ringbell and Savage dropping the big elbow at 6:00.  **3/4
3.  The British Bulldogs beat the Hart Foundation in two straight falls, but didn't get the titles because the first fall was a DQ.  Dynamite looks scrawny and sad now, and Smith worked most of the way to make it a decent match.  **3/4
4.  Ricky Steamboat beat Hercules to retain the IC title by DQ in 6:00.  This had Savage in the back watching on a monitor and cheering for Steamboat because he thought he could win in a rematch and couldn't beat Herc.  So Savage interferes and drops the elbow on him after Herc uses a chain for the DQ and knocks Steamboat out.  Dave notes that it seemed like they were deliberately making Steamboat look weak here for some reason.  Still pretty good.  **1/2
5.  The Can-Am Connection beat Sheik & Volkoff in 4:00.  Just a showcase for Jim Duggan.  *1/2
The AWA also graced us with SUPERCLASH II in San Fran on 5/2, which was news to everyone.  Dave was there, of course:
1.  Sheik Adnan pinned Buck Zumhofe in 10:45, with most of the match spent avoiding each other.  -*
2.  DJ Peterson drew in 15:00 with Super Ninja.  Real disappointing, with Takano not getting to do much of anything he's actually capable of in the US.  *
3.  Sherri Martell pinned some unknown chick named "Madusa Micelli" to retain the Women's title in 11:00.  Madusa is apparently a rookie who's only been wrestling for a week, and has no idea what she's doing in the ring.  Sherri did her best and almost made it watchable at times.  DUD  (Wonder if she ever got any better?) 
4.  Curt Hennig and Nick Bockwinkel had an AWA World title match that ended with the belt held up.  Hennig pinned Bockwinkel in 26:00 with a roll of dimes handed to him by Larry Zbyszko (which the crowd cheered anyway) and apparently won the title, but Stanley Blackburn immediately held up the title pending a rematch. ***1/2 (Dave will I'm sure get into this more as we go along, but this was retroactively made into Hennig's title win afterwards and the "held up" aspect was ignored.  Verne wanted to do his "belt held up" deal, but the crowd response was so vehemently pro-Hennig and I believe his local promoters were basically adamant that he just make Hennig the champion that he dropped the controversy and just gave Curt the belt. But more on Curt in a bit.)
5.  The Midnight Rockers & Ray Stevens beat Buddy Wolfe & Doug Somers & Kevin Kelly in 16:00 when Stevens pinned Somers.  Good heat but Marty worked the whole match and Shawn seemed like he was on another planet.  **3/4
6.  Jerry Blackwell pinned Boris Zhukov in 10:00.  -**
7.   Russ Francis & Jimmy Snuka beat The Terrorist & The Mercenary (Brian Knobbs & Ron Fuller) in 12:00.  Francis was only in for 90 seconds and pinned Knobbs to win.  1/2*
– Back to the WWF, where Adrian Adonis was fired for a dress code violation (officially) and unofficially for being a disgusting pig in general who missed a bunch of appearances, and he won't be asked back.  Blackjack Mulligan was also fired, leaving Ron Bass with no one to feud with.  Johnny V will be replacing Adonis against Beefcake on all the house shows until they find a new program for Brutus.
– Roddy Piper is going to be on Hollywood Squares this week along with Lou Albano.  (I'm shocked THAT show hasn't been remade to give the Kardashians and Real Housewives and other fake celebrities of the world something to do.) 
HOLD ON A SEC!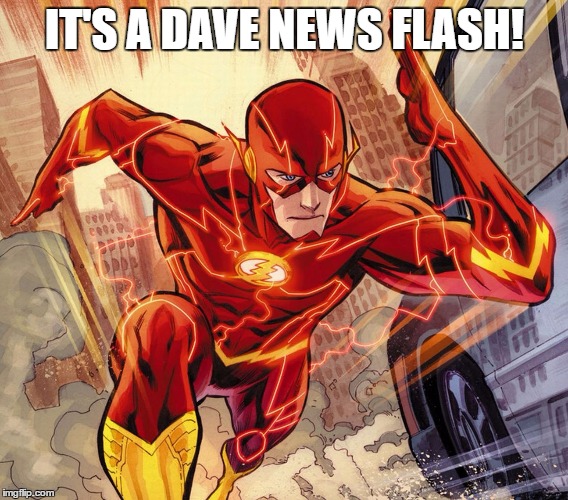 – Dave has it on good authority, with official confirmation and everything, that here in May of 1987, Curt Hennig has signed with the WWF and will be coming in right away.  This is a major coup!  And some fine journalism as well.
– I kid.  But still, way to go, Dave.
– The SNME without Hogan drew a mere 9.5 rating on 26 share on the overnights.  Might as well have put Roman Reigns out there with that crap rating!  Cancel the show right now!
– Savage and Steamboat are selling out with cage rematches around the horn, with a finish where Savage whips Steamboat into the cage and accidentally sends him flying out the door to win.
– Adrian Adonis' last match (ever) in the WWF was a job to Brutus Beefcake in Ontario, in case you're a trivia buff.
– Over to Crockett with a bunch of house show results.  Dave is pretty sure that the US tag tournament is going to be the Midnights beating Windham & Garvin in the finals.
– Dave has late news that apparently the scaffold match at the Parade of Champions was "excellent" and even better than the Crockett ones. (Not exactly a high bar to clear)
– Ted Dibiase has either signed or is very close to signing with the UWF again.  (Because I mean, now that the WWF has Curt Hennig coming in for 100% certain, why would they need Ted Dibiase?)  Dibiase has turned heel in the meantime, setting up a feud with Steve Williams.  (I remember the PWI headline when he turned, as he apparently declared "I'm tired of being the UWF's whipping boy!" in dramatic fashion.  Hey, I bought the magazine, it must have been effective!) 
– Dusty has dumped Vladimir Petrov on the UWF and he'll be wrestling as a single and stinking up matches there from now on.
– Dusty and Crockett ran the Fort Worth tapings and it was horrible, filled with 2:00 squashes and interviews like a TBS show.
– Dave really hates the idea of Big Bubba as champion.  He thought Gang sucked as well and was a major contributing factor to the downfall of the promotion, but Bubba can't even be taken seriously as World champion at this point.  Especially since everyone in Crockett beat him and fans basically view him as Cornette's bodyguard.
– The Montreal promotion is in real danger of going under now.
– Florida is also dying rapidly unless Dusty and his crew are working on the shows.
– And finally, Dave is just gaga over Owen Hart and thinks he'll be the best wrestler in the world by 1990. (Sadly, he had mostly been broken by the business by then already.) 
MORE NEXT TIME.