Since Dave was moving to his new address last time (the same one he would stay at for the next 20 years or so), there was no 3/30 issue and instead we jump ahead to a special double issue covering….what was that show again…?
– WRESTLEMANIA III!
– Oh what a turnaround, as Dave is now proclaiming the show to be the most impressive production in wrestling history by far and a success that far exceeded anyone's expectations.  That's quite the 180 from "Resthold-a-mania" and Dave's previous predictions of a flop.
– Dave's only real sour spot was that the Andre-Hogan match was even worse than he expected, but everything else was on par or better.  To the review!
1.  Rick Martel & Tom Zenk beat Don Muraco & Bob Orton in 5:38 when Martel pinned Muraco with a cross bodyblock.  All action and a good opener, but the Can-Ams have already started falling into that midcard tag team dead zone and are unlikely to get the tag team titles as a result.  **1/2
2.  Billy Jack Hayes battled to a double countout with Hercules in 7:49.  Basically both guys spent the match fighting over the full-nelson, and it was more good action (although Herc was looking unhealthy and winded after about four minutes).  Haynes got the full nelson and both guys fell out of the ring for the countout.  **3/4
3.  Hillbilly Jim & Haiti Kid & Little Beaver defeated King Kong Bundy & Lord Littlebrook & Little Tokyo by DQ in 4:21.  Bundy dropped the big elbow on Little Beaver for the DQ.  Not bad for what it was, but two of the midgets are already eligible for Social Security.  That's not even a joke.  *
4.  Harley Race pinned JYD with the belly to belly in 3:22 after distraction from Bobby.  Bye bye Doggie, notes Dave.  Fabulous Moolah replaced Samantha Fox in presenting the crown to the winner (and what a downgrade THAT was).  Give Race credit for getting at least SOMETHING out of the second-worst wrestler in the world.  *
5.  The Dream Team beat the Rougeau Brothers in 4:04.  Dave was distracted by Dino Bravo's horrible dye job.  Bravo interfered and put Valentine on top for the win, and then the new Dream Team abandoned Beefcake in the ring.  *1/2
6.  Roddy Piper beat Adrian Adonis in the hair match in 6:55.  Short but very entertaining.  Dave gives credit to Piper for putting on a great show just two weeks after electrocuting himself.  (That accident would actually form the basis of a lawsuit that Piper would eventually settle in late 1988, as he was claiming to be incapacitated and unable to wrestle due to the injury).  Tremendous bumps from both guys before Adonis sprayed Piper in the eyes with the secret blinding chemical (Dave reveals the formula:  H2O) and locked in the sleeper.  Alas, Adonis let go too soon and Brutus Beefcake came in to revive Piper, and the sleeper put Adonis out and Beefcake shaved his head.  Ineffectively, Dave notes.  ***1/2
7.  The Hart Foundation & Danny Davis beat The British Bulldogs & Tito Santana in 8:51 when Davis whacked Smith with the megaphone and pinned him.  Kid was looking sad and crippled in there.  The Harts took it really easy on Kid, which hurt the match because he insisted on playing face in peril for some reason.  Smith looked awesome destroying Davis, who was completely out of his league in there with that kind of talent.  **3/4
8.  Butch Reed pinned Koko B. Ware by reversing a crossbody into a rollup at 3:29.  Nothing to the match, as Reed is just terrible now.  1/2*
9.  Ricky Steamboat pinned Randy Savage to win the Intercontinental title in 14:35 by reversing a bodyslam into a rollup.  Dave calls it the best WWF match in more than a year, and better than any match at Starrcade 86.  When he's on, Savage is better than anyone in the business, besides Flair.  Savage lost, but didn't lose any steam.  ****1/2  (Don't shoot the messenger!) 
10.  Honky Tonk Man pinned Jake Roberts with a handful of tights at 7:02.  Jake carried this one his back.  **1/2
11.  Sheik & Volkoff beat The Killer Bees by DQ in 5:45 when Jim Duggan interfered and whacked Sheik with his 2×4.  Duggan is going to be in a tough position because post-WM never draws and he'll be headlining against Sheik, who never draws either.  (It'll get even tougher for him soon!) 
12.  Hulk Hogan pinned Andre the Giant to retain the WWF title in 12:00.  Not the worst match Dave ever saw, but it was THREATENING to be.  Hulk proved all the critics right, in that he couldn't carry the match.  Also, Dave was bugged that they were out of the ring for about 90 seconds at one point but Joey Marella couldn't count to 10 .  Didn't Gorilla teach him basic math?  -****  Dave, however, notes that you can't really complain about a match that did more business than every Flair v. Steamboat, Thesz v. Gotch and Brisco v. Funk match combined.
Dave thinks that this show can't really touch Starrcade wrestling-wise (True) but actually Wrestlemania 2 had better matches.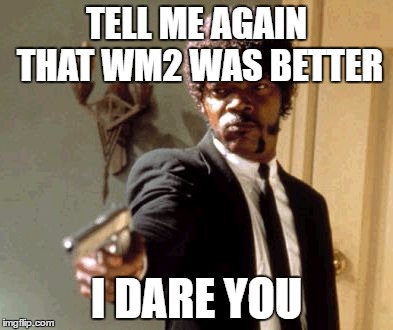 – Sorry, that might have been an overreaction.  Didn't mean to go all Sam Jackson.
– So what's next?  Piper is obviously gone (for a while), and so are JYD and Andre for the time being, and good riddance.  Adonis v. Beefcake looks probable and likely will disappoint in all aspects.  Jake v. Honky might continue, but Dave doesn't think people can see Honky as a main eventer.  (Famous last words).  Overall, it's probably a rebuilding season for the WWF coming up, but they've got a month off to figure it out.
– Back to Japan, where the Riki Choshu madness continues to headline.  One thing is for sure:  Choshu wants to jump to Inoki's promotion and bring all his buddies with him.  Choshu's closest ally, Yatsu, wants to stay with Baba.  The rest of his crew hasn't spoken up publicly yet.  Apparently Choshu's contract is expired, but Baba put a ONE YEAR no-compete clause in there.  (And you thought Vince's lawyers were bastards).  So now Choshu has announced that he's forming a brand new promotion, Japan Pro Wrestling, which will be independent of both groups and work with whoever they want.  However, the whole thing is apparently viewed as very dishonorable on all sides, and sponsors are actually dropping the various shows associated with both groups.  Dave's conspiracy theory is that Baba and Inoki are secretly working together and will share Choshu,, and the whole thing is just an elaborate angle.
– The final ratings for SNME came in at 11.4 and a 33 share, which moves it from "HOLY SHIT a lot of people watched!" to "HOLY FUCK A FUCKING WHOLE LOT OF PEOPLE WATCHED!"  (My emphasis there, not Dave's).  It's actually the second highest rated show in that timeslot in the HISTORY OF TELEVISION, and the highest number of viewers EVER in that slot.  And yet, Dave notes, CBS and ABC still won't try to get Crockett onto their network to compete.
– However, Crockett did get a plum TV deal with WPIX in New York.  And the bad news then came down, as Ted Turner personally pulled the plug on the deal because they're a competitor to Superstation TBS.
– Bill Watts's tantrum in St. Louis appears to have paid off, sort of.  The Kiel Auditorium (which had previously signed an exclusivity deal with the WWF) has now agreed to do a secret bid war between Titan and Crockett for rights to run there.  And then Watts decided to run the Arena instead.
– The UWF tour of California was not a huge success, as it turns out.
– Mike Boyette suffered a historic indignity in wrestling on the UWF TV show this week, as he took an armdrag from Gary Young and knocked himself out by accident, resulting in Young going home immediately and pinning him.  So yes, Boyette was the first person in recorded history to be pinned by an armdrag.
– Dave presents some road reports from his correspondents, and a notable one is the WWF TV tapings in Las Vegas for the post-WM shows…as sent by "Michael Tenay".  Not much to this taping because they obviously coudn't give away results, but it did feature the car crash that was "Missy's Manor" and the debut of Mr. Fuji as Demolition's manager.  This apparently spells doom for their push because they'll never get over now.  Missy actually taped four different Manors here, and they all stunk and she never came back to the WWF again.
– Some of the UWF guys did a tour for Dominic DeNucci in Jersey and Philly, which gives us an early mention of one "Cactus Jack Foley".
– Apparently Taylor was working a high school gym and ended up headbutting and knocking out a 16 year old heckler at ringside.  (If he was chanting "We are awesome" at the time, I applaud Taylor's initiative.) 
– Coliseum Video was producing a "Best of Junkyard Dog" tape, but the WWF told them to halt production early on.  Dave told us not to make any snide remarks, but…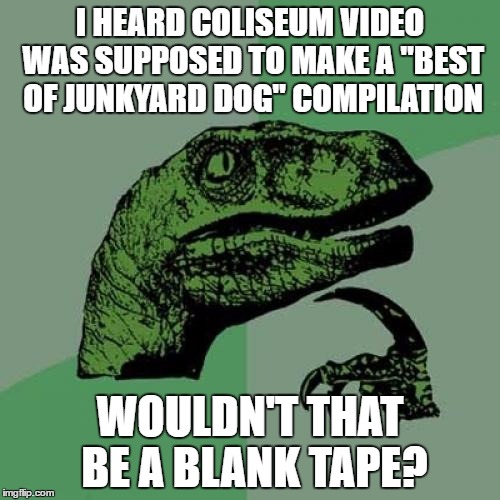 – Hogan finally did the Harley Race match after months of paranoia about Race trying something, but common sense won out because there was too much money at stake.
– Dave thinks that the commentary for  WM made the difference over last year's show, with Ventura being excellent and even Gorilla being a good foil for him.  And then Dave's typewriter freaks out just typing that.
– Hercules was supposed to headline against Hogan in Chicago, but accidentally flew to Tacoma instead where the B-team was working.  Whoops.
– Dave still doesn't buy that Piper can get the "disease out of his blood stream" and actually retire.
– To Crockett, where MULKEYMANIA runs wild on TBS this week.  Dave is less than impressed, but thought it was pretty cute overall.
– Flair cut an incredible promo after being attacked by Ole Anderson, but Dave is unsure of Flair v. Ole as a real match.  However, it's at least better than Flair v. Dusty.
– To Memphis, where Dave continues to stress that Humongus is not Mike Stark, but rather a 6'8" rookie who is REALLY bad.  He's getting a big push, and Jarrett has brought in manager Paul E Dangerously to talk for him, and Dave hears that this Dangerously kid is really good.
– Leon White won the European version of the World title from Otto Wanz in a really bad match in Denver.  White is so bad that even Denver fans, who remember him from his football days, don't like him.  (Poor Leon White.  I bet his time will come.) 
– Even Verne is getting into the tag tournament act, with a 10-team tournament in Minny on 4/19.  (Was there even 10 teams in the AWA at that point?)  Winner gets $50,000.  (Was there even $50,000 in the AWA at that point?) 
– Jim Lanning , who has wrestled as a variety of generic Russian brutes around the country (both as The Russian Krusher and Ivan the Terrible to name two) will be coming in as yet another Russian gimmick.  (Soldat Ustinov in this case) 
– Paul Neu worked the AWA TV tapings in Vegas and was slow and unimpressive.  (He was SLOW BABY, SLOW BABY, SLOW!) 
– To World Class, where Eric Embry debuted in a midcard role and looks good.  (That was one of those weird ones that ended up changing the course of Fritz's business and no one had any clue at the time)
– In the letter section, someone asks if there's ever been a wrestling company in a communist nation, to which Dave replies no, but can you imagine the money that someone could make off TV in China?  (I know a few people who could imagine just that!) 
– Kerry's leg is in even worse shape than ever now, with two of the three arteries now dead.  Looks like there's no comeback coming.
– And finally, Dave scrawls the WM numbers in pencil at the end of the issue:
– 90873 paid grossing $1.599 million, plus an estimated 375,000 closed circuit attendance grossing $4.5 million, but with PPV revenue it looks to be $20 million total.
(What a flop.)