Two days ago the ECW Title was defended at Summerslam 2006 (the first time the Title was defended on WWE PPV) so we'll have a look at that.
Thought it was interesting Sabu & Show have different images for different brands. Got to love the Photoshop'd Title on Show and the URGH GRITTY filter for ECW:

Big Show vs. Sabu (ECW Title, EXTREEEME Rules)
Highlights of the RVD vs. Sabu ladder match play before the match and they manage to make the finish not look crap. As Sabu makes his entrance a plethora of ECW signs show up in one area facing the hard camera. If you're going to have planted signs, it'd make sense to spread them all over the place and not just one area so it makes like crowd look like a game of Minesweeper. Or maybe there were a bunch of fans that really wanted to bring signs saying "I'm the next Big Show" together.
The bell rings and Sabu launches the chair off Show's dome. Sabu lands the Arabian Facebuster quickly for a no-count. Show trips up Sabu and stomps the chair to death. That's a good strategy. Show slowly dominates with headbutts and slams as the crowd chants "We Want Tables" Show bellows "You're not getting any!" Sabu tries a springboard (take a shot) but Show catches him (Styles: "That's like springboarding at a bus!") and gives him a massive Sack of S---. However that sends Sabu outside where he can power up and get more chairs. That's how Dio nearly beat JoJo. Just as I'm thinking "Hey I'm enjoying this match why do I have negative memories of it?" this happens.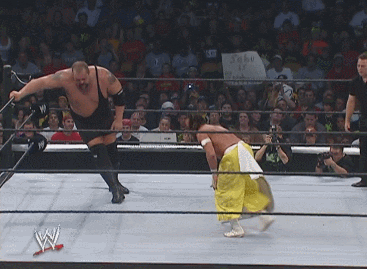 Sabu flies off with a flying chair kick thing for two and goes to get a table, presumably to shut the booing fans up. Sabu manages to put Show through the table head-first by running and diving off a chair, however Show sells it for about ten seconds and gives Sabu an Electric Chair Drop. Show connects with the Vader Bomb which causes Sabu to roll outside. Show gets some steel steps and a table in the ring which takes as long as you'd think so Sabu has to lie on the mat and go "ow" for a while. When Show's set up his extreme diorama, Sabu charges.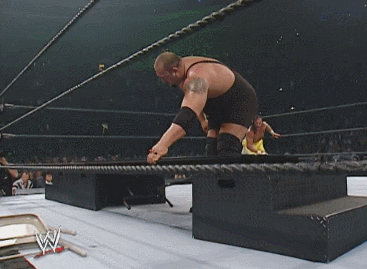 Sabu puts Show through the table with a DDT but Tazz & Styles debate on who got hurt more. Sabu ignores them & logic, sets up another table and Show choke-slams him with no effort for the win.
Winner: Big Show (This started off fine as "Big Show is a monster and the other guy needs to use weapons" is a fine formula, but after the chair drop by Sabu they descended into aimless spots and selling and the finish was so abrupt you wonder if Show simply had enough.)
Now to ECW on Sci-Fi.
We're live in Wilkes-Barre, Pennsylvania, your hosts are Joey Styles (looks like a schoolboy) & Tazz (is as tall as one) and tonight's main event is Big Show vs. Sabu II.
Also of note, the dark match was 2 Cold Scorpio pinning Rene Dupree. Scorpio was under contract to WWE during 2006-2007 but his only televised appearance was as Flash Funk in the Gimmick Battle Royal on Raw 15th Anniversary. Weird.
We start off with an EXTREEEME Bikini Contest between Torrie Wilson and Kelly Kelly. Wilson's here so her cover for FHM can get a plug and Kelly's here so Knox & Test can interrupt. Sandman & Dreamer dawdle out and Sandman must have been watching his lucha as he wants a mixed six-person match.
The Sandman, Tommy Dreamer & Torrie Wilson vs. Mike Knox, Test & Kelly Kelly
The lights go out for a few seconds for no reason and we're off to a great start. Wilson gives Kelly the stinkface and that's the best move of the match out the way. Test man-handles Dreamer by giving him a backbreaker and holding on to deliver another. Knox tags in with his Create-A-Wrestler default move-set really highlighting how not-ready he was. As someone commented last week, Knox got good but that was three years after this but he made a lot more appearances when he was raw because that's life. Test tags in and is a complete dick as he mocks Dreamer as he crawls to try to get a tag, giving him a few seconds of hope and then goes back to beating him up. Dreamer makes the hot tag to Sandman and he attacks whilst shouting "Ah!" after every punch. Sandman hits a suplex, a Russian Legsweep and a swanton (!) called the Rolling Rock by Styles. I thought that was a drug reference but it turns out it's a drink. Oh. Knox misses a top rope legdrop, Dreamer tags in and finishes with a DDT on Big Mike for the win.
Winners: The Sandman, Tommy Dreamer & Torrie Wilson (Fun sprint reminiscent of the PWG Big Gay Multi-Men matches where everybody got a chance to look good. Apart from Knox because he's greener than goat s---.)
Heyman is panicking about the idea of Show wrestling Sabu again. He must have watched Summerslam. Show says it'll be fine as it'll not be EXTREEEME Rules. That leaves Sabu with only the springboard (take a shot) so Show has a point.
Matt Striker makes his ECW debut talking in front of a blackboard. He uses big words smugly and does his best to sound like a know-it-all prick. Then he gets into character.
Kevin Thorn (w/ Ariel) vs. Balls Mahoney (EXTREEEME Rules)
No idea why this is EXTREEEME Rules and Styles & Tazz are too busy being 200% Lawler at Ariel's Booberella impression. Balls brings a chair into the ring like La Parka in WCW/nWo Revenge but Thorn went to Suck U so he's smart enough to kick it away. BALLS BALLS BALLS punches and Balls asks a fan if he's using his beer so he dumps it over Thorn. In the ring Thorn messes up Balls with a big shot to the face. Balls riles on the mat shouting in pain as Thorn twats him with his vamp stick. Eventually Balls recovers and gets a two count off a Sky High. Balls tries to get a chair but Ariel grabs him which allows Thorn to kick the chair into Balls' face and hit the rope-assisted neckbreaker for the win. Glad they realised that was the move that should end Thorn's matches.
Winner: Kevin Thorn (Rougher than a badger's arse but Thorn looked like a wrestler for the first time. They'd have a much rougher match later on though.)
Next week, Raw airs on the Sci-Fi Channel. No idea what that's about.
Adverts: Buy a World Trade Centre 5th anniversary of 9/11 coin made of gold recovered from vaults underneath the ashes of Ground Zero. It rises up too, representing hope. Sometimes real life is weirder than satire.
Shannon Moore is staring at a wall again. "The system is oppressive" he tells us. Who's oppressing him? He's staring at the wall all by himself! These segments represent punk as accurately as Johnny Mnemonic represented hacking.
CM Punk vs. CW Anderson
These two wrestled at ROH One Year Anniversary Show the day after Punk went ninety minutes with Chris Hero. Styles says CW had a cup of coffee in the last days of ECW and Tazz politely says it was a bit longer than that. A year and a half's definitely not a cup of coffee, maybe a meal deal. Crowd loves Punk. They mat-wrestle as Tazz talks about Punk having the "it" factor. CW plants Punk with his big punch. CW at least had great punches going for him. Punk locks in the Tarantula-cum-clutch and tries for a sunset flip but CW counters to an armbar. Punk plants CW with the knee/bulldog combo but CW gets the spinebuster for two. Punk recovers and takes CW down with the Anaconda Vice.
Winner: CM Punk (A much better competitive match than last week's Justin Credible match. Crowd wasn't receptive to most of the things Punk was doing but they liked Punk in general.)
Adverts: Gridiron Gang with Dwayne Johnson. He sounds exactly like The Rock motivating his team.
Big sneak-peak at The Marine starring John Cena. Never seen it.
Paul Heyman talks to the newest member of ECW's roster and it's Hardcore Holly. Heyman tells him to make an impact. He'd impact a table with his back soon enough.
Rob Van Dam vs. Danny Doring
Doring & Roadkill were a fine tag team in ECW but after they stopped teaming Doring became Just A Guy. His shoot interviews are amazing though. Rob Van Dam plays with him until Doring gets a nice counter by turning a backdrop attempt into an angle slam-type move. RVD gives him a monkey flip, a non-chair Van Daminator, Rolling Thunder and the Five Star Frog Splash for the win.
Winner: Rob Van Dam (Quick squash)
Holly appears and hits everyone with chairs and plants RVD with the Alabama Slamma.
Adverts: The Protector. Yeah! Nathan Jones appears. If he hadn't ended up in films full-time he'd probably be at cons with "former ECW star" on his list of credits because of this.
René Duprée is backstage looking nice. Funny Holly made his debut before both Duprée and Moore because they were both busy staring at mirrors or walls.
Clips from Big Show chokeslamming D-X during their match with The McMahons at Summerslam. D-X still won but this would set up the handicap Hell In A Cell match at Unforgiven so yeah.
Big Show vs. Sabu (ECW Title)
Show pounds Sabu and press slams him on the top rope. We go to some not-worth-talking-about adverts and when we come back Show is still dominating but there's a table set up outside. But it's not EXTREEEME Rules, remember. Show clotheslines the whole of Sabu's top body but accidentally hits the ref. Sabu gets a Sack of S--- and flies out of the ring again but Sabu uses this opportunity to get a chair and get the advantage with a flurry of twatting. Triple Jump Moonsault and Sabu goes for a pin. There's no ref so Mickey Jay runs in to count but it only gets two. Wait, if other refs are watching this why hasn't he DQ'd Sabu for the chair usage? F------ wrestling. Sabu gets the ring bell and despite the ref's protests he smacks Show with it. Sabu threatens the ref and goes to town with it on Show until he sends him out of the ring and through Chekhov's table and Sabu's music starts playing so I guess that's the end of the match. Show's bleeding badly.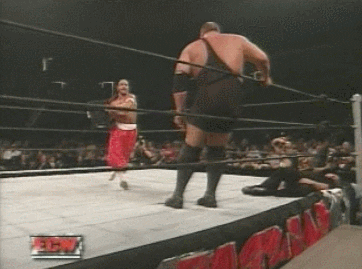 Winner: Big Show via DQ (Sabu looked great here as both a wrestler and as a crazy f--- and it's a shame it wasn't this Sabu we got at Summerslam).
Overall: Pretty good episode of ECW with more wrestlers actually doing stuff.