Previously in a galaxy far far away:  https://blogofdoom.com/index.php/2016/05/04/wrestling-observer-flashback-january-1985-part-4/
Win lose or draw we're finishing up this issue TODAY.  Enough is enough.
– Starting in Japan, where the British Bulldogs decided to jump from New Japan to All Japan via Vince McMahon, and they're leaving because they're pissed off at Inoki about payoffs.  In NJ they made $2000 weekly each, whereas Baba is offering $3500 for Kid and $2500 for Smith.  So, to quote Jon Lovitz, that would be more.  Dave thinks they're going to be even more pissed off when the Road Warriors come in for $10,000 each per week.
– Atsushi Onita, a young wrestler in All Japan who badly injured his knee, announced his retirement at the age of 27.
– The UWF is trying a series of matches where the ring ropes are taken down, since they don't need ropes for their style most of the time.  They apparently have a new sponsor to get them through the summer, but then they'll fold for good.  And actually that was pretty close to accurate.
– Apparently Hulk Hogan's popularity in Japan was TARNISHED by a knee injury when he went home after one show to rehab it, and Japanese fans consider that to be S-A-W-F-T, soft.  In fact, he fell to THIRD PLACE in foreigner popularity polls behind Hansen and Brody, so, you know, obviously Hulkamania is dead.
– Even Dave is sick of this issue because he starts blowing through the territorial news at breakneck speed.
– In Southwest, Scott Casey introduced his brother, Rick, who isn't any good at all.  Rick would go on to minor fame as Wildcat Wendell Cooley.
– Ric Flair returned to World Class to defend against Kerry for the first time since their Texas Stadium match, and after eight months of buildup the best finish they could come up with was Flair getting himself DQ'd by tossing Kerry over the top to escape the claw.  The crowd was also down a lot for a Reunion Arena show (17,000), which might be a bad sign for the upcoming year.  Unfortunately this wasn't just Dave's pessimism, it really was all downhill for WCCW after this.
– Even though the WWF "only" drew 2500 fans to a shithole show in Texas opposite World Class, Dave concedes that this was not actually a total bomb, and perhaps there's something to the theory that Vince draws from a totally different audience and maybe there's room for two different promotions to co-exist.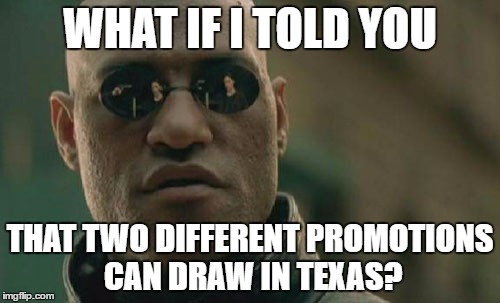 – Meanwhile, Mike Von Erich won the Rookie of the Year award from PWI (yes, over JUSHIN THUNDER LIGER) and Jake Roberts stole it from him and broke it.  Dave notes that the plan was going to be Jake breaking the award on his head to lay him out, but they're so terrified of Mike losing his heat in any way that instead Mike ran wild on Jake, laid him out, and bloodied him up.
– Over in Mid-South, the Rock N Roll Express faced the Midnight Express in this new-fangled match called a "scaffold match", of which Dave is not a fan.  It drew pretty well, though.
– To freshen things up between Dallas and Mid-South, Fritz actually agreed to trade Skandor Akbar for Jim Cornette, thus bringing the Midnights to World Class, where they pretty much springboarded to the NWA and stardom.
– Butch Reed was turned babyface and is a complete flop because he's terrible at the role and no one can quite figure out what's not clicking with him.  So Bill Watts is planning to push him for the next two years straight as the top babyface while ignoring all fan reaction to him and making him his champion while ratings plummet.  No, wait, that was some other guy, sorry.
– The Road Warriors are programmed with the Fabs in the AWA, and early matches between them were awful because no one wanted to sell for the other.  In fact this led to a famous incident (not covered by Dave but reported elsewhere) where Verne booked a title change for the Fabulous Ones and they went out to the ring, only to be informed by Ellering in no uncertain terms that no titles would be changing hands that night.  The Fabs cheerfully agreed, because they're not stupid.
– Memphis shows are up a bit since the Jarrett/Lawler tandem successfully got the city to repeal a parking tax that had raised parking prices from $1 to $2 and was hurting attendance.  In fact, the Ringling Brothers Circus had decided to skip Memphis for the first time in 108 years over the tax situation.  Lawler managed to win over the city by pleading with them not to let children miss the opportunity to see the circus.  Now, if you've been paying attention to these, you should be able to fill in Dave's zinger yourself.  I'll even get you started:  Dave says "If the kids really wanted to see the circus…"
– Dave puts over a rookie named Johnny Wilhoit in Memphis who throws a great dropkick and has loads of potential.  I have no punchline here, he retired soon after due to a knee injury and works as a policeman last I read of him, but just to show that there's all kinds of "sure things" even back then that just never panned out.
– Jim Neidhart gave notice to Florida so he could leave for the WWF, but then he said that months ago as well and never showed up.
– HOLY S--- HOW HAVE I NEVER HEARD ABOUT THIS BEFORE DEPARTMENT:  Kerry Von Erich actually auditioned to be Ivan Drago in Rocky IV, but lost the part to a "Swedish kickboxer".  Nikita Koloff was considered one of the front runners for the part as well. It's too bad that Kerry was never able to pursue his dreams of being an actor, but it would pretty much impossible for him anyway because he could never get his foot in the door.
– Update on the 12/28 MSG show:  Everyone reports that the Piper incident was really good.
– 20/20 is going to be doing a segment on pro wrestling soon, featuring Eddy Mansfield, and Dave stresses DON'T MISS IT.
– Dave, who sadly does not have cagematch.net or Wikipedia back in 1984, is continuing his quest to find out exactly who Stella Mae French (frequent opponent of Nicola "Baby Doll" Roberts in Southwest) actually is.  He has it narrowed down to either Tanya West or Lorraine Johnson, and if it's the latter than that means she's actually Baby Doll's mom.  As it turns out, since I DO have Cagematch, it was Tanya West.
– Dave notes that Neidhart's jump to the WWF is interesting because he's actually a son-in-law of Stu Hart, and Bret Hart isn't doing anything in particular in the promotion at the moment.  Hey, wait a minute, maybe they should be a TEAM!
– Jesse Ventura gave an interview with a magazine where he was pretty candid about his blood issues, as the blood thinning drugs he takes to prevent clots mean that if he blades during a match, he'll bleed out and die.  I wonder if Terry Funk ever tried those drugs?
– The Road Warriors continue making friends at the Pro Wrestling USA tapings in Las Vegas, as Ken Lucas came out of semi-retirement to do a job for them.  However, he wasn't accustomed to being treated like a jobber, and refused to sell any of their offense once it became apparent that they weren't going to sell ANYTHING for him.  He walked out on the match after no-selling their clothesline finisher and kicking out at three, and in the dressing room afterwards the Warriors confronted him and ended up breaking his nose.  What a bunch of children.
– BOMBSHELL ALERT:  Slaughter will be starting with the AWA next week after all.  Dave feels like the tease of a Slaughter v. Brody match will mean he might have to watch the AWA again and pay attention.  Haha, no worries of that happening for a while, Dave.
– The Road Warriors' attitude has not gone un-noticed by the AWA, and Verne is now trying to find a way to get rid of them, or failing that put them in the ring with Brad Rheingans to teach them a lesson.  Or hey, how about Larry Hennig?
– And finally, Percy Pringle (whoever THAT is, snarks Dave) will be the new heel manager in Florida for the Missing Link.
Wait a minute, is that actually 53 pages?  I'M FREE!  FREE FROM JANUARY 1985 FOREVER!