Hey, we're back.  I literally had a week's worth of material finished and ready to post by last Wednesday with the Mae Young Classic rants and then after setting it all to post and watching the hits roll in, realized on Sunday night at 10:00pm that I didn't have anything ready for Monday morning on the blog. The Mae Young gravy train has finally dried up! So let's jump back into the Observers again.
Also, for those playing along at home, this one is filed under "October 5" in the Observer archives for some reason.
Previously on the Flashback… http://blogofdoom.com/index.php/2017/09/02/wrestling-observer-flashback-10-18-93/
– The Macho Man made headlines (well, WWF magazine headlines) by going on the WWF radio show with Jim Ross and blasting Hulk Hogan for his hypocritical steroid lies on Arsenio Hall, as well as making not-so-subtle jabs at the role that Hulk and Linda had in breaking up his marriage to Elizabeth.  They played it like it was "Oh my god, what shocking things are you about to say on this live show", but clearly JR knew what was coming in advance. They talked about how we'll be reading this stuff in the sports pages of the newspapers the next day, although in reality it came off as desperately begging for the sports pages of the newspapers to cover them.
(I feel like this calls for a musical break, even though it's 10 years too soon.)
– For his part, Hogan is reportedly in talks with Ted Turner about starting up a new wrestling promotion, although Vince McMahon continues to be very protective of the Hulkster in almost all interviews and media, so he's seemingly still hoping for a return.  The other possibility, strange as it seems, is that Hogan might be jumping to WCW, although he's turned down invitations to appear on their TV in the past, even though it would be plugging his movies.
– Anyway, back to Savage, who feigned disgust at Hogan lying about steroids, and yet himself claimed that he only "used them when they were legal" and that "no one in the WWF is on steroids now."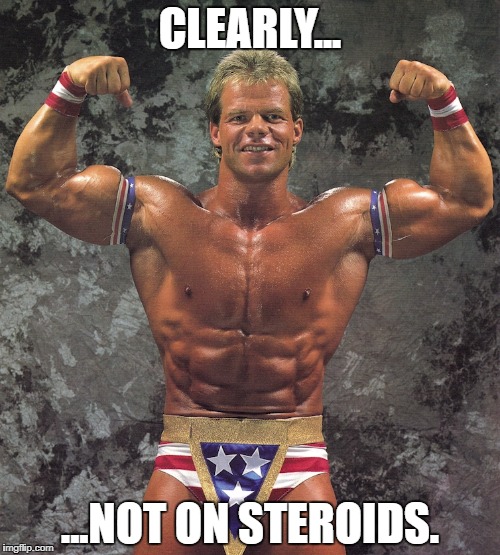 – Anyway, Savage did a lengthy promo against Hogan on the radio show, to the point where Dave is pretty sure they're trying to shoot their own angle for a Hogan v. Savage match at Wrestlemania.  In fact, Savage has a history of doing this kind of worked-shoot thing from Memphis, where he turned his legit feud with the Jarretts into a huge money drawing feud on-screen because everyone knew it was "real".
– More trouble for that wacky Inoki this week, as he's now been implicated in an apparent gun-smuggling ring via a martial arts fighter named George Domo, who pointed the finger at him as the mastermind while on trial for the crime. So…that's probably not good for his political career.
– Mystery in All Japan, as Steve Williams will be teaming with Big Bubba Rogers instead of Terry Gordy for the Real World tag team tournament, which is mysterious because Gordy was supposedly missing the last tour to get ready for this tag tournament.  (I'm starting to suspect that there's more to this story about Gordy passing out on the plane than Baba is letting on…) 
– Pancrase debuted on 10/14 in Nagoya, and it's said to be the only pro wrestling promotion where results are not predetermined.  They fight until there's either a knockout or submission, and no one "sells" like they do in UWFI.  The main event of the 11/8 show in Kobe, with Minoru Suzuki taking on supposed kickboxing World champion Maurice Smith, is getting a ton of publicity.  (Dave snarking on the future MMA stars like it's 80s WWF is pretty hilarious considering how fully MMA would dominate these Observers just a few years later.) 
– W*ING announced a tag team tournament for the end of November, but they're pretty much on critical life support at this point.
– All Japan Woman held Wrestlemarinpiad on 10/9, which was said by Dave's minions to be a huge disappointment compared to the Dream Slam shows.  (Wait, WHAT?  Am I crazy or wasn't Wrestlemarinpiad '93 considered one of the holy grail shows by tape traders?  Manjimortal, chime in here, buddy.) Of note on the show, Chaparita Asari debuted a wacky new finisher where she does a moonsault with a full twist, which blew away everyone in the crowd like Muto debuted the handspring elbow.  (That would be the Sky Twister Press, of course.) 
– Brian Christopher seemingly turned babyface in Memphis this week, joining with fellow anti-WWF guys Jerry Lawler and Jeff Jarrett to defeat the Vince McMahon team of Shawn Michaels, Koko B. Ware and Doink the Clown in an elimination match, because they all hate the WWF so much, you see.  With both Lawler and Jarrett leaving for the WWF (which they hate so much, don't forget) they'll need a top babyface in Memphis, and that's apparently going to be Christopher now. (I don't recall that working out very well for them.) 
– The highlight of SMW continues to be the work of Tammy Fytch as Brian Lee's gold-digging manager, as they're now working an angle where Tammy is trying to get adopted by Ron Wright while stealing his credit cards and buying Rolexes. (The more of Shameless that I watch, the more I feel like Tammy would fit in perfectly on that show.) 
– LINE OF THE WEEK goes to SMW manager Darryl Van Horn (James Mitchell) who claimed to have lawyers so good that…hold on, this needs a meme.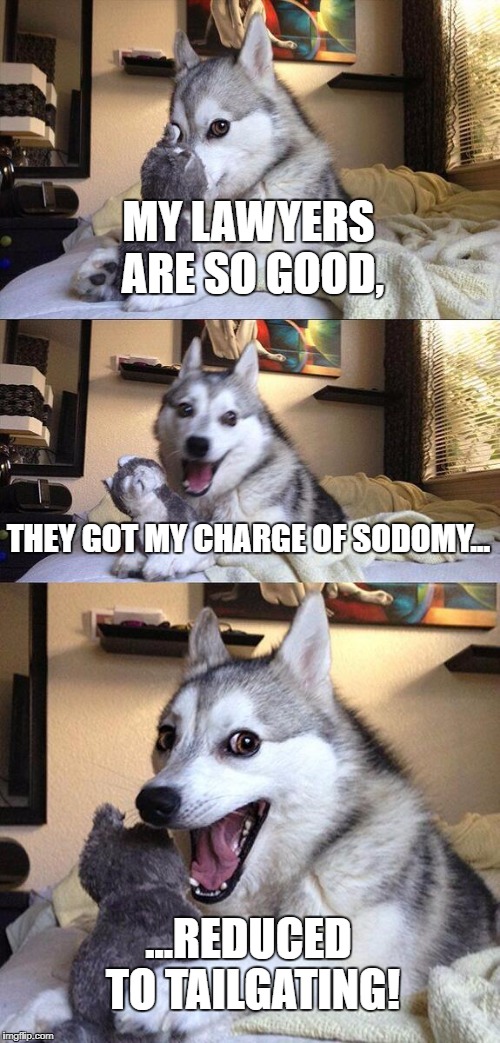 – ESPN2 is still looking at bringing in Japanese wrestling for the new station, although they're said to be hesitant about associating with the WWF and too much of "that type of thing".
(Yeah, wouldn't want to hamper the prestige of ESPN's good name…)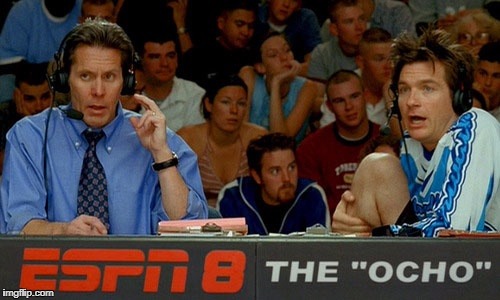 (I guess Dodgeball isn't real, but it's not far off from the truth about ESPN's "prestige")
– Once again, if the World Series goes 7 games this year, Halloween Havoc will be running directly opposite against it.  (Maybe Mitch Williams was just a WCW fan and wanted to make sure he could watch the show?) 
– Speaking of WCW, they literally can't even give away free tickets to their shows at this point, as a Main Event taping on 10/13 in Gainesville only drew 800 people despite everyone getting in free.  And the Center Stage taping was unable to give away all 780 tickets to fill the building.
– They're teasing Erik Watts joining the Four Horsemen, but apparently that's not actually a thing.  (JESUS MARY MOTHER OF JOSEPH how could we have lived in a world where goddamn Paul Roma and Erik Watts were Horsemen AT THE SAME TIME?!?  We'd be begging for North Korea to drop a bomb on us!) 
– Crush officially turned heel on Randy Savage on the 10/18 RAW in a very well done angle.
– Sabu finally got his WWF tryout and kind of blew it against Scott Taylor.
– Jeff Jarrett debuted on WWF TV as "Double J", playing a character who is a failed country singer trying to become a wrestler instead.  (And now he's a failed wrestling promoter trying to become a wrestler again.) 
– And finally, from the letters section, "Joel Gertner of Cornell University West Campus, 2222 Class of 28 Hall, Ithaca, NY 14853 is looking for hardcore readers in the Ithaca area".  (Oh, I bet he's into reading hardcore stuff, all right…)
(Because, you know, he likes sex.)