I love that the teaser for this issue on the website is "More WCW Idiocy." What a time to be alive!
– And now, it's time for the continuing soap opera that is WCW, as we present…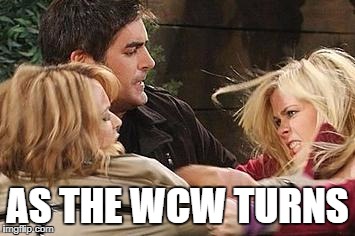 – First up, in the "Things that someone actually tried to make happen", remember how Sid Vicious brought in Col. Parker and also wanted to bring in his friends from Texas, the Ebony Experience? Well, Sid's idea for them was to be called "The Possee" and be managed by Parker, playing slaves who are led to the ring in chains and shackles because they're escaped murderers who are now owned by Parker. This got amazingly close to making television before Eric Bischoff stopped them from going out to the ring for the taping and killed the idea before it could happen. Instead, the team of Booker T and Stevie Ray is apparently going to be called "Chi-Town Heat" and the prisoner angle is being dropped. (I know people who swear they actually saw this gimmick being used by them, but I think that's a Mandela Effect type of deal.)
– Next up, as all the underlings pointed fingers at each other for nearly letting the slave-owner gimmick make the airwaves, Bill Shaw apparently watched the WCW TV product for the first time ever and immediately cancelled any further repeats of the Beach Blast mini-movie, as well as cancelled any further "Search for Cactus Jack" segments. (So for those wondering why that was abruptly dropped, there you go.)
– Dusty is STILL pushing for himself to return to the ring as a top babyface against the Assassin, but TBS is still 100% cock-blocking him because they don't want their booker to be an active wrestler. (I'd say it was a stretch to call him either "active" or a "wrestler" most of the time…but regardless, eventually he did win that argument with TBS.) Either way, Dave doesn't think he'd make a big impact at the box office or anything.
– Injuries are all over the company in addition to stupidity, with Vader, Barry Windham and Paul Orndorff all suffering pretty serious ouchies and missing action. Windham in particular will require major knee surgery and might be out for six months or longer as a result. They missed all the house shows in the past two weeks, and to make matters worse, WCW announced them as missing the shows due to "contractual problems". Because THAT'S a better reason, apparently.
– Over to the WWF, where Hulk Hogan is bringing new meaning to "phoning it in" for his final appearances with the WWF before leaving for New Japan. In Chicago he literally let basketball player Horace Grant come into the ring and pin Ted Dibiase for the finish, and in Boston he spent much of the tag match on the floor conversing with ringside fans while Beefcake was getting the heat. He's got the European tour against Yokozuna left and then he's done.
– Meanwhile, the WWF is severely cutting back house shows after Summerslam, moving to a "three shows per market per year" philosophy, and they seem to going to a format that is less "A team and B team" and more "ABC team and F team", loading up major markets and putting all the scrubs in the small towns.
– RUMOR KILLER: Catherine White in the "Search for Cactus Jack" segments is NOT Kathy Gagne. Also, the fireball-shooting photographer was 100% Harvey Wippleman, not Akio Sato, since Japanese magazines shot close-up pictures of him and there's no doubt it was him.
– We haven't had a political scandal with Inoki for a while, so we're due. Six weeks ago, Inoki split up with business manager Hisashi Shinma, and fired a secretary who was loyal to Shinma. So the woman immediately ran to the papers with allegations of tax fraud going back 10 years, plus allegations of impropriety involving political donations from Sagawa Express. She also outed Inoki for having nothing to do with the famous freeing of the Japanese hostages in Iraq story, revealing that Inoki was simply in the right place at the right time and took credit for it. New Japan president Sakaguchi issued a press release saying that "Inoki's problems don't have anything to do with wrestling, which is really successful right now." (And indeed, this stuff cost him his seat and he left politics for a LONG time.)
– Roddy Piper made a surprise return, to AAA of all places, accompanying longtime friend Art Barr at ringside for a match. No indication of whether this is a one-time thing while he's filming a movie, or if he's planning a comeback there.
– Jumbo Tsuruta was finally allowed to leave the hospital after many months, although he won't be returning to the ring until at least the December show at Budokan.
– Chris Benoit has gone from Pegasus Kid to simply Pegasus in Japan now.
– New Japan has signed another sumo wrestler, 29 year old Tadao Yasuda, who retired from the sport last year. He'll be trained by Hiroshi Hase and will apparently "wrestle a style along the lines of Stan Hansen". (He certainly ended up having a…colorful career, shall we say.)
– New Japan continues to be red hot thanks to the interpromotional feud against WAR, and actually sold out a 2000 seat house show with no big names, thanks to the wacky concept of having the Skinhead faction of New Japan "promoting" the show, facing WAR guys in a series of singles matches. (Although Uncle Eric has publicly cited the Ishingun stuff of years back as the inspiration for the nWo, the whole New Japan/WAR concept, with rival "promotions" inside the main ones, appears to be a much more direct influence.)
– W*ING came up with a new concept for a "lights out" match unlike the more traditional US version: An actual match where the lights were turned out. Doug Gilbert fought Matsunaga in the unique match, as the only way fans could see what was going on was to flash their cameras, and Gilbert hung him from the upper deck with a long chain until the referee stopped the match.
– Mr. Pogo gave his notice to W*ING by showing up to do a run-in at an FMW show on 6/23, brawling with Onita and then rushing out of the building and into a taxi. Onita leaked that Pogo would making a "surprise" appearance again at the 6/27 show and he got a sellout of 3100 people as a result. With the Sheik not able to continue wrestling for the promotion, the outdoor stadium show on 7/24 will now be headlined by Onita v. Pogo in some kind of freakshow barbed wire fire match thing.
– Dave saw the All Japan TV show with the Taue & Kawada v. Kobashi & Misawa tag match that Baba called "the best match he's seen in 30 years of wrestling". Dave is like…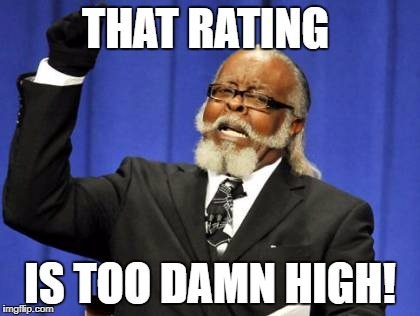 – It's PRETTY good, he guesses, but he's seen better and would put it at ****1/2.
– 6/21 in Memphis drew a HUGE house thanks to Undertaker again, who was DQ'd against Brian Christopher for using a chain that Brian bought in. Also on the show, Owen Hart won the USWA title from Papa Shango when he turned heel and joined with Shango's manager Bert Prentice, using the VOODOO STICK on him for the pin.
– Rex King & Steve Doll lost the USWA tag titles to New Jack & Home Boy (and Dave would like to reiterate how goddamn terrible New Jack is) and they'll be leaving for the WWF shortly as Simply Devine.
– Here's a GREAT angle from Memphis that should probably be stolen again: Jeff Jarrett was doing a promo with Dave Brown on TV, when a fan started yelling at him to sign an autograph and kept interrupting. Brown told Jarrett to go sign it to he'd calm down, and Jarrett did so. Later in the show, the fan started bugging Brian Christopher for an autograph as well, but Christopher ignored him until the fan sucked up to him by calling him his favorite wrestler and the best wrestler in Memphis and such. Christopher relented and signed the autograph without looking, and after the match Jarrett came out and revealed that the "fan" worked for him, and in fact Christopher had signed a contract for a match with Jarrett!
– To put things in some perspective, the live WMC show in Memphis was rated at a 10 rating and 34 share, making it the highest rated wrestling show in the entire country, and yet that's STILL a 50% drop from what the show was doing in the mid-80s!
– Tammy Fytch finally found her man in SMW: Brian Lee, who turned heel on Tracy Smothers at the last TV show. Lee played up his new house and car that he received from Fytch as payment for his services, but Smothers said that's ironic because usually it's Fytch who gets paid for HER services.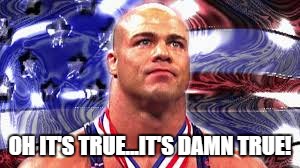 – More "Only in the Sportatorium" stories, as the main event of Global was Chris Adams v. Iceman Parsons, but there was a huge downpour in the area and the show had to be delayed because ringside was flooded during the show. They eventually restarted and Tim Brooks dumped a bucket of mud on Chris Barrett in the first match back.
– Plowboy Wilbur and his pig continue to get over big, although the pig shit all over him before his match. His big spot is singing the Old McDonald song, with the fans chanting "E-I-E-I-O" back at him. (They didn't even need cue cards for that? Way to go, Texas!)
– In a fascinating bit that I didn't know about, the former Vancouver wrestler for Al Tomko, King Kong Bundy Jr (aka JR Bundy), who worked as a Bundy lookalike, actually dropped 200 pounds and now weighs 210 as Sgt. Steele out of Winnipeg.
– Herb Abrams is resurrecting the corpse of the UWF once again, running a show on 7/24 headlined by Bob Orton v. Warlord, with jazz musician Zoogz Rift managing Warlord. (Rift gained some later internet fame on RSPW, and I believe he died a few years back.)
– Dave EXPOSES the upcoming bodyslam challenge, noting that it's really not impressive to try to slam someone because the move only works if they go up for it. You can't slam someone who doesn't want to, and if they DO want to be slammed, any 200 pound geek can do it. Also, they completely buried Hogan in the video clips about the challenge.
– Nasty Boys were officially released.
– Sherri has also given notice and will be attending beauty college in the fall. (If by "beauty college" you mean "Jumping to WCW", then yes.)
– Dave saw the WWF house show over the weekend, and he thinks that "the blond Smoking Gunn" has a hell of a lot of potential. Also, no one was taking 1-2-3 Kid seriously as a threat.
– And finally, in a story that got a lot stupider and bigger later on, there's a dispute over the NWA name brewing. WCW has been using the "NWA World title", which is technically controlled by Bill Watts, Seiji Sakaguchi and Steve Rickard, and none of them are actually involved with WCW. Also, there are guys like Corraluzzo who pay dues to the NWA and have the right to get dates with the champion, and there's zero chance of that happening at the moment. So unless they can work something out, the NWA is likely to pull their trademarks from WCW again and the NWA title might evaporate. (Or, WCW could…nah, that would be too silly to even think about!)