So I sez to Mable, I sez… http://blogofdoom.com/index.php/2017/07/17/wrestling-observer-flashback-06-21-93/
It's the fallout from King of the Ring!
Oh, and WCW tried to make a mini-movie and it didn't go very well.  I just don't think things are gonna work out for that promotion.
– Dave's opening salvo this week:  "After its television show reached a new low in retarded wrestling angles on Saturday, the hierarchy of World Championship Wrestling needs a thorough housecleaning."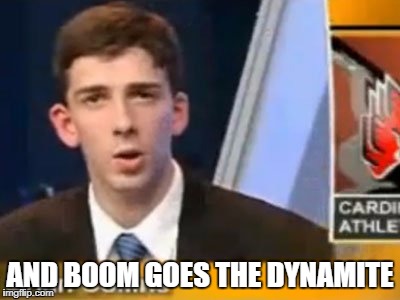 – Dave thinks that perhaps someone should have provided some kind of quality assurance check on the movie before it, you know, aired.  First up, Sting and Davey Boy Smith travelled to do "charity work", which consisted of playing volleyball on a beach with actors.  Then Col. Parker shared his plan to make sure that they didn't make it to Beach Blast (along with most of the audience).  And then a dwarf wearing an eyepatch and a shark fin swam up to the boat that the babyfaces happened to be on, and put a bomb on the boat. The heels then took their own boat to the island.  On the bright side, Dave notes, at least they didn't let Harley Race drive it.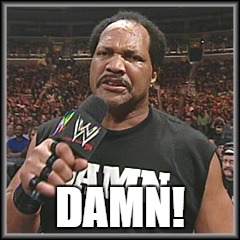 – Oh, and then some kids warned the babyfaces about the bomb on the boat, but luckily Davey Boy put two and two together soon enough to sprint down the beach and push Sting out of harm's way before the boat exploded.
– Basically, Dave notes, the company is being run by idiots who don't understand anything in wrestling past 1985 and/or the Southeast US.  We already have the Global Wrestling Federation and we don't need another one.  (OUCH!)  In fact, knowing this company, when they're doing the skits searching for Cactus Jack on skid row, they're probably searching for a replacement for the current hierarchy once the ratings come in and everyone gets fired.
– Also, Jim Cornette called in and wanted to be quoted:
"Three of the wrestlers who comprise the wrestling talent in that thing I have the highest respect for their work and think they're fantastic, but anybody that would take part in this thing for any price or for any contract is crazy. Anybody responsible for that f—ing abomination should not only be shot but be forced to watch that abomination over and over again until they puke up their toenails before being shot. And they wonder why they can't do any business? I think everyone involved should suffer the most horrible painful death possible because of the money they're taking out of all our pockets who are trying to preserve this business that is rapidly going down the tubes."
(Tell us how you really feel, Jim.) 
– In happier news, Hulk Hogan appears to be on the outs with the WWF.  Hogan and his "associates", Jimmy Hart and Brutus Beefcake, pulled out of their scheduled dates with the exception of the European tour and a couple of house shows.  Also, Ted Dibiase gave his notice that he'd be leaving after Summerslam.
– The originally booked main event of Summerslam was Yokozuna defending against Hogan, but that shan't be occurring now.  Although Bret Hart is being slotted against Yokozuna on all the house shows that Hogan is missing, Bret won't be getting the Summerslam main event.
– Meanwhile, the WWF tag titles continue their hot potato, jumping from the Steiners to Money Inc. to the Steiners again in the span of five days.
– Yokozuna's challenger will likely be determined in some kind of angle on 7/4, probably one of the top heels turning to the USA and slamming Yoko.  It's supposed to be a "major surprise", whoever it is.
– It's probably in Hogan's best interest to distance himself from the wrestling business at the moment, since the crappy box office returns aren't gonna endear him to movie producers, not to mention whatever other bad publicity that the business is generating at the moment.
– King of the Ring did a 1.1 buyrate, by far the lowest in the history of the company, so this is a sign that the PPV business is becoming a tad oversaturated.  Also, it shows that the casual fans who paid to see Hogan at Wrestlemania were only willing to pay to see him once.  However, even a poorly drawing PPV is still worth more money than house shows alone would be.
– Speaking of financial disasters, The "Clash of the Commercials" drew a 2.6 rating, by far the lowest in the history of the show.  Fingers are being pointed squarely at Ric Flair right now, but the reality is that anything being presented by WCW is going to die at this point.  Even worse, they basically gave the main event of Beach Blast away for free on the show, and no one watched or cared.  Dave is pretty sure this is going to kill the entire Clash of Champions concept if they don't drastically improve their numbers. (Unfortunately, the one in September took an even bigger fall.) 
– On the bright side, the crowd was hot and looked full on TV.  Even though it wasn't close to full.
0. Jim Neidhart pinned Shanghai Pierce in the dark match.
1. Ron Simmons pinned Dick Slater in 3:56 with a powerslam.  Slater was subbing for Paul Orndorff, who had a torn groin.  (The likes of which you wouldn't believe!)  1/2*   
2. Lord Steven Regal pinned Marcus Bagwell in 6:18.  Regal is great, but he's playing a role better suited to 50s wrestling.  They had a good match, but the finish was messed up.  *1/2
2.5.  Maxx Payne went to a no-contest with Tom Zenk in 0:42 in an impromptu match before officials broke it up.  You can probably say goodbye to Zenk, Dave notes.  (No kidding.  Zenk left the business completely after this.) 
3. Barry Windham pinned 2 Cold Scorpio to retain the NWA title in 12:53.  Windham was cheered a lot and they had an excellent match, with Scorpio getting a bunch of hot comebacks before falling victim to the Implant DDT.  ***3/4
4.  Big Van Vader & Sid Vicious & Rick Rude beat Dustin Rhodes & Sting & Davey Boy Smith in 10:59.  Vader was amazing for someone who was paralyzed five days earlier.  Dustin Rhodes stole the show.  Sid Vicious was the world's greatest wrapping with nothing inside the package.  Vader hit Dustin with the briefcase and Rude got the pin.  ***
5.  Ric Flair & Arn Anderson beat the Hollywood Blondes in two straight falls by DQ.  Flair got the biggest response of the show from the fans, but then those fans didn't pay.  Still, they went crazy for the match and made it seem like the glory days of Crockett.  Flair got the first fall on Pillman with a forearm and Michael Buffer screwed up and announced a title change.  In the second fall, Flair had Austin in the figure-four when Windham ran in for the DQ.  They could have improved the match and the show in a lot of ways, but the main event was great.  ****
– Dave Peterson, aka DJ Peterson, died in a motorcycle accident on 5/25 at the age of 33.  He got clipped by a semi and wasn't wearing a helmet.  He was the final holder of the AWA tag titles with the Trooper, and had been working in construction in Missouri at the time of his death.
– Jake Roberts no-showed his match with Cien Caras for AAA on 6/18 for reasons that Dave isn't entirely clear about, although it probably has to do with not being paid for TripleMania in April.
– Haku & Tenta v. Halme & Barbarian was really a thing that happened in Japan, on 6/17, and Halme juiced heavily for the first time in his career to boot.  Two nights earlier, Haku & Tenta lost to the Hell Raisers in a tag title match.  (Those both sound like AMAZING trainwrecks.  Sadly both omitted from New Japan World.)
– USWA aired footage of Jerry Lawler attacking Bret Hart at King of the Ring, but tried to spin it as a babyface action because he hates the WWF so much.
– And now it's time for another…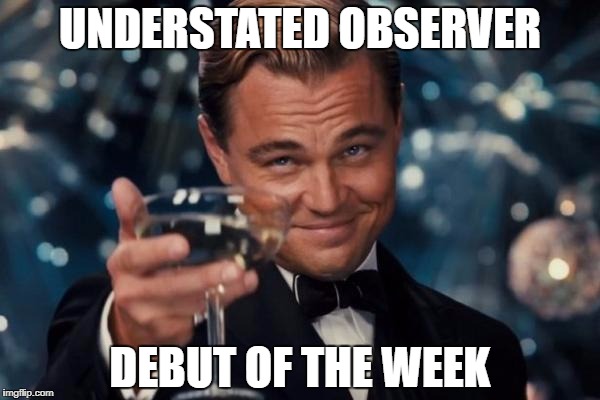 – Here's Dave:  "A new wrestler debuted called New Jack who was said to have been the worst wrestler debuting in this territory in years, which covers a lot of ground. He claimed to be from New Jersey, and maybe he even was, and grew up with Mark Freer and said Freer, who has been losing his matches, needed to get his head together so now Freer has changed his ring name to Home Boy. The two then did a squash match which attempted to set a world record for missed moves by New Jack alone."  (Beginnings of a great career!) 
– And now, by popular demand (of like, one person, but still…) it's time for the: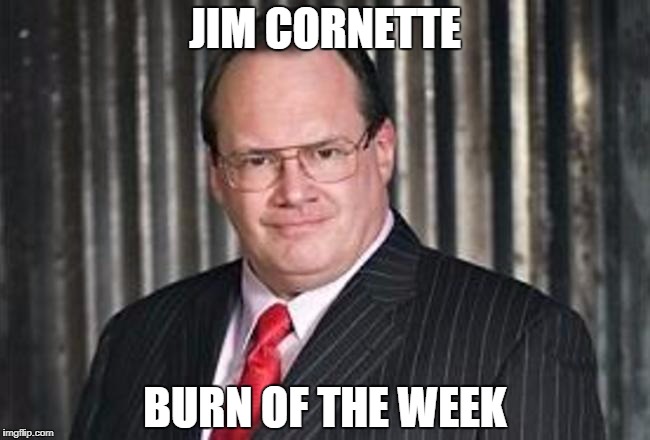 – On SMW TV this week, Bob Armstrong did a video promo where he talked about the Armstrong Family Tradition.  Cornette then came out and retorted that the Armstrong family tradition was "alcoholism, unemployment and defeat."
– Tammy Fytch attempted to manage Tracy Smothers, but Tracy turned her down because he's pretty on the outside but ugly to the bone on the inside.  (Man, that one proved to be prophetic.  As the Northern Pikes said, "She ain't pretty, she just looks that way.") 
– In the "You ain't seen nothing yet" file, The Equalizer debuted for Global as "Captain Ron", and people thought it was Bill's first match ever despite the fact that he's been wrestling for several years.  (And then WCW gave him a JOB!  AND A PUSH!)  He's a pirate or something.
– Mike Davis was fired on 6/19 after promoter Gray Pierson wanted to give him a new gimmick where he painted a target on his face so that opponents would have "something to aim for".  Apparently this was too crazy even for Maniac Mike.
– Tod Gordon's ECW had their "Summer Sizzler" show on 6/19, with Eddie Gilbert beating Terry Funk in a chain match to determine the "King of Philly", which ended up being so bloody that Eddie throw up after the match.  Afterwards, Tod Gordon announced that the next major ECW show would be a joint effort with SMW, which was news to everyone in SMW.
– Onto the WWF, where all the tag title changes are to get over the idea that anything can happen at house shows.  WCW tried the same thing and had no effect on attendance.
– Dave has reviewed the tape of King of the Ring and now is pretty sure it's not Akio Sato playing the fireball throwing photographer.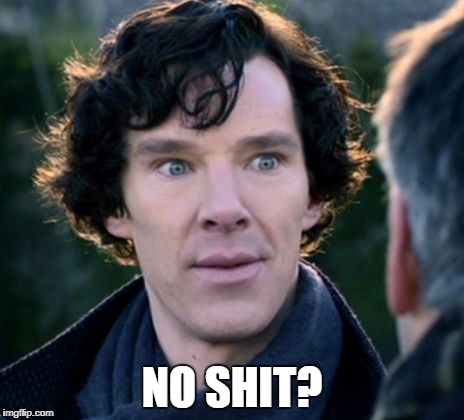 – Men on a Mission, "doing the same gimmick that made PN News an international superstar" are being called Mable, Mo and Oscar.  Dave has no idea where they found Oscar.  (They actually did a thing with him on WWE.com years later where he told the story of getting discovered by Vince, and it was pretty cool.) 
– Bastion Booger debuted on TV in a loss to Virgil, and Dave wonders who he screwed over in another lifetime in order to be given that costume and haircut.
– Lots of talk about Mike Graham coming in as a road agent.  (Probably from Graham himself.) 
– Vince is desperately trying to recruit "real athletes" for the Stars & Stripes Challenge on 7/4, with the idea being that mainstream attention turned the company around once before and will do so again.
– Rick Martel is returning to the company in July, working house show matches against 1-2-3 Kid.
– The reason that the commentary for King of the Ring was so off-kilter is that Randy Savage's headset wasn't working, so the other two guys couldn't hear what he was saying most of the time and just ignored him, making it sound like Savage would say some crazy thing and get no response.  (Yeah, "headset wasn't working", that's the ticket.) 
– Ric Flair returned to Charlotte with a house show main event against Vader on 6/19, which still drew flies.  They did a **** match anyway.
– Sabu will be getting another tryout at the Orlando TV tapings.
– Ted Dibiase actually tried to get a $250,000 deal to work WCW, but they turned him down, so he's going to All Japan instead when his contract expires in August.
– Vinnie Vegas continues to appear on TV despite debuting for the WWF as Diesel, because his appearances were taped before leaving the company.
– And finally, Dave notes, expect a lot of shit to hit the fan in the wake of the Clash's horrific rating.  (Step one:  Break up the Hollywood Blondes.  Step two:  Hire Fred Ottman and stick him in a Stormtrooper helmet.  Step three:  PROFIT!)