It's time for WRESTLEMANIA. More like WRESTLE-LAMIA, am I right? Man, we've done a lot of these Wrestlemania issues now, haven't we?
So I haven't read ahead yet, but I'm assuming that Bret Hart retained his title and lived happily ever after, right?
– Spoiler: NO.
– Wrestlemania ended with an unexpected twist, as Hulk Hogan walked out as the World champion, ending a show that "promised little and delivered even less." The crowd was a bunch of non-fans at the casinos, so they were there to see Hulk Hogan and little else on the show.
– Dave notes that people are freaking about Bret losing the title, but look at it from a business perspective. Bret may not have deserved to lose the title, but "it's the entertainment business, not the construction business." You could argue that Bret increased box office a bit, but it could also be seasonal. But hey, Hulk Hogan is a proven draw and the WWF needs his box office juice more than ever right now.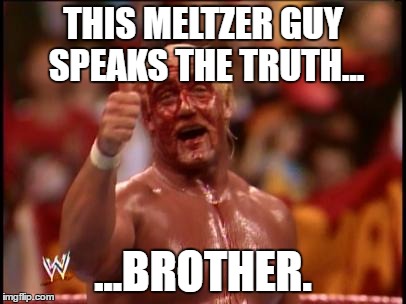 – Of course, doing two title changes in one night on top of all the other hot-shotting and title changes in the past few months has basically cheapened the belt, and they probably should have just had Hogan swear revenge and built to the May PPV instead as the challenger. But the IMPORTANT thing is that Hogan is champion again and now they can totally build around him and rake in the money again.
– This pretty much ends the Bret Hart experiment, since the Royal Rumble's horrible buyrate was the nail in his coffin and the thing that gave Hogan all the bargaining power in the first place. And hey, since there's so much wacky shit that can go down when you try to plan long-term, it's probably best just to go for the short-term money and hope for the best. (Because, like, what if Hulk suddenly decides to only work Japan instead?)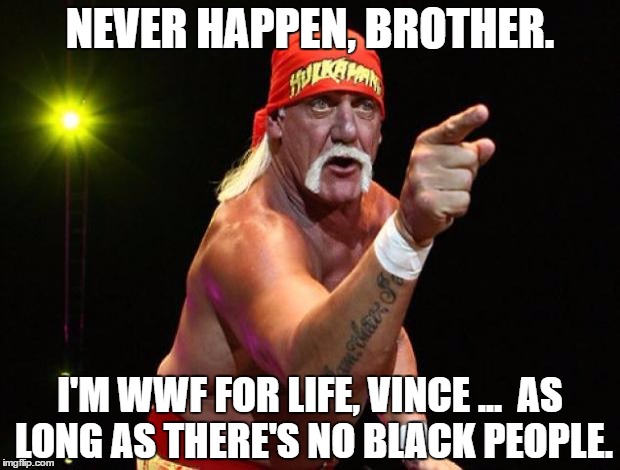 – Allegedly the finishes were double super-secret and no one knew what was happening until the day of the show. (That's what Bret claims, too.) Except Hogan, who likely knew way ahead of time. This is likely why matches like Perfect v. Luger were kind of a cluster, since they had to go out and improvise without having the finish ahead of time.
– Onto the show itself, as Dave doesn't think it was worth the $29.95. The matches were bad, the lighting was bad, the booking was terrible and everything felt like "Well, how do we get out of THIS one?" Also, there were major timing problems, leading to Bigelow v. Kamala getting cut. Not that Dave is complaining.
– Lex Luger KO'd Bret Hart at a brunch before the show and they actually acknowledged it and talked about it during the show, but it played no part in the show itself. (And was never mentioned again or paid off, for that matter.)
– The show drew 15,000 people, paying nearly $1.2 million, so they actually made almost as money here as they did in the giant Hoosierdome the year before.
0. Tito Santana pinned Papa Shango in the dark match at 8:00 in what was reported as a DUD.
1. Tatanka beat Shawn Michaels by countout in 18:13. Shawn bumped like crazy, despite suffering from a separated shoulder. Shawn missed a crossbody off the apron and fell on the floor, then knocked down the ref and got "pinned" by the samoan drop. But alas, he had been counted out instead. Very weak finish to an excellent opener. ***1/2
2. The Steiners beat the Headshrinkers in 14:22. Scott took a nasty bump off a hot shot early on, but the heat segment was too long for this crowd. Scott pinned Samu after a botched Frankensteiner. **1/2
3. Doink the Clown pinned Crush at 8:28 in a match that was dead for something so high-profile. Decent action leading to a second Doink appearing from the under ring, to hit Crush with the fake arm for the pin. Keirn actually hid under the ring before the show started and stayed there until after the show was over. He'll have to wear a fake beard for any future appearances as Skinner. *1/2
4. Razor Ramon pinned Bob Backlund in 3:45 with an inside cradle. The fans cheered Ramon, who got the first pinfall victory over Backlund in the WWF that Dave knows of, dating back to 1977. Terrible match. –*
5. Ted Dibiase & IRS beat Hogan & Beefcake via DQ in 18:27 to retain the tag titles. The cover story for Hogan's black eye was that he was attacked in a gym, but the real story was a boating accident, although those close to the situation say it was more like someone punched him in the eye.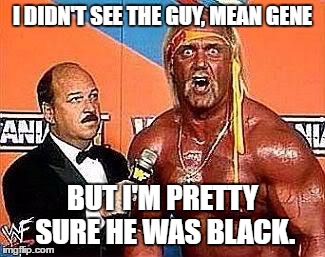 The match, Dave notes, was OK, although the teased walk-out finish was stupid. Beefcake got hit with the briefcase, but made a comeback and the ref was bumped, the third one in five matches. Jimmy Hart counted the fall for the babyfaces and gave them the titles, but the actual ref woke up and DQ'd them for Jimmy Hart's interference. **
6. Lex Luger pinned Mr. Perfect in 10:56 with a backslide. They didn't work well together and the match was clumsy. It died after the Hogan match. *1/4 Afterwards, they did a great angle with Perfect chasing Luger out by a tool shed, only to run into a superkick from Shawn Michaels. Also, they put a lot of heat on the steel plate in Luger's forearm, which is legit being removed in a few months and will probably turn into an angle.
7. Undertaker beat Giant Gonzalez by DQ in 7:33. "It could have been a lot worse", says Dave.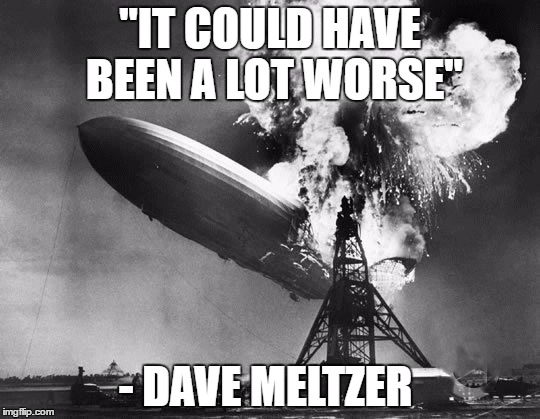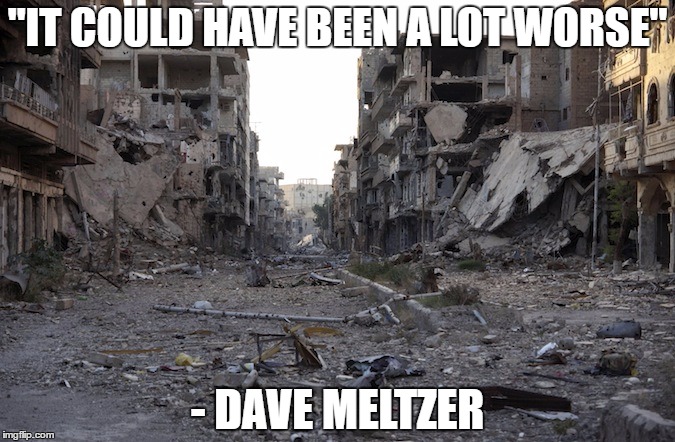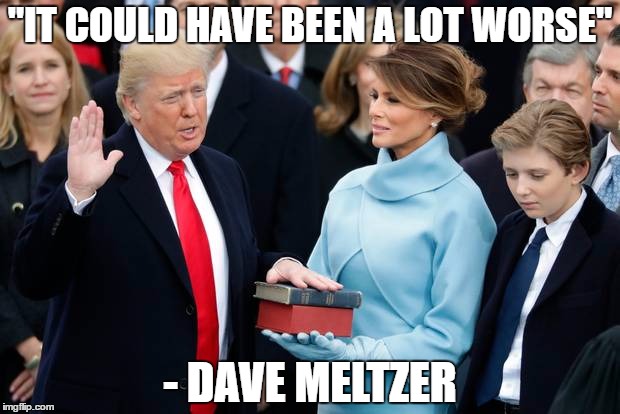 Dave notes that Jim Ross has now upgraded the Giant from his WCW days of 7'7" to an even 8' tall. Finish saw Harvey give the Giant an ether-soaked towel that he smothered Undertaker with to draw the DQ. Gonzalez will sell tickets, but not for long. *1/4
8. Yokozuna pinned Bret Hart to win the WWF title in 8:55. They looked ridiculous next to each other, but still managed to work a credible match together. Hart pulled the turnbuckle padding off and put Yoko in the Sharpshooter, but Fuj threw salt in his eyes and Yoko pinned him. ***
9. Hulk Hogan came out to save Bret and by a staggering coincidence also won the WWF title in 21 seconds. DUD
– As expected, AJW Dream Slam sold a shitload of tickets and was probably one of the best shows in Japanese history. It actually ran six hours (Or 6/7 of a Wrestlemania) and will be released on a three-tape set later on. Dave estimates that with ticket prices as high as they were and the surprise sellout crowd, the gate could be as high as $1.5 million. He does know that they did $68,000 just from selling the PROGRAMS alone, which sold out before the show even started.
– Hey, Jim Cornette also broke his own gate record with Bluegrass Brawl in Pikeville, KY, drawing 2000 people for $14,000. This was more than $5000 over his previous record crowd. The main event was a three-way match with the Stud Stable (Fuller & Golden & Mantell) v. The Rock N Roll Express & Arn v. The Heavenly Bodies.
– Also, this weekend, the Lacey & Hollie Adkisson benefit show at the Sportatorium drew 1570 paying $16000, their largest paying crowd in years. Of course, they heavily advertised Ultimate Warrior as being there for weeks beforehand and then made no mention of his absence during the show. Sid Vicious did show up and teamed with his old trainer "Johnny Rotten", and it was Johnny who did the job to the Ebony Experience. Everyone worked the show for free, and Fritz Von Erich never told any of them thanks for doing so.
– Buddy Landel did not in fact no-show the Japan show last week, but was trapped in the US due to the blizzards at the airport. He made it for the next day.
(So there you go, you goddamned VULTURES, defaming the good name of Budro.)
– Although Davey Boy Smith is in All Japan right now for the Champion Carnival tournament, he'd already doing clean jobs for Hansen and Misawa, so clearly Baba doesn't see the value in him any longer. Meanwhile, Kawada quietly got his first win over a top guy EVER, beating Hansen in a surprise victory with an enzuigiri on 4/2.
– Magazines are already advertising Hogan, Beefcake and JImmy Hart as appearing for New Japan at the Fukuoka Dome on 5/3, but Hulk denies everything, brother.
– With Onita still out of action, FMW drew their first ever non-sellout at Korakuen Hall, with only 1800 people there for the Sheik in the main event. Onita is out of the hospital and looking BAD.
– The Moondogs regained the USWA tag titles from Brian Christopher and Scotty Flamingo on 3/29 in Memphis (and then again in Nashville and again in Louisville and again in Evansville…)
– The big guy in the Harlem Knights might be one of the largest human beings that Dave has ever seen.
– To SMW, where FINALLY someone has figured out Ron Wright's medical issues that keep him in the wheelchair. See, he and Dirty White Boy went to New York and saw specialists there, who diagnosed him with "asthmatic bronchitis" because the Southern doctors were all too stupid to diagnose him. #ObamaCare
– The Mad Monk debuted at the WWF TV tapings, played by Mike Shaw. (That one would be tweaked a lot.)
– The Harris Brothers and Mr. Hughes also did dark matches, and Hughes was immediately promoted to the main roster and made TV. Other dark tryouts included "Butch Beardon", the Lightning Kid and a guy named Tex Deaton. (Beardon was apparently Giant Warrior aka Butch Masters, although Dave thought it might have been Bryan Clark.)
– Johnny B. Badd did sign a new contract with WCW, despite Titan making a major play for him all week.
– And finally, Bischoff is in negotiations with Universal Studios in Orlando to do the bulk of their TV tapings there. (Can't see how THAT might backfire on them several times before the year is out. At all.)