Once again, it's time for the official theme song of the early 90s: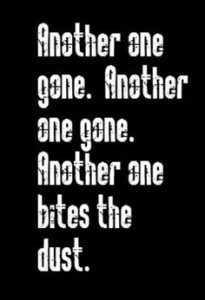 – On 5/30, with his TV deal gone forever and just 80 fans in attendance, Don Owen announced that he was calling it quits as a promoter, ending the incredible run of Pacific Northwest Wrestling. (That pretty much leaves Memphis as the last territory standing out of the old guard.)  Dave notes that when Don Owen started in wrestling in 1925, Babe Ruth was the biggest star in baseball and Strangler Lewis was the World champion.  Although Owen is retiring, Sandy Barr and his son Jesse (Jimmy Jack Funk) will continue promoting in Oregon as Championship Wrestling USA, and he might even hammer out a TV deal of some sort.
– Barr's new promotion has a working agreement with Oriental Pro Wrestling out of Japan, headed up by Ryuma Go.  (Mike Tenay's favorite promotion, I imagine!  He does love "The Orient".) 
– The WWF started advertising Summerslam 92 in the European market, and although they've already booked the 85,000 seat Wembley Stadium, they lied and said on the show that no venue has been decided yet.  Dave corrects himself from last week and notes that this is the card as announced on the European version of the syndicated show:  Randy Savage v. Ric Flair, Bret Hart v. Shawn Michaels, Legion of Doom v. Beverly Brothers, and Undertaker v. Berzerker.  (Keep trying, I guess.) 
– OK, now for the bit we've all been waiting for: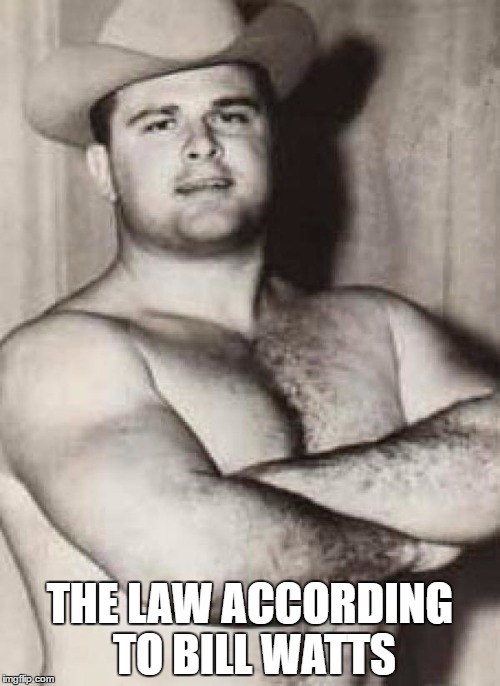 – Cowboy Bill sent out a letter to all WCW wrestlers officially listing the New Rules of WCW, as of 6/1.  Wrestlers are already dubbing these "The 10 commandments".
Use of the ring barricades and the ringpost is forbidden and will also be cause for an automatic disqualification
Wrestling outside the ring is discouraged
Absolutely no low blows. First offense is a $1,000 fine, second offense is a $2,500 fine and third offense is a $5,000 fine and will be considered a breach of contract. If a wrestler is hit low, he is to make every effort not to sell the move as a low blow
All wrestlers are due in the building one hour before the scheduled starting time of the show, with fines again being implemented for being late of $1,000 for a first offense, $2,500 for a second offense and $5,000 and a breach of contract for a third offense
Missing an event except in the case of the most severe injuries is considered a breach of contract. The only excusable exception to this rule is an act of God.
Wrestlers who are injured and can't perform are still expected to make the town in order to show the fans that WCW will no longer falsely advertising talent. The only exception would be a crippling injury which doesn't allow for traveling
Talking over the p.a. during the show is to be discouraged. Lewd hand gestures are prohibited, as is any cursing loud enough for the audience to hear
Fraternization (between heels and babyfaces) in public is not acceptable. This includes traveling together to and from the arena, to public appearances, restaurants and even to the gym. This also includes faces and heels socializing together in social situations and the gym
No guests are allowed in the dressing room, including family members, media, etc.
Each wrestler is allowed only two complimentary tickets to each show for friends and family. Any number of tickets above that number must be purchased at face value by the wrestler.
– In addition, Watts went over even MORE rules at the first set of tapings, including some of the most infamous.
No more 25-match marathon TV tapings, because it burns out the crowd. 
No more moves off the top rope
No blood.
No steroids.
– Dave's take on all this:  No ringpost or barricade moves won't matter one way or another.  No low blows is a good thing because they're overdone and turn off the family audience.  Showing up at the building on time 100% of the time just isn't feasible, but it's part of the job to travel constantly.  And no-shows have been killing the house shows, so it's gotta be dealt with somehow.  Injured guys who can still travel should definitely be at the shows doing autograph signings.  (Jesus, can you even IMAGINE WWE asking guys today to do autograph signings at house shows?  They'd probably charge $100 a pop and you'd have to buy the official $25 WWE glossy 8×10 for them to sign.)  Dave also agrees with banning lewd gestures, because again families are being run off.  (Speaking as someone who lived through the Attitude Era and went a bunch of house shows, there was NO shortage of young fans there doing crotch chops and flipping the bird.) 
– Dave does take issue with the "no fraternizing" rule, in that if two people who happen to be opposing sides are hanging out and playing pool together, but don't have any interaction on TV, then there's no harm in it.  But, say, Ricky Steamboat playing pool with mortal enemy Rick Rude is damaging, yes.  No guests in the dressing room is totally reasonable and professional.  Restricting wrestlers to two comps per person is a bit ridiculous, especially since there's no shortage of tickets.  (Even during WWF's hottest times it wasn't exactly difficult to score tickets, either.  I'd say it's actually harder now in some ways, mostly because they're so ridiculously restrictive on access.) 
– Oh, also Watts eliminated the padding around the ring in his first show on 6/1 and pointed out that no one is getting electrocuted on his shows, unlike those other guys.  Dave helpfully points out that Abdullah got electrocuted on PPV just a few months back in WCW.  Anyway, real wrestlers don't need MATS.  Unless they're in a state with strict safety regulations, in which case they DO because it's the law.  At this point Dave starts to be like "Um, maybe Bill Watts is behind the times".  And it's only the first show!
– Also, Ole Anderson is your trouble-shooting referee.  He was already terrible at it.  (Hey, if they wanted a REAL troubleshooter, I've got the perfect one for them!)
(Come on, I had to find a place to work that one in at least ONCE!)
– Also, 2/3 falls main events on WCW Saturday Night are history, which is a good thing.
–  OK, enough about Bill Watts, onto the GWF.  Turns out that Max Andrews isn't being evicted after all.  It's just that his sweetheart deal of $1 per head is now being raised to a flat rate like everyone else who rents the dump that is the Sportatorium.  Andrews has pledged to keep running shows no matter how low the attendance gets (current average: about 175 fans per show) or how low the ratings get (currently about a 0.4, which is 70% down from the early days of the promotion on ESPN and well below even the disastrous numbers that Jerry Jarrett drew when he had the same timeslot).
– For those wondering about WCW Saturday Night's new format, it was a complete flop and actually dropped ratings so badly that it's probably a factor in Frey losing his job, because Watts' mandate is to get the TV ratings back up again.
– Marty Jannetty was sentenced to six months' house arrest and 30 months probation for his little scuffle with the law in January that got him fired from the WWF.  The judge pretty much threw the book at poor Marty (or MARTYR Jannetty as CRZ would say) because he was sick of pro wrestlers acting like role models and pulling shit like that.
– More steroid story talk, blah blah blah.
– More importantly, Randy Savage and Elizabeth have separated after 7 years of marriage, and Liz is reportedly done with wrestling.  (To her credit, she stayed away longer than many other people have done in the past.  I wish she would have stayed away and lived, though.) 
– AAA stole yet another batch of wrestlers from EMLL this week, and Pena wants to start doing big shows in the LA area to market to the heavy hispanic fanbase there.
– The Global v. USWA feud is actually pretty hot for Memphis, although Marty Jannetty was supposed to be a big part of it and is now locked away in his home for six months.  However, Marty was allowed to leave for work reasons, and showed up to turn GLOBAL as a major heel.  (Did Jannetty even work for that group?) 
– Dave has discovered that the Ebony Experience in Global is Booker T and Stevie Ray, although Stevie is not related to the beach-gimmick Stevie Ray.  Also, Scott Putski became your NEW GWF North American champion before 175 strong, beating Johnny Mantell in the two-man tournament final.  Sam Houston no-showed this spectacular supercard and is gone, which means he was the last non-local piece of talent left standing and now it's all Dallas guys.
– Sadly, it was the end of another era in Portland wrestling, as attendance had fallen so much there that they got kicked out.  Yes, they literally couldn't even fill a pizza parlor.
– On the final PNW show, where Owen announced his retirement, the new Oriental group tried out a drastic change in direction for the promotion, with all the matches going 15 – 30 minutes each, featuring tight mat wrestling and a heavy Japanese style.  The fanbase was confused by this radical shift, to say the least.
– Jim Ross went on his radio show and announced that WrestleWar did a 0.61 buyrate, which is a rare honest admission of something like that in wrestling.  For those asking last time, that translates to 115,000 buys.
– The Rude-Steamboat cage matches headlining house shows have been said to be "incredible".
– Although the Zbyszko babyface turn was done technically well, it came off very flat on TV and there's just no interest in it, especially given how much time they invested into it.  (Larry pretty much retired right after that anyway and was pretty much in a babyface role for the rest of his time in WCW, oddly enough.) 
– Bill Watts was on JR's radio show and stressed that he has no interest in Sid Vicious.  Also, all talk of Jake Roberts coming in has ceased now that Bill is in charge.
– The WWF spent the weekend shows hyping up the bodybuilding PPV, which is apparently "sold out".  This is news to everyone in LA who is getting free tickets or has no problem finding them.
– Apparently the whole thing is a new con that Vince is running to have bodybuilders claim to be steroid-free, so he can sell this new ICOPRO stuff to teenagers with the idea being that if you use it, you get bodies like the WBF guys.
– The WWF had aired a couple of old matches on Prime Time with Mel Phillips doing ring announcing, which former ringboy Tom Cole claimed is a precursor to bringing Mel back.  Dave initially thought it was just a conspiracy theory from a bit of a nut, but given that WWF never does stuff by accident and it's now been three weeks straight with Phillips featured in old matches…Dave's spider-sense is tingling.  (Thankfully he was indeed gone for good.) 
– Scott Hall did another tryout of the Razor Ramone gimmick on the TV tapings in Hamilton on 6/1, and the crowd lost interest in him very quickly and didn't even recognize him as the Diamond Studd.  (This gimmick sounds like a real loser.) 
– Nails also did a pair of squashes and didn't get over at all.
– Paul Ellering did a promo where he brought out a puppet named "Freckles", who was apparently a prized possession of the LOD when they were kids.  It likely won't air because the crowd reaction was so bad that it wasn't usable.  (Thank god they dropped this idea…wait…I'm getting an update from my brain here…shit.) 
– Col Mustafa and Warlord were both fired.
– And finally, the new house show-killing twist is that the Warrior-Shango matches feature spots where Papa Shango "does voodoo" to Warrior, resulting in Warrior selling without ever being touched.  The reaction has been universally groans and even people walking out.  (And to think we're still nowhere NEAR rock bottom yet!)