So apparently the WrestleWar 92 issue (05/25/92) is missing from the F4WOnline.com archives, and any other sources I've checked, so we're skipping ahead a week.  Spoiler:  Dave gives WarGames ***** again this year.
– Although WrestleWar was awesome, prelim buyrate estimates put it between 0.3 and 0.6, which would make it the lowest of any major show ever.  (At least, if you want to look at it as good news, it ended up on the high side of that with a 0.6).  This includes a new lowered price tag, back down to $20, so the only explanation is that interest is at an all-time low.
– Hey, some major shows are moving venues this summer!  First up, the WBF championships has been moved from the 12,000 seat Convention Center in Long Beach to the 2700 seat Terrace Theater down the street.  There are vicious rumors that only 600 tickets had been sold for the 6/13 show, but Dave has it on good authority that Titan officials received a hot tip about a potential Martian attack, where little green men would invade the show and cause green ooze to come out of the bodybuilders' veins with magic.  So really it's for everyone's safety.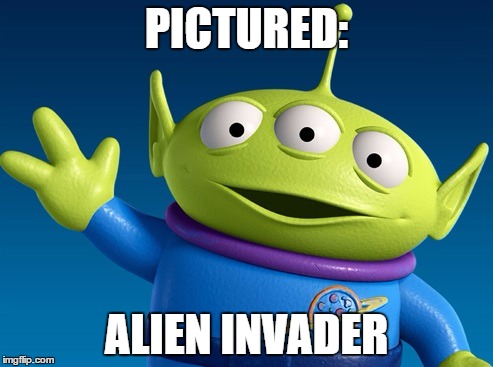 – Next up, the Great American Bash '92 has been moved from the Philly Civic Center to Albany, GA, because of major labor issues occurring in the city at the moment.  WCW waited out the situation as long as possible, but just couldn't risk a strike.
– Finally, Summerslam 92 has been moved from Landover MD to the Wembley Stadium in England and moved up two days to 8/29.  So they'll broadcast on a two-day tape delay.  This move comes from wrestling in the US hitting all-time lows while business in Europe is hitting all-time highs, so it only makes sense.  If they can sell out, it'll be the second-largest documented crowd for wrestling in history and probably the biggest gate ever.  They're taking a chance in that it's an outdoor stadium and it rains a lot in England.
– In fact, this isn't the first tape-delayed PPV that the WWF has done, no matter what they claim.  The first Wrestlemania was only live on the East coast, for example, although it was advertised as being live everywhere.  And of course the "No Holds Barred" show was taped a couple of weeks earlier.
– The upcoming Clash is in the same boat, taping on 6/16 for a 6/22 airdate.  (Really?  I didn't actually know it was taped at the time.) 
– Current rumor for Summerslam is Randy Savage v. Ultimate Warrior for the WWF title and Bret Hart v. Ric Flair for the Intercontinental title, plus Undertaker v. Berzerker.  If the show wants to have any shot at a decent buyrate, they'll need Hulk Hogan, which pretty much leaves him Papa Shango as an opponent.  (Well, they had no Hogan, and they had no buyrate either.) 
– Bill Watts has actually cancelled a couple of WCW PPV shows to save money, namely the NWA World title tournament show from Japan, and the "Campus Crush" PPV in September.
– In the least surprising news of the week, Kip Frey has already quit his fake position in marketing for WCW, which was created specifically to appease him after they hired Bill Watts and fired Frey with basically zero notice given.  Frey will remain in the Turner empire, working in a new branch that will produce film and Broadway shows.  (Apparently he quit that position soon after and went on to make a METRIC SHITLOAD of money as a professor at Duke and venture capitalist.  So clearly someone who can make money at will was the wrong fit for WCW.) 
– So with Frey gone, Jim Ross takes over the #2 position in WCW under Bill Watts, and he'll handle production of TV and be the liaison with Turner Home Entertainment.
– Cowboy will be overhauling the WCW Saturday Night tapings, thankfully, eliminating the talk show format and bringing back RASSLIN' to the show.  Jim Ross thinks that a lot of the current talent might go through some culture shock because of Bill and his discipline.  In fact, Ross thinks that up to 40% of the current talent might depart.
– To Japan, where SWS is in turmoil and it appears the promotion has literally split in half.  A whole bunch of wrestlers have quit and will be forming a spinoff promotion out of the ashes, including the big names like the Takano brothers, Kendo Nagasaki and Yatsu.  They all want to focus on a faster paced, New Japan style rather than the faux-WWF style that SWS favored.  SWS will retain guys like Tenryu, Kabuki and Ultimo Dragon and also retain the TV contract, which lasts until October.  (This story would get crazier soon, don't worry.) 
– In Mexico, the new AAA promotion has taken over EMLL's timeslot on Sunday night, and fans are already raving about the action presented on the show.
– SMW ran their first major show on 5/22 in Knoxville, called "Volunteer Slam", drawing 1000 people.  This was "a little more than WCW but a little less than WWF" drew in their last shows in the area.  Brian Lee beat Paul Orndorff in a tournament for the first SMW champion, via DQ.  Nothing on the show was particularly notable or great.
– The Global promotion looks to be running out of time, with the Sportatorium now kicking them out in favor of rival Championship Wrestling of Texas.  Basically the owner of the building was charging Max Andrews $1 per paid customer for his shows, which meant that rent was as low as $200 on some nights, and there's just no way for the building to make money like that. No final date has been set for Global, but it's expected to be less than four weeks away.  This probably won't bode well for their future on ESPN, either.  (And yet they managed to hang on for another year yet.  Go figure.) 
– Everyone from AAA who held EMLL titles in fact did return them to the promotion without incident.
– This week in All Japan is the same old six-mans drawing the same old sellouts.  Ho hum.
– Antonio Inoki has announced a "rock and wrestling" music tour of the Soviet Union from Sept 1 – 10.
– Takayuki Iizuka was beaten up by the Steiners so severely in the WrestleWar match that his eye was swollen shut and his whole body was covered in bruises from the stiff potato shots that the Steiners were throwing at him.  (The Steiners were becoming real asshole bullies at this point, no doubt.) 
– Vinnie Vegas was sent home from New Japan before he completed the tour.  Dave thinks you can probably make a safe guess as to why.   (I'm assuming he got caught with some plants in his hotel room that weren't ferns.) 
– New Japan signed yet another amateur wrestler, a kid named Yuji Nagata.
– Global is down to 172 people for their latest show on 5/22, with a whole lot of nobodies on the show and Scott Putski as the new babyface star.  He'll face Johnny Mantell next week for the vacant North American title.  They get this shot for "having the best won-loss record" in the promotion.(Much like Goldberg got the shot at Kevin Owens for being a perfect 1-0 in singles matches in the last decade, I guess.) 
– Meanwhile in Memphis, Lawler and Jarrett are attempting to cash in on the Global strife by having Bert Prentice (who is the guy having Global kicked out of the Sportatorium) representing "Global" as a heel on behalf of Eddie Gilbert, who is still using the North American title and claiming to be champion. Prentice and his associates are openly declaring that they want to take over Memphis and start sending in tapes rather than do live TV like dinosaurs, since the profit is in the tapes.  Lawler supposedly cut a great promo about how he had trouble working with Verne Gagne and Fritz Von Erich back in 89 and wouldn't let it happen again.  (Multiple layers of irony here, as the WWF basically came into Memphis and took over in late 1992, resulting in Lawler having a job with Vince for many years. And indeed, live TV did prove to be too expensive to maintain, and the Memphis TV show died for good a few years after this.) 
– Brian Hildebrand, who wrestles as "Dr. Mark Curtis", is working full-time as a referee for Smoky Mountain now.
– SMW ran a TV taping on 5/25 in Spartanburg, SC, and during the show Herb Abrams papered all the cars in the parking lot, advertising a show on 6/19 with Bob Orton defending the "UWF Southern States title" against Paul Orndorff.
– To the WWF, where Scott Hall got a tryout as a biker named "Razor Ramone", but the matches didn't get over so they're going to scrap the tapes and retool the gimmick.  (Hopefully they can figure out how to get that guy over.) 
– Also on the tapings, Warrior and Mean Gene had some sort of green ooze come out of their heads as a result of Papa Shango's voodoo.  (Really?  It always looked black to me.  Maybe my TV's color was set wrong.)  Dave has always heard the phrase "red turns to green"…but hold on, this needs bad pun dog.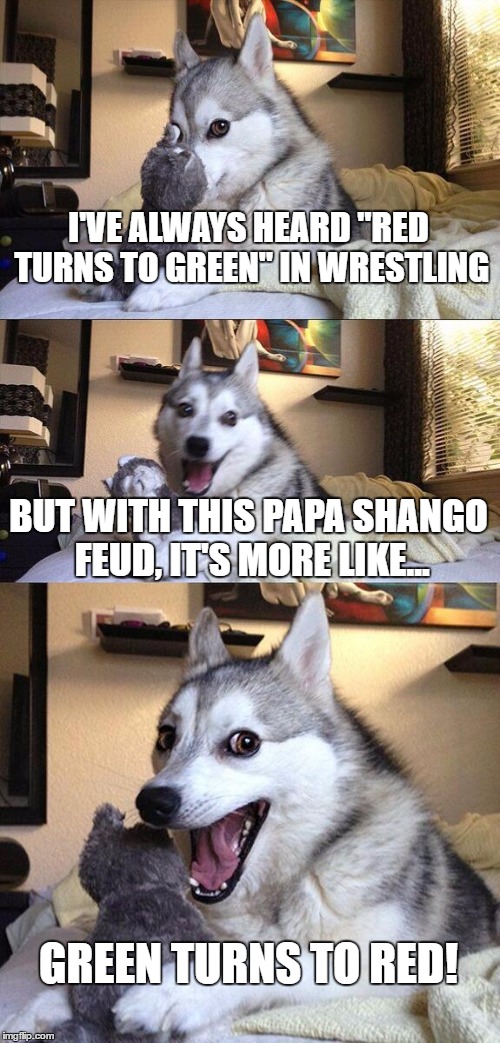 – Maybe you had to be there.
– Kevin Kelly's gimmick will now be called Nails.
– Murray Hodgson called in to a radio show with John Arrezzi to discuss his case, and one tidbit is that the WWF has hired a private investigator to dig up some stuff in his past in Detroit, which set him off on a conspiracy theory rant about Jerry McDevitt and how he'll be disbarred after the trial.  (See, now we're getting closer to Hodgson being permanently discredited and the whole thing going away for good.) 
– Carlos "Konnan" Espada debuts on the next WWF tapings.
– Steve Austin regained the TV title from Barry Windham on 5/23.  It'll air on Worldwide on 6/13.
– Larry Zbyszko also turned babyface on the TV tapings, with the Dangerous Alliance finally turning on him and kicking him out.
– Bill Watts officially takes over on 6/1, and he'll be doing a major speech for the talent at that point.
– Marcus Bagwell and Van Hammer showed up two hours late for a show on 5/20, so expect them to be made an example by Watts.
– And finally, WCW ran newspaper ads in England for their videotapes, featuring stars such as "The Great Manta", "Robocop", "Flyin Brain" and many more!  (I've heard good things about that Manta fellow!)