Previously on the Flashback… http://blogofdoom.com/index.php/2017/03/02/wrestling-observer-flashback-05-11-92/
Apologies for missing yesterday, but Google suddenly dropped all support for the Adsense plugin for WordPress and didn't do a very good job of making the replacement system actually WORK for WordPress.  And since this is a major chunk of my livelihood, it was kind of a big priority to figure out why the hell I couldn't get it to work properly.  Thankfully, I did, because I'm something of a genius and humble to boot.
Oh hey, speaking of people who are both something of a genius and humble, WCW did something they'd quickly regret this week…
– In the top story of the week, and what would turn out to be the one of the most memorable happenings in WCW history, they unexpectedly hired Cowboy Bill Watts out of nowhere to be the new Vice President of Wrestling Operations.  Bill will report directly to Bill Dhue, with the booking committee (Dusty, Tony, JR and Jim Barnett) reporting to Watts, and Kip Frey will be shuffled over to the marketing side of the promotion.  (And then never heard from in the business again. It should be noted that during the reign of Herd, Bill Watts openly stated that the only way he would work for WCW was if he got Herd's job and reported directly to the President of WCW, so there you go.) 
– Bill's main mandate is to turn around the shitty house show business ASAP.
– Dave notes that Bill has a strong track record and he's a perfectionist for getting believable characters and angles over, but he hasn't even watched wrestling in five years and the business is 100% different today than it was when he left in 87.  Also, Watts is used to being a dictator, and now he has to work with a variety of bureaucrats.  (Dave pretty much nailed both reasons for his failure right there.) 
– WrestleWar '92 is next week, and they're gambling on putting out a ton of major shows in a short amount of time.  In fact, if it wasn't for WarGames on top, it would be a "bad house show" as far as the lineup goes.  In fact, the show is currently sitting at 1400 tickets sold with a few days to go, in a building that holds 7000, so that's not a great sign.
– Nothing new concerning Sid this week, but the WWF is still expecting him back at the end of his six week suspension.  The smart money is on Sid taking the entire summer off and then returning to the highest bidder.  Sid, for his part, is denying everything about the test and says he CHOSE to leave the company.  There's also no evidence that he was ever asked to do a job for Warrior, so that's likely not the inciting incident, either.
– More on the split of EMLL in Mexico, which was announced to the public on 5/7.  Pena will launch his new promotion, El Asistencia Asesoria Administracion (or AAA for short), and announce the signing of 32 wrestlers to stock it.  These include El Hijo Del Santo, Octagon, and Konnan, along with CMLL champion Cien Caras, Fuerza Guerrera and Blue Panther.  Not only that, but Pena controls the midgets, and he who controls the midgets controls Mexican wrestling.  (I wonder if it was like a Dobby the house elf situation where if you gave Mascarita Sagrada a sock he'd be released from servitude?) 
– You can expect a shitload of title changes or at least vacancies right away as EMLL desperately tries to get the titles off the guys before they jump ship.
– Eddie Gilbert took his Global North American title to Memphis and he's not going back to Dallas to defend it again.  He'll be doing a title unification feud with Jerry Lawler and GWF is pretty much boned.
– Steve Planamenta gave another interview regarding the steroid testing, noting that he doesn't consider (ALLEGED!) steroid suspensions for guys like Sid and Warrior to be a victory, because true victory would be all the guys being off the drugs so they don't have to test any longer.  In fact, he said about Warrior "I've looked in his eyes and his head was clear.  He's never looked or sounded better.  He's healthy.  He's rested."  (Clearly if you needed compelling evidence that Warrior died and was replaced by a complete imposter, there you have it.)  Also, Kerry Von Erich went to rehab and now he's looking great and doing much better.  (That is, um, quite the optimistic viewpoint on Steve's part.)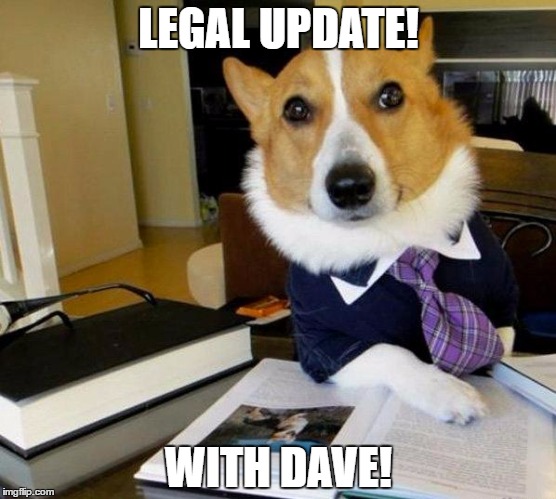 – Jerry McDevitt was admitted to the Connecticut bar, so he can officially practice law in that state and specifically defend Vince McMahon and Pat Patterson in the Murray Hodgson trial.  Titan got another postponement just to be on the safe side.
– Harley Race is engaged in his own legal battle over a boating accident in 1990, as Brenda Willison claims that Race was drunk and reckless when he rammed his boat into Brenda's boat two years ago.  Race's lawyer thinks that Harley should be hailed as a HERO because he helped pull the woman and her husband to safety from the wreckage, although Willison suffered a broken back and has been in a wheelchair since the accident.  Testifying against Race was his ex-wife, who claims that he was so drunk that she refused to ride with him.  (Women!  Am I right?)  Race's lawyer pretty much claims that his ex-wife is just being a bitch about the whole divorce thing and that seems to be how jurors are taking it.
– Andre the Giant is doing one last tour of Mexico with the UWA and is absolutely packing them in.  (That pretty much must have been his last appearances in ANY ring, no?) 
– To Japan, where Great Kabuki called a press conference to announce that he wasn't going to FMW after all, so the FMW-SWS deal is probably dead.
– The UWFI crowned their first champion on 5/8, as Gary Albright, likely the second-toughest man in wrestling after Dr. Death, beat Takada by knockout with a series of suplexes to claim the title.  Koji Kitao also debuted for the group, knocking out Kazuo Yamazaki with a kick to the face and adapting quite easily to the new style.  Lou Thesz was on hand to put over the group and called everything in the US a circus.
– Dave is really impressed with Stan Hansen's new character in Japan as champion, as he's become the old gunslinger who knows he can't hang with the Kobashi/Kawada/Misawa trio but he's old and stubborn and just keeps kicking out of pins and taking a beating until he can hit the lariat.
– Jerry Lawler, in explaining his USWA World title victory over Kamala this week, said that he just had to wait for the giant to make his fatal mistake.  As it turned out, that mistake was made a week earlier when Kamala jumped to the WWF.
– The Moondogs beat up a jobber named "Trade Keller" and gave him a hellacious shot with a 2×4 in a very "subtle" message.
– As noted earlier, Eddie Gilbert crashed the weekly TV show, carrying the North American title, as they acted like "he's not supposed to be here!" and it's all REAL.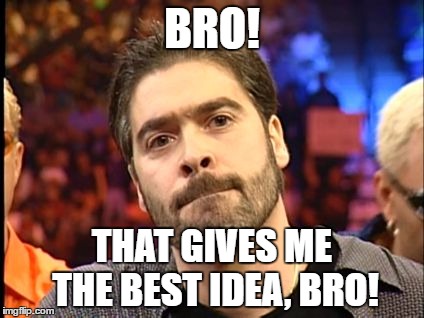 – However, in a rare moment of logic, promoter Eddie Marlin said that if they just let Gilbert go back to Global with the title, then they'll look like wusses, so he can stay and have a unification match with Lawler.
– Speaking of Global, the TV taping was down to 319 people at the Sportatorium, for a show filled with the cheapest possible local Dallas talent doing matches stretched to ridiculous lengths and the same 10 people working multiple times.
– The promotion is STILL advertising full steam ahead with Eddie Gilbert defending the title, even though he literally showed up on a competitor's TV show last week and pretty much told GWF to get stuffed.  To explain this absence, they announced to the crowd that Eddie's plane was late and he was unable to make the show, so Mantell advances in the tournament for the title, which was the first that anyone had heard about that.
– For those wondering, the controversy in Oregon continues, as the Vancouver faction is now claiming that CW Bergstrom is not the champion because the title match was never signed as such, whereas the "original" faction promoted by Don Owen is just ignoring that whole thing and pretending like they don't exist.
– The Apter mags have been much more forgiving of the WWF as of late because Apter is longtime friends with JJ Dillon.
– Gordon Scozzari is once again re-opening his AWF sometime in June or July using a big list of names that he's talking up, although Dave notes as a footnote that those on the list might be reading about this for the first time because he hasn't actually CONTACTED any of them.
– Business is still weak for the WWF.
– New to the six week suspension party:  British Bulldog and Chris Walker.
– Kerry Von Erich was pulled from the road again, but he isn't suspended.
– Lightning Kid had his tryout match at Center Stage and looked tremendous.
– Jake Roberts is expected to debut at the 6/16 Clash.
– And finally, the latest Omni show drew a paltry 1100 people, one of the smallest wrestling crowds ever there.  However, since Bob Dhue runs that arena and has a personal stake in improving attendance, that likely explains how Bill Watts was miraculously hired and the given the house show improvement mandate so strongly.