Previously on the Flashback… http://blogofdoom.com/index.php/2017/02/27/wrestling-observer-flashback-04-27-92/
Getting closer to another major milestone for WCW, but first it's the NWA World tag team title tournament! Aren't you EXCITED?
– Dave has the brackets for the NWA World tag team title tournament, as noted, and they are as follows:
Rick & Scott Steiner v. Miguelito Perez & El Borica
Chris Benoit & Biff Wellington v. Jushin Liger & Brian Pillman
Steve Williams & Terry Gordy v. Larry O' Dea Jr. & Larry O'Dea Sr.
Joe & Dean Malenko v. Ricky Steamboat & Nikita Koloff
Hiro Hase & Akira Nogami v. The Headhunters
The Silver Kings v. The Freebirds
Arn Anderson & Bobby Eaton v. Dustin Rhodes & Barry Windham
Rick Rude & Steve Austin v. Tom Zenk & Marcus Alexander Bagwell
– The O'Deas are being brought in for political reasons, since the 50 year old Larry O'Dea is a member of the NWA board.
– Dave is pretty sure Freebirds v. Silver Kings will be the worst match of the entire tournament. (He's not wrong.) The finals are likely going to end up with Rhodes & Windham going all the way to the finals so they can lose to Williams & Gordy. Clearly, it's all setting up Steiners v. MVC in a unification match for the NWA and WCW tag titles. (Or, if you're Bill Watts, you just have your boys steamroll both sets of titles.)
– Dave tries some investigative journalism to preview the tournament, but for example the Puerto Rican team of Perez & "El Borica" were just a fake team who would end up getting "injured" and never wrestled in the tournament. He also assumes that the Headhunters are the Headhunters, but they were definitely not.
– Jimmy Lennon, probably the best ring announcer of all time, died at 79 from heart failure.
– The WWF opened up their post-Wrestlemania tour in the US, with a distinct thud. This normally does happen after Wrestlemania, but you'd think Sid v. Warrior would at least draw for one go-around and it didn't happen. In fact, a show scheduled for Richmond, VA, had to be cancelled because they had an advance of 600 tickets just two days before the show.
– The Flair v. Savage program being such an immediate bomb is less of a surprise, since they gave away the babyface win at Wrestlemania and exposed Flair as a fraud and a liar already. What motivation do people have to go see Savage get further revenge at this point? Dave expects some MAJOR angles to come out of TV to try to spark house show attendance as the situation gets more desperate.
(Like THIS…?)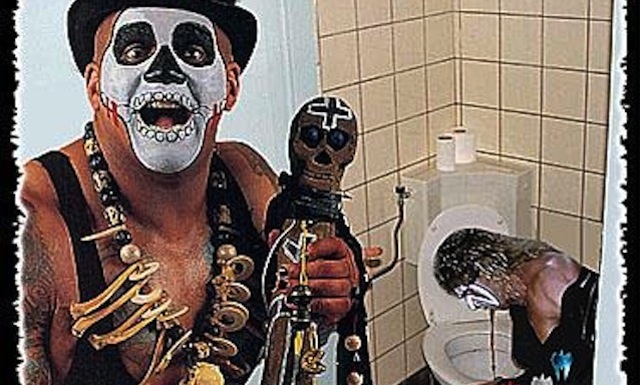 (Yes, we were apparently legit supposed to care about this angle and buy tickets as a result.)
– More shakeups in Japan as Great Kabuki (who is a major player for SWS) showed up in FMW, as the two groups look to have Onita perhaps work for SWS in the long term. FMW needs the big money they have to offer, and SWS needs whatever it can get.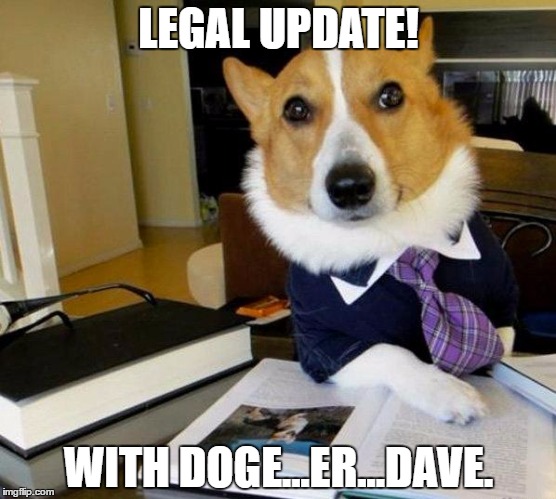 – Kip Frey has confirmed that they're going full steam ahead with a lawsuit against the WWF over Lex Luger's contract, because that's just what the WWF needs…another lawsuit. Although the actual wording of the contract is confidential, Frey is confident that they've now gone "way over the boundaries" of what was allowed when he was released early. Basically appearing as a regular character on WWF TV, even if it's "supposedly" to promote the WBF, is just pushing it too far.
– The WWF lost another court case, this time over paying taxes in New Jersey that were owed after the two Wrestlemanias held there in 1988 and 1989. Basically they were crying "violation of free speech" and other nonsense, and lost. So the top amount that can be charged is $100,000 on a show that grosses $9.5 million or more, and underneath that the amounts decrease by various amounts. Now, the hilarious part is that the WWF claimed that they actually didn't owe the full $100,000 for the two shows because they somehow made less than $9.5 million per show. This is hilarious because they had publically bragged on several occasions that each show made upwards of $30 million! This argument includes Wrestlemania V, which is widely believed to be the highest grossing wrestling show in HISTORY. (Hey, much like Bill Gates famously said…)
– Back to Murray Hodgson and his case against Pat Patterson, with Vince and Pat's depositions delayed so they could do some more legal wrangling. They actually want Hodgson's deposition videotaped as well, which is adding additional negotiating time to the proceedings. Dave is still sure that the case isn't going to make it to court because then too much dirty laundry would be aired for public record, and they'll inevitably settle.
– "A Current Affair" airs a segment this week on the usual topics as of late, but they're so late to this particular party that Dave doesn't expect anything earth-shattering to come from it.
– Despite Blue Panther being the heel in his feud with Love Machine Art Barr in Mexico, fans are booing Art more and more all the time.
– Dave is also wildly impressed by Ninja Sasuke, who is turning into a "sensational" worker down in Mexico for UWA. (You could say he's pretty GREAT, that Sasuke.)
– Dave goes on a bit of a rant against the bullshit Japanese politics that have screwed over more than a few mid-level guys. Basically if you're an American who has never worked Japan before, working a smaller Japanese promotion basically means you're blackballed from New Japan and All Japan because if you were truly confident in your abilities, you would wait for them to call you. However, Dave notes, it's grossly unfair to expect that, say, Biff Wellington or Danny Davis would turn down $700 a week from WING or SWS when there's so little work in the US right now, and basically Baba and Inoki need to get over themselves.
– Hulk Hogan is supposedly going to Japan to discuss the supposed New Japan deal, although SWS has an exclusive contract for WWF talent and last anyone checked, Hogan still works for the WWF.
– Still no hard details on the NWA World title tournament, although WCW might air it as a "Japan Supershow" PPV. (They ended up merging it with the G1 Climax that year, didn't they?)
– Apparently the Funaki v. Duran match was so obviously faked that even little kids in the audience could tell that Duran was pulling his punches.
– For those keeping track in Memphis, Eric Embry is still selling the battery acid blinding from last week. But he's doing better.
– Eddie Gilbert (still the North American champion in Global, I remind you) got into a shouting match with Max Andrews after their most recent horrible show where he basically told Andrews that the company was going down the toilet. And that was pretty much his exit from the promotion. He actually ribbed Angel of Death during a terrible six-man main event, where he bet Angel $1000 that he didn't have the guts to tag in, since he's legally not allowed to wrestle yet without a doctor's clearance. Angel didn't take him up on the bet.
– In addition, GWF has to somehow tape 14 shows for ESPN in May in order to fill their quota, working with basically 10 guys as a roster. In fact, the latest tapings saw the Gilbert six-man main event run 40 minutes to fill time, comprised mostly of stalling.
– Dave is skeptical of the veracity here, but apparently lowly jobber CW Bergstrom won the Pacific Northwest title on the 04/21 show at the pizza parlor, beating Ron Harris. (This was indeed true, and Bergstrom in fact would be the final champion for the promotion.)
– Former referee John Bonello got 18 months in prison for hiring a hitman to kill his wife. Dave wants to stress that Bret Hart was not involved. The crazy stuff that came out of the trial included a psychiatrist testifying that Bonello went psychotic from a mixture of steroids, coke and downers, thus causing him to seek out someone to kill his wife. The judge, however, went easy on Bonello because he RECONCILED with his wife and the family actually testified on his behalf! (I just can't even with wrestling sometimes.)
– Dave's indy scouting report: "There was a really impressive tag team called Sudden Impact working in Winnipeg, which if they could get full-time work on a regular promotion (if there is such a thing anymore), they are a few years away from being another Rockers type tag team. They wrestle as Lance Storm & Chris Jericho and have worked for FMW in Japan and so all kinds of hot moves, although they try and do too many in each match too fast so they need more competitive match experience"
(I feel like Jericho is a BIT more experienced and takes it a bit slower now.)
– Jim Cornette's new team of Tom Prichard and Stan Lane, called "The Heavenly Bodies", won the first SMW tag team titles, over Jackie & Bobby Fulton in the tournament final on 4/23. They were supposed to do the finals on 5/22, but the Fantastics got booked for Japan in May so they just said "fuck it" and ran the tournament finals early to get it over with.
– Buddy Landel is getting a big push with the SMW group because he's taking the place of this kid named Bob Holly. Cornette wanted to give Bob the big spot, but he's working full-time as a welder and his boss was sick of him taking days off to drive from Florida to the shit-holes that SMW ran. (Perhaps he could have driven in his racecar instead?)
– Another congratulations to reader Mick and his new wife Collette this past weekend.
– Jimmy Snuka won the first ever ECW championship, beating Sal Bellomo in the finals of a mini-tournament, on 4/25.
– Barry Windham won the TV title from Steve Austin in the 2/3 falls main event of the WCW Saturday Night tapings, airing 5/9. The next week's show saw Brian Pillman teasing a heel turn on Tom Zenk.
– Jake Roberts is still 100% sure to be coming to WCW once he can secure a WWF release.
– Apparently a pretty high-level guy in the WWF faked a urine test using a Visine bottle filled with clean piss, and got caught and stooged out to the front office. This would mean an immediate six-week suspension under the steroid testing guidelines. He's still working shows for the moment, however. (Now who would be stupid enough to try that…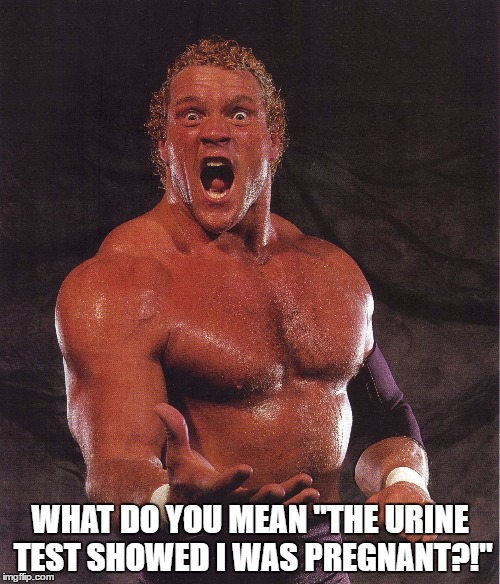 (Oh, yeah, him. Bet you thought it was Kerry Von Erich, didn't you? Anyway, this was the end of Sid in the WWF for the next few years, of course. He still claims that he was framed to this day, by the way.)
– Dave expects Mr. Perfect back in the ring around October to feud with Ric Flair, although that could change. (Shows what you know, SMART GUY. It was NOVEMBER.)
– Del Wilkes has in fact backed out of his WWF deal and will work All Japan instead. (So there you go.)
– Wrestlemania IX is currently booked for the 27,000 seat indoor arena in Tampa on the U of South Florida. But that could change.
– And finally, Kerry Von Erich is working house shows again and the Betty Ford Clinic seems to have left him a "changed individual". (So, like, he turned into the Ultimate Warrior, then? I KNEW IT!)