Previously on the Flashback… http://blogofdoom.com/index.php/2017/02/04/wrestling-observer-flashback-01-06-92/
Dedicated to the memories of those we lost in the Bowling Green Massacre.  And whoever lost the Super Bowl last night, since I'm writing this well before it happened. Also, to Neil Patrick Harris.  He's just delightful.
– In the top story, it's the year-end awards issue!
Wrestler of the Year:  Jumbo Tsuruta
Most Outstanding: Jushin Liger
Best Babyface:  Hulk Hogan
Best Heel:  The Undertaker  (In the same year with Jake Roberts?!) 
– Moving onto the news, and WCW has Herd enough.  Jim Herd went to Jack Petrik on Wednesday and basically gave him an ultimatum:  Either Dusty Rhodes is fired, or Jim Herd quits.  Petrik instead offered Herd a spot elsewhere in the TBS organization, and Herd declined, he tendered his resignation and was gone.  (After recapping his entire tenure, we can definitely say he got a bum rap from fans in a lot of ways.) 
– For the moment, Herd will be replaced by K. Allen "Kip" Frey, who has even LESS wrestling background than Herd did when he took over.  The expectation is that this will benefit the company, as he'll just leave the wrestling stuff to Dusty and Crockett and worry about the financial aspect of the company.
– Jim Herd's theory is that losing Flair was what sealed his fate, plus Herd was increasingly frustrated that they couldn't catch up to the WWF in any significant manner.  Those above Herd were equally frustrated that WCW was such a money loser for the three years under his watch, too.  TBS actually commissioned a study of the company, tallying the losses at over $19 million to date, and one of the things that was discovered is that Herd was viewed as a negative to the company who wasn't liked by the people he was supposed to be leading.  (Well good thing they brought in Bill Watts, then.) 
– Herd readily admitted to those around him that losing Flair was the biggest mistake he ever made, but the cost at the time was just too high.  There's already talk within the company about getting Flair back again, but he apparently has an "iron clad" contract until 09/93.  (Well, "iron clad" in wrestling is relative…) 
– Frey will hold a press conference to introduce himself on 1/22, and held internal meetings to figure out the organizational aspects of the company already.  David Crockett will take over all TV product duties, Dusty Rhodes remains the booker man, and Jim Crockett will book arena dates and handle day-to-day wrestling operations.
– Hey, steroids again, as the more the WWF hopes they go away, the more stories are written about it.  Phil Mushnick of the New Year Post began a VERY long running vendetta against the WWF with his story "Rasslin' and Steroids", filled with blistering quotes on the steroid issues of the company from Billy Graham and Dr. D.  Shults claimed in the story that he received "threatening calls" from the WWF after his appearance on Inside Edition, but they know where to find him.  Also, Vince McMahon is apparently connected with the mafia somehow.  Dave doesn't believe that particular tidbit, however.
– The story also alleges that the FBI is investigating Vince personally for steroid distribution, which Dave can neither confirm nor deny since the agency doesn't comment on their investigations.  (Oh, there was some fire to go with that smoke…) 
– The WWF did decide to comment on one thing, noting that no one who claims to be fearing for their life is important enough for them to have killed.  PR rep Steve Planamenta feels like Graham is just saying all this stuff because Titan wouldn't settle with him to get rid of his lawsuit.  He does add that Hogan will address everything at some point, however.
– While speculation is running rampant that this will destroy the WWF, Dave thinks that's premature.  There is also speculation that Hogan will leave after Wrestlemania as a result, although Hogan has been planning on leaving anyway.
– The WWF may or may not have done the second round of steroid testing at the Daytona Beach tapings, and to the surprise of no one, there were no suspensions levied or appreciable change in the size of the bodies.  Dave doesn't doubt that Vince is the one person with the guts to fire 40 people and rebuild the roster from scratch as he claimed, but would he WANT to?  Probably not.  The answer seems to be throwing someone stupid enough to fail a test under the bus as a scapegoat, but that's a short-term solution.  If the media pressure doesn't stop soon, the situation is going to get much, MUCH worse for Vince.
– In Japan, the JWP promotion announced that they're folding, leaving All Japan Women as the only major women's promotion over there.
– Apparently WCW will have a "surprise" debut, who they're classifying as a "major acquisition", making their debut at the 1/21 Clash show.  (It sure was!)  Also on the show, Kevin Nash debuts in his new role as Vinnie Vegas. (Much less important.) 
– All Japan drew a monster rating for the Dynamite Kid retirement show, featuring Kid & Johnny Smith v. Johnny Ace & Sonny Beach, and then drew another monster rating for the All Japan anniversary show, with clips of the promotion from 72-91.
– Antonio Inoki is trying to get into the boxer v. wrestling business himself, negotiating with Buster Douglas for a Tokyo Dome show in March.
– The Sheik did an extremely rare job, submitting to Onita's boston crab in just 3:18 at the latest FMW show.  Afterwards he threw fire at Onita, which made front page headlines.
– Dave saw the Japan Supershow II from Japanese TV, and wasn't blown away by anything but Steiners v. Sting & Muta, which he gave ****1/4.  Lex Luger did in fact show up for his match with Chono, which wasn't any good.  New Japan is already planning to have Luger be in the Sumo Hall tournament next year, although they're negotiating with him directly instead of WCW because he's openly saying that he's leaving the company now.  (He's going to be a bodybuilding star, you know.)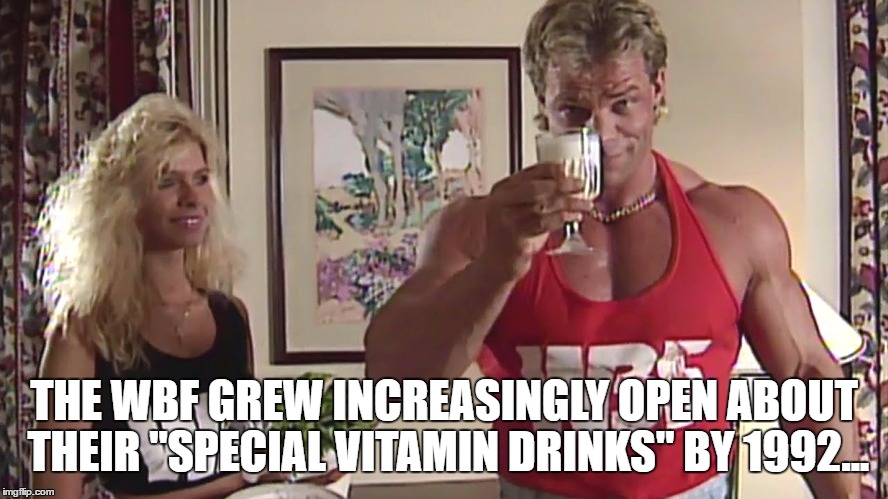 – Over to Memphis, where the lease in Evansville runs out next month and it's looking likely that they're just going to stop running there weekly at that point.
– Eddie Gilbert continues to juice the Global promotion as booker, giving them a third straight crowd of 1000 people for the TV tapings.  The First Family was indeed resurrected by him, with Barry "The Winner" Horowitz added as the first new member.
– Former World Class announcer Ralph Pulley died this past week, and one of his pall bearers was…uh…Paul Bearer.  Dave swears he's not making a joke about the situation.
– Don Owen continues running shows in Portland, but attendance is now in a death spiral already with no TV.  They're trying desperately to get TV again, and for the moment they're running on public access cable out of "Uncle Milt's Pizza" in Vancouver, WA.  (You couldn't even make up shit this ridiculous.  That's why I love wrestling so much.  Reminds me of the movie "Kayfabe", actually.  In fact given where it was filmed, there was probably some influence there.  You can of course watch it on YouTube, for free, here:  https://www.youtube.com/watch?v=80sEfEV6m74) 
– Don Owen is also trying to sell his bowling alley / sports arena for $385,000.  In case anyone is in the market.
– Joel Goodhart is unlikely to be getting any more New Japan talent for the time being, as his connection there has fallen apart.  (A lot of stuff will be fallin' apart for Goodhart very soon now.) 
– Bob Backlund did an interview with a local paper, talking about his role as the coach of the Bacon Academy wrestling team.  He wants everyone to know that he never sold out to the steroid lifestyle and he was also snubbed by the steroid users for not sinking to their level.  And there's a photo of Hulk Hogan on the wall at the school that makes him SICK, because it represents all the athletes who work hard to get better while some druggies get their achievements from chemicals.  (Say what you will about Bob, but look at how old he is today and his insane training regimen that he's maintained for his entire life, and it's impossible not to respect the hell out of him for sticking by that philosophy and never wavering.)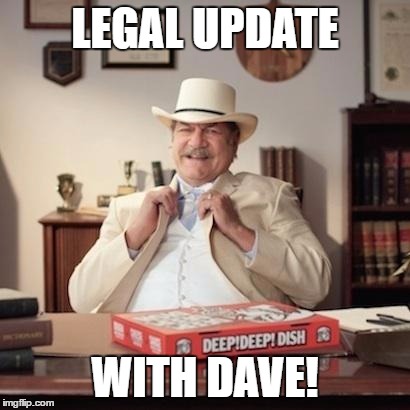 – The Nasty Boys are out of action for a while after getting FUCKED UP by three guys in a road rage incident in Peoria.  Stories of course differ based on which side, but the Nasties claim that the suspects cut them off and then threw something at them when they stopped at the light.  Knobbs went out to check for damage and the three guys attacked him and stabbed him four times, and then when Saggs followed they knocked him out with a set of jumper cables.  The guys were arrested, but their story is that the Nasties instigated the fight (perish the thought) by making "obscene gestures" at them and then pulling open the car door and punching one of them ten times at the light.  The stabbing was thus self-defense.  Despite the horrific beating they claimed to have sustained, none of the men were injured.
– News coming out of the TV tapings saw Bret Hart working matches for after the Royal Rumble without the IC title.  However, the LOD still had the tag titles.
– Chris Chavis will FINALLY debut on TV in a few weeks, as Tatanka.  (Call me crazy, but I could have sworn they debuted him under his real name and then had him do a promo from whatever Indian nation where he changed it to Tatanka), plus Charles Wright gets his long-awaited voodoo redo as "Papa Shanga".  Konnan also got a tryout and stole the show as "The Latin Fury".  He beat "The Masked Heartbreaker", who may have been Art Barr.
– Sensational Sherri also did an interview at the tapings where she claimed to be in love with Shawn Michaels, so that tells you where they're going with her.
– The Latin Fury reappeared again the next time in Fort Myers, and this time he beat the Juicer, so that's definitely Barr.
– Ratings for Prime Time have rebounded a bit, mostly because football is done for the year.  (See, they knew about that even back then.) 
– The FOX special that they negotiated ages ago will air on 2/8, but won't be live because Flair is scheduled to headline shows in California at the same time.
– Sid will be going heel very soon now.  (On that very show, in fact!) 
– The house show in Minneapolis on 12/28 drew 9000 people, but the majority of the crowd actually walked out on the last match, which was Roddy Piper & Bushwackers v. The Beverly Brothers & The Genius.  (Hard to blame them.) 
– To WCW, where Jushin Liger will be at the SuperBrawl PPV against Brian Pillman.
– The NWA v. WCW unification angle apparently is not dead, but the Jerry Lawler angle is definitely dead.  The new NWA champion candidate hasn't been decided yet, but "the name Keiji Muto just seems to have magically appeared on this page in this sentence".  (Is that like a Harry Potter spell type of deal?) 
– Starrcade did about a 1.1 buyrate, which is normal for this year.
– Van Hammer is being taken off TV after the Clash and brought back when he learns to wrestle.  "You fill in the punch line" notes Dave.
– Jason Hervey was on "Lifestyles of the Rich and Famous", and Missy Hyatt was referred to as "a sports commentator out of Atlanta" with no mention of WCW.
– And finally, with the impending departure of Lex Luger, Barry Windham will be turned heel again to fill the void, which Dave finds ridiculous because it's just going to kill Windham the same way it did Luger.  (Well, it didn't happen anyway.  At least not yet.)