Previously on the Flashback… http://blogofdoom.com/index.php/2017/01/31/wrestling-observer-flashback-12-09-91/
Y'all are BRUTALIZING me with the e-mail questions since Royal Rumble, as I've been trying to answer some on my phone during the day and I've still got another 20 or 30 I haven't even read yet.  So my plan is to do Q&A Marathon 2K17 this weekend, with as many questions as I can answer, but over on Rantsylvania as much as I can, so I don't overload the main page here with posts.   So stay tuned for that this weekend!
Anyway, this is another particularly depressing issue as we near the end of 1991 and move into 1992, when SURELY things will get better for the business?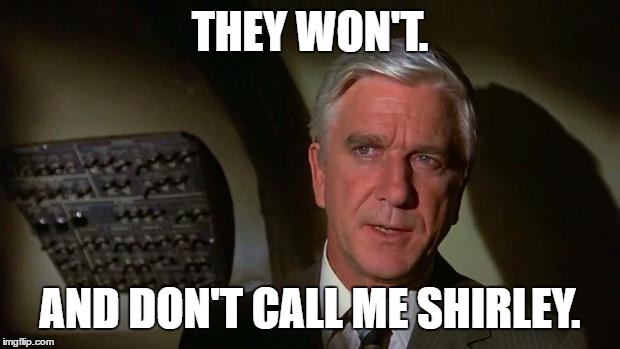 Sorry, Leslie.
– The top story is the apparent end of Pacific Northwest Wrestling, as the TV show was abruptly cancelled by the TV station after 38 years on the air. The ratings were just too low and the costs were just too high.  Don Owen's promotion is actually the longest-running in America, dating back to the 1920s with his father, Herb Owen, and Don himself started as a ring announcer in 1931.  (Jesus, how old WAS Don Owen?  Actually, Dave answers that later:  79)  Although the final TV show was essentially a goodbye after 40 years, the announcers constantly pointed out that wrestling would continue at the converted bowling alley owned by Don. The main factor for cancelling the show, and here's the shocking part that is probably totally new information for you as a reader, is that the station wants to air the WWF syndicated show instead, because it's cheaper for them and has bigger stars.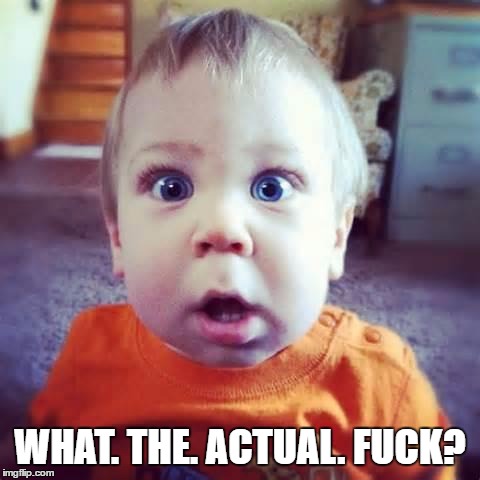 – I know, this is totally blowing my mind, also.
(For those wondering, the promotion limped along without TV for another six months before Owen was forced to shut the doors for good in July.) 
– In another bummer, The Dynamite Kid announced his retirement following the conclusion of the All Japan tag team tournament.  Doctors told him that 17 years was enough and he could no longer wrestle, what with three mangled discs in his back and all.  There was no publicity for the retirement, although Baba threw him a huge party in the ring and after the show to pay respect.
– Apparently at the end, he was back to 175 pounds after taking off all the muscle, and was an inch shorter due to his spine compressing. (Amazingly, he's still alive, although he's been in a wheelchair for decades now.) 
– Speaking of the tournament, the finals were a sellout on 12/6 at Budokan, with five teams who could have won.  The finals ended up with Williams & Gordy v. Misawa & Kawada, which ended at 25:24 with Gordy pinning Kawada with a powerbomb to win the tournament.  (1992 was a good year for them.) 
– This Tuesday in Texas sold out with 8000 fans in San Antonio (or as Gorilla Monsoon put it, "20,000+") and ran EXACTLY 90 minutes on PPV because there was ZERO budget for this one and had they gone a minute over 90:00 it would have cost them another half-hour of PPV time. There were no big entrances or pyro, either.  The show appears to have done a 1.1 buyrate, which is one of the lowest ever buyrates for the WWF. It's hard to gauge much from the Survivor Series buyrate or this one, because there were two contradictory views from the industry on the whole thing.  The first idea was that Survivor Series dropped so low because it was on the Wednesday BEFORE Thanksgiving, and thus was a failure because Thanksgiving is normally strong.  The other viewpoint is that it was actually a success because Thanksgiving is a weak night for PPV, and so if they had held it on Thanksgiving it would have been even lower. Basically, Dave notes, trying to predict buyrates is a ridiculous notion and the only way to tell what works is to try it and then judge based on results.
– Anyway, to the show, which Dave liked well enough.  Except for Gorilla Monsoon, who thought there were 20,000 people there and that Skinner was undefeated.
1. Bret Hart beat Skinner in 13:46 to retain the IC title. Started slow since it's Skinner, but it was decent.  **1/4
2. Randy Savage pinned Jake Roberts with the flying elbow in 6:25. Average match, but very memorable angle. Jake gave Savage two DDTs and Liz was begging for him to stop, so he slapped her and all the agents had to make the save.  "This was just about the most dramatic angle I've ever seen" notes Dave.  (No shit.  That's an understatement.)  They did something BIG with Roberts, but whether it works or not in getting him over as a main event heel is another story.  (It didn't.)  ***
3.  British Bulldog pinned Warlord in 12:45.  Dave notes that both their bodies had made major changes in the past six days.
Anyway, Dave thinks that people might have harshly pre-judged this one based on the fact that both guys kind of suck. But aside from a three-minute full nelson spot, ruined by Gorilla Monsoon as usual, it was decent.  **1/4
4. Ted Dibiase & The Repo Man beat Virgil & Tito Santana in 11:28.  This was the Dibiase show as usual, with Sherri not far behind.  ***1/2
5. Hulk Hogan pinned Undertaker in 13:09 to regain the WWF title.  It was better than Survivor Series, but still a terrible match. Hogan has very little left except for his charisma. Hogan threw ashes from the urn into Taker's eyes and pinned him, which Jack Tunney watched.  *1/2  This will lead to the title being vacated and put up for grabs in the Royal Rumble on 1/19 in Albany.
– Mike Tyson is making noise about challenging Hulk Hogan to a match, which would be a big money draw on PPV to be sure.  Dave notes that Tyson should probably be aware of what Tyson would have to do in order to make that money.  To clarify, he'd have to be: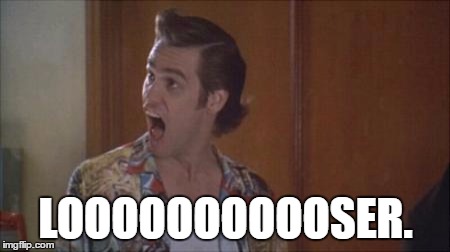 – The loser.  Not Ace Ventura.  Although Mike Tyson is a formidable mystery solver himself these days, to be sure.
– Billy Graham finally gave an interview about the whole steroid thing, to Inside Edition, where he compared Hulk Hogan to Marion Berry because he preached one thing and did another.  (Hulk would probably be REALLY offended at being compared to Berry for another reason.) 
– So apparently Akio Sato was in Japan for the All Japan tag tournament, and negotiated with five of the top All Japan foreigners to jump to the WWF, with three of them declining and two keeping their options open. An announcement could be made as soon as this week.  (Given the top five foreigners would be Hansen, Gordy, Williams, Spivey and maybe Furnas & LaFon, I have no idea who was supposed to be jumping.) 
– The Original Sheik is working in FMW right now and of course got himself over huge already, with Onita putting him over a the latest show.
– In the Texas Death match at Wrestlemarinepiad III, Aja Kong was actually not medically cleared to wrestle, as she had just been in the hospital with appendicitis and had her stomach stapled.  Since everyone knew about it, they filled a condom with blood and stuck it under her shirt during the match, so when Monster Ripped gave her the big splash off the top rope, the condom burst and Kong was covered head to toe with blood from "internal bleeding" and she was stretchered out to lose.  (That's BADASS.  Too bad Ken Shamrock pretty much ruined the gimmick by doing it so often later on.)
– Volk Han debuts in the Observer here, as he faced Maeda in the main event of RINGS in Tokyo and drew 10,000.  (Volk Han is one of those early MMA pioneers who was kind of around too soon and never got his due in the Hall of Fame as a result.) 
– To the surprise of everyone, the first FMW tag team championship was won by Onita & Tarzan Goto.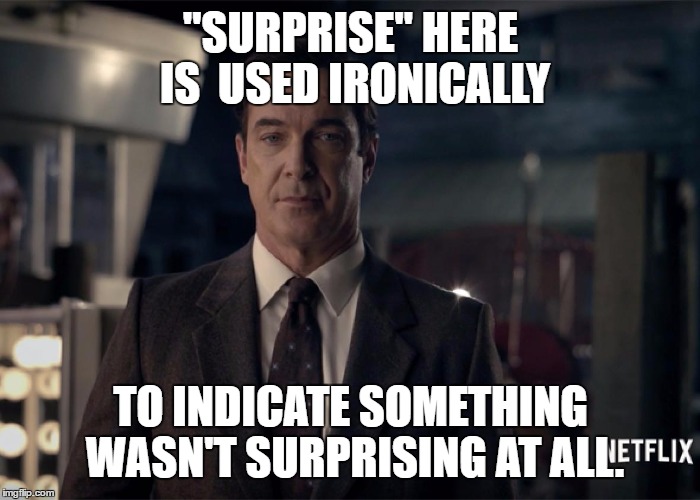 – Yeah, you know I'm all over that show like a MOFO.  Constant dry humor, Will Arnett as a super-spy and WORDPLAY?  Good god, it's like they can peer into my soul.
– Apparently Scotty the Body was going to be brought into All Japan as a regular in the tag division because they liked him, but he worked the WING promotion because Eddie Gilbert is trying to forge a partnership between WING and the GWF for talent exchange. And because Japan has a very weird and complicated political structure that most foreigners don't understand, working for an indy promotion like WING means you're blackballed from All Japan and New Japan, and that's just the way it is. In a similar fashion, Lightning Kid was going to be signed by New Japan, but he worked some shows for the Universal lucha group over there and now he's screwed as well.  (Didn't he end up doing the Best of the Super Juniors tournament in 1993?) 
– In Global, the DARK PATRIOT debuted and pinned the Patriot with his own finisher, so the push has begun.
– WCW is also showing interest in the Patriot, so he's likely not long for the GWF.
– Art Barr's license was finally turned down for good in Oregon, due to his previous coke conviction, plus lying on his application about said conviction, plus his guilty plea in the sex abuse case. (Good thing he got over so big in Mexico right away!) 
– Herb Abrams apparently felt like he hasn't been in the news enough lately, so he sent a threatening letter to a 15 year old boy who wrote a letter criticizing him in a newsletter.  He also is suing Gordon Scozzari because he apparently trademarked the name "American Wrestling Federation" and will bring down the legal hammer if the AWF show goes through.  Oh, and also he has signed Hercules and Jimmy Snuka to one-year contracts.  Dave feels like the WWF might be interested in knowing that last one, since both guys are under WWF contract and all.
– To the WWF, where the biggest angle of the week (and, as it turns out, one of the biggest and most far-reaching angles in wrestling history!) saw Shawn Michaels turn on Marty Jannetty after the Tuesday in Texas show during the TV taping portion. They did an interview on the Barber Shop where Jannetty said he'd turn his back on Shawn and if Shawn was still there when he turned around, then they were still a team, and if not, they were done.  So Marty turned around and Shawn was still there, at which point they hugged and then Shawn superkicked him and threw him through the window.
– Oh yeah, that's the stuff.
– And now, the return of THIS WEEK IN KERRY VON ERICH STUPIDITY!
– So the WWF did a TV taping in Austin with a Q&A before the show, hosted by Kerry Von Erich on behalf of the Cub Scouts, with topics being "not using drugs" and "being honest".  So to cover both topics at once, Kerry told the kids that David Von Erich died in Japan after a wrestler "kicked him over and over again."
– Speaking of Von Erichs, Kevin got another tryout and seems likely to get a job.  Dave isn't sure why, but he has a theory:  They can do house shows in Texas advertising "Martel vs. Von Erich" as the main event and that way if one Von Erich no-shows, they always have a backup.
– Soultaker got a tryout as Sir Charles, doing a British gimmick, but Dave is pretty sure they're going to retool it into a "voodoo man" gimmick.  (Aha, that's where the previous confusion about "Sir Charles" came from, since jobber Mark Kyle had previously done a tryout with that name but I was sure that it was Charles Wright.  Turns out both were correct.) 
– The Harrsisisisisisisisisisisessses and Brian Lee also had a tryout and were well received, but the voodoo man and most definitely Von Erich have the inside track on jobs.  (Ironically, everyone BUT Kevin would have a chance to stink up the WWF soon after.) 
– Sid is telling people he'll be back at the Royal Rumble, and apparently there's not heat on him at all.  (Well, until April…)
– Dave Hebner is back reffing again after Earl needed stiches to close up a wound from a chairshot.
– At the WCW TV tapings, Marcus Alexander Bagwell was given his full debut, associated with local Sprayberry High School.  Dave wonders who that is supposed to be appealing to given it's a national promotion.  (Don't worry, he'll have eight million chances to get over anyway before he found the winning gimmick.) 
– Dallas Page made his debut against Johnny Rich in a must-see match of the year.  Worst match of the year, that is, as Page was incredibly clumsy and broke Rich's nose with a botched clothesline, plus managed to kick him in the nuts while trying a high knee.  (Maffew, PLEASE tell me you have this one somewhere!) 
– Harley Race is indeed staying, but will be managing Vader instead of Luger now.
– Jim Ross dropped the names of Williams & Gordy on the WCW hotline as "negotiating".
– And finally, Dave gives the Move of the Week to Madusa, who did a cross body from the top rope onto Michael Hayes on the floor…while wearing DRESS SHOES.  Now THAT takes some balance and talent!