Winner of the 2016 Doomie Award for Favorite Blog Post!
Previously on the Flashback… http://blogofdoom.com/index.php/2017/01/09/wrestling-observer-flashback-09-16-91/
OK, so when we left off last issue, Kerry Von Erich had missed a couple of dates on the weekend…
– In the top story this week, Chris Von Erich committed suicide at the age of 21 on 9/12, making him the fourth Von Erich brother to die. Kevin and Doris found Chris outside the family ranch, shot in the head with 9mm pistol nearby, and he died at the nearby hospital. Later, a suicide note was found, where he said not to blame the family. Fritz and Kevin went on a Dallas TV show afterwards, and Fritz stated that Chris's depression stemmed from knowing that he would never succeed as a pro wrestler.
– Dave runs down the history of the Von Erich family, openly stating now that David's death was a drug overdose that got covered up. He is, however, still waffling on Kerry's foot at this point, saying that the motorcycle accident is "thought to have resulted in a partial amputation of the foot" without outright stating it.
– Chris was of course around wrestling dressing rooms his whole life, and idolized Kerry in junior high to the point where he'd dress and act like him. Unfortunately, he was the furthest thing from an athlete in school, with a complete lack of wrestling body and chronic asthma. But Fritz still bragged about Chris being the "best amateur wrestler of the family", with only one loss in his career. But when Chris left school at 18 and wanted to start wrestling, Jerry Jarrett immediately put the kibosh on it and kept him out of the ring. When the relationship between the Von Erichs and Jarrett fell apart and they began splitting the company again, Jarrett finally gave in and let Chris wrestle, which turned out to be an immediate disaster. After World Class folded, Chris continued working indy shows in Texas, but blew out his left arm a few weeks before his death, and then suffered an extreme asthma attack and was put on medication that pretty much destroyed whatever muscle tone he had. This appears to have led to his suicide.
– On a happier note, Dave got to see the Piper-Flair angle on TV and it's the talk of the wrestling world right now.
– The WWF will be doing a press conference on 9/26 to officially announce the Wrestlemania VIII show at the Hoosier Dome, with a 63,000 seat capacity planned. Dave is still guessing that the main event will be Flair v. Hogan in a title v. title match, but lots of stuff can happen between now and then.
– Speaking of Flair's belt, Jim Herd was made president of whatever is left of the NWA at this point, which means that, in theory, the WCW and NWA titles are now merged back into Lex Luger's belt again. This appears to mean that WCW can once again become the NWA and use the name on their programming as the sanctioning body. Really, Dave notes, this means nothing, but does allow them the legal loophole needed to claim ownership of the Big Gold Belt and get it back from Flair in court.
– The top matches for the Survivor Series are set, with Hogan v. Undertaker for the title on top, but apparently the WWF Magazine was promoting another ultimate Survivor match for the end of the show, and that idea has (thankfully) been scrapped after the magazine was published.
– Erik Watts made the news as the starting quarterback for the University of Louisville, as his debut was in a nationally televised game against Ohio State. Watts actually only made the start because the regular QB broke his leg. (Did anyone think to check for STF-related injuries?) ESPN actually did a story on Watts, with the trivia bit about him bringing Andre the Giant to school for show and tell in the second grade. Watts lost the game, throwing three interceptions, by the way.
– The Crusher suffered a heart attack on 9/11, needing extensive heart surgery to repair the damage.
– WING made their TV debut on 9/9 in Japan, with a curiosity: The first ever studio wrestling show in Japanese history. Every other one has been arena highlights.
– In Global, heel announcer Steven DeTruth (Prazak) claimed that he could beat the Blue Blazer in less than 30 seconds or he'd give up his spot on the weekly interview segment. So when they did the match, it turned out to be a literal blue blazer. However, the referee walked out, resulting in DeTruth having to count the pin on the sport coat himself, at 32 seconds.
– Bill Eadie is working Global as "Axis the Demolisher". (And he wonders why he's been in litigation with the WWF for decades.)
– Billy Black & Joel Deaton have already been fired by the promotion, as they demanded more money because they're such big stars in Japan, and then went out and complained to a house show crowd that they were better than the second match and proceeded to go off-script by doing a series of hot moves and squashing their opponents instead of going 50/50 with them as was the plan. (Yeah, and when was the last time you heard either name in the business?)
– Negotiations between ESPN and GWF continue, as ESPN wants 46 episodes produced to fill 13 weeks of TV, and Global doesn't have anywhere near the operating capital to actually make that happen.
– Hey, Dave finally found out who The Dragon Master in Memphis is: A 6'10" former Jim Cornette bodyguard named Gary Rich who worked as The Intimidator on the indy scene.
– Jerry Lawler did a hilarious promo on TV (one that really stuck with me for years for whatever reason), where he disgustedly outed PY Chu-Hi as being just "big fat Phil Hickerson", with Chu-Hi responding that Lawler wasn't really a king.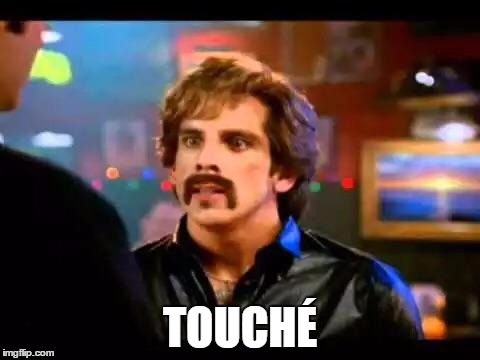 .
– WCW hasn't really replaced Dusty Rhodes as booker, but instead has established a "steering committee" to assist Dusty in his booking efforts. The team will be Jim Crockett, Jim Ross, Dusty, Magnum TA, Jim Barnett and Jim Herd.
– One Man Gang reportedly refused to do a job for PN News, but was quite polite about it, and was sent home to think about the future for a few days. He's not expected back.
– WCW had produced a TV commercial for WCW action figures with Galoob, but the commercial used footage of Paul E. Dangerously smashing the phone on Jason Hervey's head. So Hervey's lawyers demanded that it be pulled because they didn't have permission to use his likeness. WCW's solution: Use an old commercial with Ric Flair instead.
– With the Hase/Sasaki team now out of the picture, we're getting another round of Freebirds v. Young Pistols again on all the house shows instead.
– With Gang gone, Cactus Jack will probably replace him in the Chamber match at Halloween Havoc.
– The Web is indeed supposed to be Brad Armstrong, by the way, although he's currently in Japan during this run of shows where he's advertised to be wrestling as the Web. Because WCW. Either way, Badstreet is history and Brad will either be The Web or Arachnaman when he returns from Japan.
– Dusty Rhodes did an interview on the weekly TV, talking about his role as special referee at the Omni on 10/12. He noted that when HE'S referee, "JUSTICE will be served."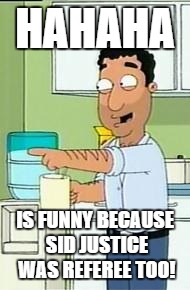 – In addition to his brother dying, Kerry Von Erich was passing blood on his kidneys. So a rough week all around for him.
– Paul Diamond was the first guy to get dinged by the new drug testing policy, as he used fake urine and failed the test. Dave wonders if he perhaps was cheating off the Iron Sheik by mistake?
– Shane Douglas injured his ankle a few weeks back, so the new new new Rockers are Marty Jannetty and Jim Powers. (No wonder Shawn dumped him if that's the best replacement he could find!)
– And finally, Warrior is telling people he's now retired from wrestling. His version of the story is that he demanded to work weekends only, but was turned down and suspended for 90 days. At that point he quit. Dave thinks he can live a good life from merchandise residuals alone for at least a couple of years anyway.