Previously in the Flashback… http://blogofdoom.com/index.php/2016/11/04/wrestling-observer-flashback-10-08-90/
I think I'm missing 10/15, but I don't think much happened anyway.
Houses are down in the WWF, and housecleaning is about to begin…
– Rick Rude quit the WWF in the middle of the week, forcing the cancellation of several shows that were supposed to feature him on top.  Early word is that he was unhappy over his $17,000 Summerslam payoff, although it's still unclear as to the details. (We'd find out soon enough!)  The Rude-Bossman feud has already been changed via the latest TV tapings, switching to a more general Bobby Heenan feud, and Jack Tunney has announced that Rude is indefinitely suspended due to comments made about the Bossman's mother. This is actually a historic first, because normally they don't even acknowledge someone who quits by name.  The matches at the house shows will end up being a double bait-and-switch, advertised as Rude v. Bossman, then changed to Bobby v. Bossman at the arena, but the actual match will end up being Haku v. Bossman.
– Although Rude quit, he still has a year left on his completely valid contract, and so he won't be going anywhere else for the time being.  Rumor is that he wants to join the new UWF because of the easier schedule.  The NWA would really like Rude, but the WWF has already made it well known that they will strike down with great vengeance and furious anger on those who would attempt to breach their contracts.  So Rick is gonna be sitting for a while.
– Also quitting is Akeem, although no one is really concerned about it.
– So with those two voluntary departures out of the way, a whole lot more involuntary ones followed.  Since they're cutting from three shows per night to two, they dropped a bunch of talent.  The three biggest are Jim Neidhart, Greg Valentine and Honky Tonk Man, although Neidhart and Honky are being offered other positions within the company.  Others on the chopping block include Jimmy Snuka, Jim Powers, Boris Zhukov, Nikolai Volkoff, Black Bart, Pez Whatley, Jim Brunzell, Paul Diamond, Koko B. Ware and Ronnie Garvin.  They also fired Blackjack Lanza and George Steele as road agents.  The Neidhart firing comes as the biggest shock, since he's still half of the tag champions, but common belief is that they'll quickly drop the belts back to Demolition so that LOD can get them by Wrestlemania.
– Although they're cleaning house, it's hard to say that they're in any serious financial trouble for the time being.  Vince himself has admitted that maybe they should have cut down to two shows a long time ago, though.
– Things on the house show circuit are so soft right now that many are questioning whether spot shows in general are dead and it's gonna have to be PPV and merch carrying the business from now on.
– Speaking of losing money, the whole bodybuilding endeavor is also going to be a huge drain on resources, from startup costs to signing talent and running TV and PPVs.  And even if it works, it's going to take at least five years to turn a profit once you start making the real money off nutritional supplements and that sort of thing.  (Ha, five years, they wish it would have lasted that long.) 
– Jim Herd has been talking like he's ready to make a move on the faltering WWF machine, including negotiating with Bobby Heenan, a move that has put heat on the Brain.  However, the Goodwill Games have also put a drain on Turner's resources, so don't look for any big moves just yet.
– JJ Dillon is in Japan at the moment scouting talent and trying to set up another Tokyo Dome show, and hopefully doing another exchange like with New Japan or All Japan.  (Or as it turned out, bringing Tenryu in for Wrestlemania in a nothing match.) 
– Another money saving measure is cutting all outside advertising for house shows, since the feeling is that wrestling fans only watching wrestling shows, so advertising on non-wrestling shows is a waste of time.  (Very true.) 
– The pre-Wrestlemania Main Event show has been officially moved to FOX, , since NBC decided to cancel the show due to low ratings.  (That must have changed somewhere between here and there.) 
– The Oktoberfest edition of SNME aired this week, and Dave thought it was a pretty decent show, and in particular he thought "Lanny Poffo: Champion Sausage Stuffer" was hilarious.  To the review!
1.  The Legion of Doom & Ultimate Warrior beat Demolition in 5:38 with Warrior pinned Smash.  Nothing wrong with it.  **1/4
2.  Randy Savage beat Dusty Rhodes by countout in 8:18.  Match was awful, but the ringside angle where Dibiase tried to pay off Dustin to leave was great.  Dustin bled a gusher from a chairshot, and the camera never really did a closeup, because it wasn't "supposed" to happen.
– Just to clarify, Dave notes that there isn't actually an NBC policy that says "no blood".  It's actually Vince's own policy because he wants a more PG product, but in this case since the blood was "accidental", the network had no problem with it.  (A member of the Rhodes family got hit in the head with a CHAIR and bled all over the front row and they bought that it was an ACCIDENT?!?) 
3. Hulk Hogan & Tugboat beat Rhythm & Blues by DQ in 6:38.  Sloppy all the way, and Dave smells a Tugboat turn in the near future.  Good heat most of the way.  Dave makes sure to get a burn on Dino Bravo by noting that when he was being held back by Patterson and the agents, most of them could still work circles around Bravo in the ring.  **
4.  Texas Tornado retained the IC title over Haku with the tornado punch in 4:09.  Kerry does nothing.  *
5.  Sgt. Slaughter beat Koko B. Ware with the atomic noogie in 5:18 with the noogie, and Sarge actually looked good.  *1/2
– To Japan, where Masaharu Funaki and Minoru Suzuki will be jumping from the UWF to SWS.  Basically the UWF president is deeply in debt to the SWS parent company and this is his way of paying it back.  Maeda is said to be against the move because it violates the "UWF style".  (Well, that would soon become a moot point anyway.) 
– Hey, remember Chris Champion's legal problems?  Well, the police did, because they arrested him on a SECOND child molestation charge, after a new 14 year old girl came forward with charges of bad Ninja Turtle touching.  There's also a THIRD girl who is telling stories as well.  (Hey now, who wouldn't trust THIS face…)
– World Class is down to 190 people at the Sportatorium, one of the smallest crowds in the history of the building, as Chris Adams' team beat Steve Austin's team to end the feud with Adams on the way out.
– Jerry Lawler, to the surprise of few, won the tournament for the USWA title because it's cheaper to have him as champion.  Eddie Gilbert didn't want to book himself to be champion because he'd look like a dick.
– Joe Pedicino was at the tournament show and was reportedly showing people a letter saying that he had a $25 million line of credit from his mysterious Nigerian backers to start a new promotion.
– Herb Abrams did another taping on 10/11 in Reseda and it apparently went smoother than the first one, drawing 125 people.  Herb is still really terrible on commentary.
– WWF TV tapings in Springfield were uneventful, although Scotty the Boy got a tryout.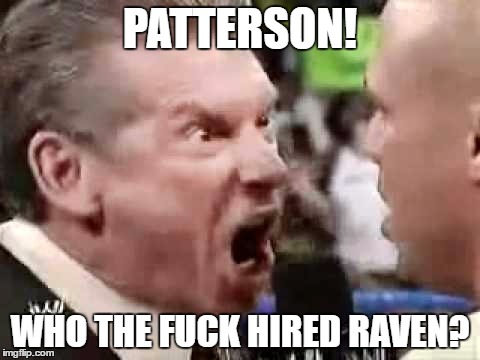 – I'm guessing he didn't get the job.
– Demolition is now a masked team because Vince feels that LOD isn't getting over due to too many teams having painted faces.  This is pissing off Bill Eadie because they were supposed to be doing a tour of Japan using their Demolition gimmicks, and now the gimmick has changed.
– Amazingly, Shane Douglas still has a job after all the cuts.
– And yes, Davey Boy Smith did return at the tapings, beating Brooklyn Brawler in his debut.
– They've already dumped Brady Boone as Battle Kat, since he was trying to work too much like Sayama but he's BRADY BOONE so it's a total disaster.  Bob Bradley will now be playing the part instead.
– Rumor of the week:  Mean Mark is going to be hatched out of the mystery egg and be called Egg Man.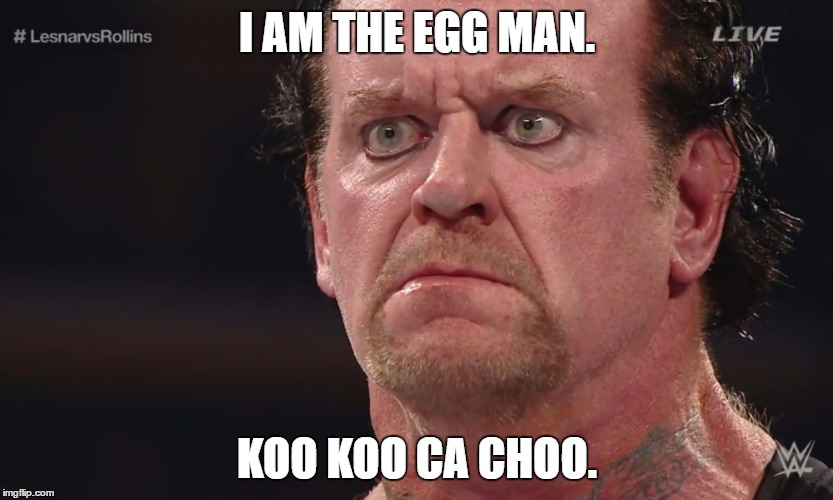 – Yeah, I'm not seeing it.
– Shows continue to be down, and Vince was actually on the road with Hogan trying to figure out how to get the magic back for him.  Dave thinks that perhaps having him work matches with someone other than Dino Bravo would be a good first step.
– To the NWA, where Muta & Chono will likely be brought in for the rumored tag team tournament at Starrcade.
– Master Blaster Steele is auditioning for a part in the next Ninja Turtles movie.  (And he actually got it!  Chris Champion then tried to use "I was auditioning for the Ninja Turtle movie, too!" as his legal defense, I hear.)
– Robert Gibson is undergoing major surgery for all kinds of knee problems, so Tommy Rich will be taking his place on the road.  Gibson, however, will still be on the road on crutches, because he's not under contract and so doesn't get paid if he's not working.
– Despite rumors of Ole Anderson falling out of power and Tony Schiavone & Jim Ross being in control, the duo is still working underneath Anderson.
– The Steiners have been winning the US tag titles from the Midnight Express in fake title changes because Sting was missing shows and they needed something to give the fans.  So they would, for example, announce the Midnights as the new champions, having won the belts at a previous house show that may or may not have happened, and then the Steiners "win" the belts in the main event to send people home happy.  But then Sting made the show anyway so it was all rather WCW-ish in its pointlessness.
– Still Bill Irwin playing the Black Scorpion as of this week, by the way, with the finish of the match being Sting unmasking him as Bill Irwin and pinning him.  And yet, Dave notes, they're still going to push the big angle for Starrcade as Sting going after the mask because house shows mean nothing.
– Barry Windham is still MIA after yet another injury, so the company stopped paying him in order to "smoke him out", as Dave says.  But he hasn't made contact with the company in weeks so everyone just assumes he's gone.
– Motor City Madman and Curtis Hughes are coming in to stink up the promotion next, working as friends of Paul E. in a feud with Lex Luger.
– And finally, for those who think that Donald Trump is the world's craziest politician, Antonio Inoki left for Iraq on 10/22 to offer the government a New Japan wrestling show in the country in November in exchange for freeing the Japanese hostages there.  (Even crazier, it WORKED.)