Previously… http://blogofdoom.com/index.php/2016/06/21/wrestling-observer-flashback-01-12-87/
I'm saddened that the timing didn't line up for the Duggan/Sheik bust issue to come up this morning, because really the jokes would write themselves.
Maybe 20 years from now, THIS WEEK IN ROMAN REIGNS STUPIDITY will be a thing?
I'm gonna try something new this time to keep my smart-ass comments from mixing with Dave's actual opinions, and put my stuff in brackets like in Scott Sez format.  We'll see if that keeps things more clear.
– The top story was Crockett going head-to-head with Vince in Philly on 1/10, drawing a combined audience of 25,000 people between the two shows.  Dave thinks that it demonstrates that the two companies draw from completely different audiences, and concludes that "Unless Titan decides to go into the wrestling business, JCP has little to worry about when it comes to being a profitable company in the future."  (Unless of course he decides to spend millions on private jets, but that's just crazy.) 
– Dave is somewhat surprised that the WWF drew 15,000 people with Steamboat v. Savage on top.  (Is he literally not watching the shows?)  In fact, the advance was sitting at 8000 tickets with Savage v. Andre as the announced main event, and once it switched to Steamboat with a week to go they suddenly sold 9000 more tickets for the near-sellout.
– So the Hogan-Orndorff cage match was a smash hit, drawing a 10.6 rating with a 26 share, making it the all time highest rated SNME to date.  In fact, it even scored a higher rating than any episode of SNL in the 11:30 timeslot, too!  The next show will feature the important "Resthold-a-mania III" angles.  (And that one ended up even beating THIS record, I believe.) 
– Crockett will be countering with Supertowns on the Superstation on February 7, a bunch of "main event" caliber matches edited together for a two hour special on TBS.  (That was the germ of the idea that became Clash of the Champions.  Also featuring my least favorite RnR Express match EVER, against Koloff & Petrov in a god-awful 1/2* snoozefest. Although in my writeup of the match, I actually talked about how Petrov was originally supposed to be John Nord, so apparently that was not new information to me and I just forgot about it before reading it again in the last Observer.  Getting old SUCKS, man.  On the bright side, you learn lots of new things that you didn't remember that you already knew!)
– Jim Crockett is making another foray into Canada with Mosca-Mania II in Toronto, lending out his guys to Mosca in an effort to give Vince some competition in the city.  Dave notes that it'll be interesting to see if Crockett can make a go of it, although he'll be hampered by associating with Angelo Mosca.
– Dave stops to rage against people outright stealing his news and info for "poor imitation wrestling magazines" and promises a longer diatribe next week.  (Yeah, you fuckin' parasites, you're worse than people who sign up for PWInsider's premium site and then post stuff from there to some two-bit hack blog.  YOU MAKE ME SICK TO MY STOMACH.)
– So reps from all the big wrestling companies attended a convention called INTV (don't ask Dave what that stands for) where people show off their syndicated programming and try to get people in the TV industry to buy them.  You had David Crockett, Jim Ross, Basil DeVito, John Studd, Verne Gagne, the GLOW freakshow, some people from World Class, Bill Apter and Gordon Solie all there, and of course Dave has a bunch of juicy anecdotes to relate as a result.  The actual TV guys there had little interest in buying more wrestling, but most of them hung out at the GLOW booth to check out a "scantily clad" Tina Ferrari (Ivory).  No one was interested in World Class at all.  The Titan reps came off the most pompous and arrogant assholes in the business and Dave couldn't believe some of the rhetoric they were spouting. Verne still hasn't realized it's 1987 yet.  Dave will have more next week on the show, but he closes by noting that Titan had a funny rib in their promotional material, which listed the hierarchy of command with Vince as President, all the way down to Vice President of Operations "Jane E. Barnett".
– OK, to the WWF, where they taped a BIGTIME angle at the Meadowlands.  Yeah, you know the one.  Hogan gets a trophy for being champion three years, Andre gets one for being undefeated, but Hogan's is bigger and it's now obvious what the main event of WM3 is.
– Also on the show, Billy Jack Haynes v. Hercules in the battle of full nelsons and Butch Reed v. Tito Santana were set up.  Also on the show was a dark match featuring Hulk Hogan & Ricky Steamboat v. Honky Tonk Man & Randy Savage in an amazing dream match that we never got again, which through the magic of YouTube you can watch here in all its batshit crazy glory:  https://www.youtube.com/watch?v=ydDIVS1WDzI  Dave shits on the match of course.
– Also also on the show, the debut of a pathetic attempt to copy the Road Warriors, as Vince stuck Bill Eadie and Randy Culley out there in "clown makeup" as "The Demolition", and they were an immediate flop.  Everyone knew Culley as Moondog Rex, although Eadie hasn't worked without a mask in years so people didn't recognize him.  (I don't think I remember them.  Must be some obscure one-off team.  Sounds pretty desperate, though!) 
– Dynamite Kid is back in traction again, although the WWF continues to advertise him as wrestling all over before switching out for Junkyard Dog.  Kid actually had a disc removed and doctors are super-duper recommending him never to wrestle again, although of course he will.  Vince is already doing voiceovers where he promises that "next week" (the 1/27 tapings in Tampa) there will be a title match between the Bulldogs and Hart Foundation, but Dave is 100% sure that Kid won't be there and they'll have to come up with some kind of angle leading to a title change.
– Dave relates the BEST CAGE MATCH FINISH EVER.  It's Jake Roberts v. George Steele, and Jake brings the bag with Damien into the ring, tossing the snake at George.  George is so overcome with delight that he forgets all about the match and plays with the snake, allowing Roberts to calmly walk out the door for the win.  (WHO COULDN'T LOVE THAT FINISH?)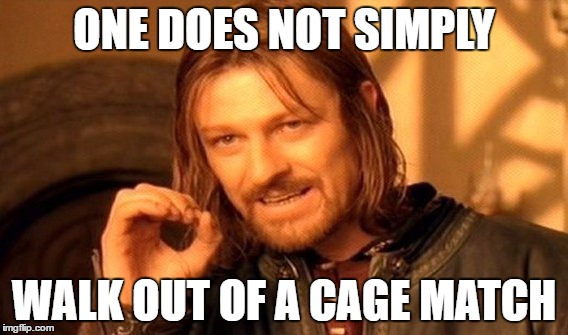 (Yeah, I guess he would say that.)
– Update: Outback Jack still has not debuted.
– To Crockett, where Lex Luger will debut on TBS shortly as the fifth Horsemen.
– Vladimir Petrov is such a disaster that a singles feud with Nikita has already been aborted and instead it'll be the Russians v. The Superpowers in tag matches to disguise him.  Rumors were spreading that it was actually Eddie Sharkey who trained Petrov, but in fact Sharkey was personally offended by that and went on a rumor-control rampage to make sure people knew he had nothing to do with this one, since he was having enough trouble living down Warlord and Teijho Khan.
– The Bunkhouse Stampede series wound up as a tie for wins between Dusty Rhodes and Big Bubba, so they'll do a blowoff on 2/13 to determine the KING OF THE BUNKHOUSE.
– Sadly, even Sam Houston has fled Central States, dropping the title to Bill Dundee and leaving for the UWF.
– Dave is unsure why none of the major promotions have booked Bad News Allen.  His promos are hilarious in Florida, like when he said he was scared to face Kendall Windham because the cops would arrest him for beating up on a minor.
– Hogan and Kamala are just setting records left and right, as they sold out Oakland to the tune of 15,000 people and that's probably a record for attendance since at least the Roy Shire days.
– John Studd is doing some acting, including a guest spot on "Hunter" (which I remember!) that proved he was "about as good of an actor as he is a wrestler".  However, it's led to more roles for him, so he's done with wrestling for the time being and is going to be spending his time in Hollywood instead.  "Which is great for wrestling, I guess."  notes Dave.
– Dave feels that the team of Sting & Rick Steiner are improving so rapidly that they'll be one of the best in the world by the summer.
– Bam Bam Bigelow is trying to get into the WWF, but word from on high is that he's "too inexperienced".  (Better send him to NXT to learn how to work to the hard camera!) 
– In Alabama, the Samoan team of the Headhunters have added Solofa Fatu as a third member, in what would transition into the Samoan Swat Team shortly.
– Verne wants to start running TV tapings at the Met Center because a couple of good crowds around Christmas have snowed him into thinking that the AWA is on the comeback trail.  Dave thinks he should just keep taping at the Showboat, take his ESPN money, and be happy because otherwise the sleeping bear is going to be awakened in Minnesota.
– Jim Duggan is doing a shitload of jobs to One Man Gang on the way out because his contract had a special clause written that gives Duggan a big pile of money owed in a lump sum when he leaves…assuming he does all the jobs asked of him on the way out.
– Dave ponders why Sting and Dingo Warrior are still wearing their Blade Runner makeup when they could be much more marketable with their handsome face uncovered.  (Sounds like the same argument Nash made to Rey Mysterio.) 
– Speaking of Dingo, in trying to come up with his version of "Little Hulksters", he's taken to calling the younger fans "Little Dingbats".  Dave hopes that Dump Matsumoto follows suit and we get a cadre of 'Little Dumpsters" following her around all weekend.
– And finally, Kerry Von Erich's return to the ring has been mysteriously delayed until fall.  Dave doesn't have details, but he's been told that if Kerry ever returns, he'll be a shell of his former self.  (He'll be a few steps behind everyone else, you might say, with one foot out the door of the business.)